It's the buzzing restaurant in this new up and coming area! The first cantina of the Jeune Rue has opened for the greatest pleasure of foodies and fans of good products. Here is a demonstration in « pretty» and « yummy » mode, at the « right prices» (it's the friendly philosophy of this new venue) that we support entirely.
What's the story with la Jeune Rue? A collective set up on a block of houses on rue du Verbois. The Idea? 100% food restaurants and shops (bakery, small Italian, a great butcher, cocktail bar),  all prepared with 100% Frenchy products led by Cédric Naudon, owner of Le Sergent Recruteur, with the help of the talented Arnaud Duhem, food connoisseur and ex-director in charge of the restaurants at the Shangri-la.
But let's talk more specifically of this chic, fun, delicious Korean cantina called Ibaji (translation: dishes that mothers pass on to young brides).
Behind the ovens? Sukwon Yong who produces a personalized cuisine and very well mastered dishes for a terrific 19€ lunch menu and a maxi tab of 25€. Cosmopolitan delights concocted with regional products, we are all for it!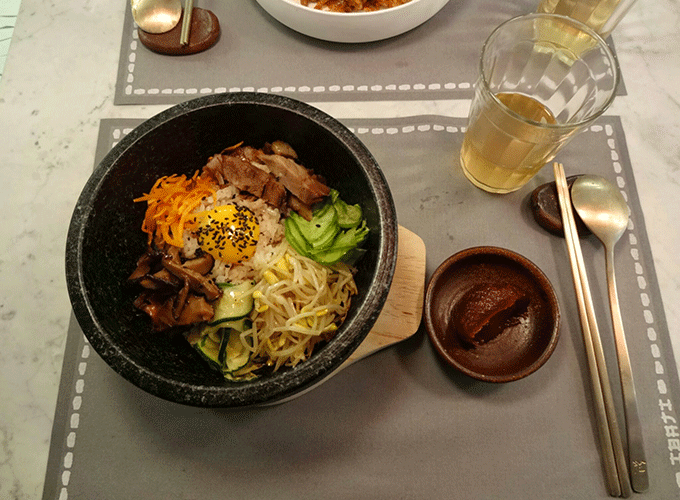 To be tested absolutely: their bibimpap, the steak-fries of Koreans. A dish served in a big bowl of rice + pork + healthy veggies + egg, all very nourishing!
Also great: burgers with spicy pork and beef meatballs aux + cheese with a Laguiole. (14€)
Addictive: their green tea ice cream quite unlike any other   (and we've tasted many) (5€).
We adore: a bluffing decor signed Paola Novane, with an XXL communal table, walls covered with mosaics, marble, colorful lamps, etc…
Wild: the possibility of showing up any time between 11am and 11pm with non-stop service 7 / 7.