Addresses such as these, we would like to have them at every street corner to put an end to harrowing luncheons. Simple and good, veggie and varied, light and gourmet, local, organic and seasonal, Laetitia Recayte shares her whims around this new project she felt particularly strongly about.
Because for the eminently crunchy anecdote, before opening M la Vie, Laetitia worked in the production company of Sous le soleil and for France Télévisions, where she reached the highest spheres. After a long personal questioning, her she is now at the head of a new counter that feeds start-uppers, local agencies and the regulars in the area.
A terrific idea, since her veggie recipes are being eaten up with glee, sitting down or as  take-away. Starting with fresh and colourful salads (tomato, cucumber, feta, herbs, pine nuts; boulgour, melon, peach, hazelnuts ; kale, avocado, fig, almond, €7,90 for a salad), veggie tarts and amazing sandwiches wrapped in unique bread kneaded with  corn flour and created specially by Thierry Breton. Tops also, fruit juices and freshly squeezed house veggie juices (€4,90). Also to be noted: cakes (€3), madeleines (€2.50) and cooked fruit (€2.50) are ready bright and early for early bird foodies.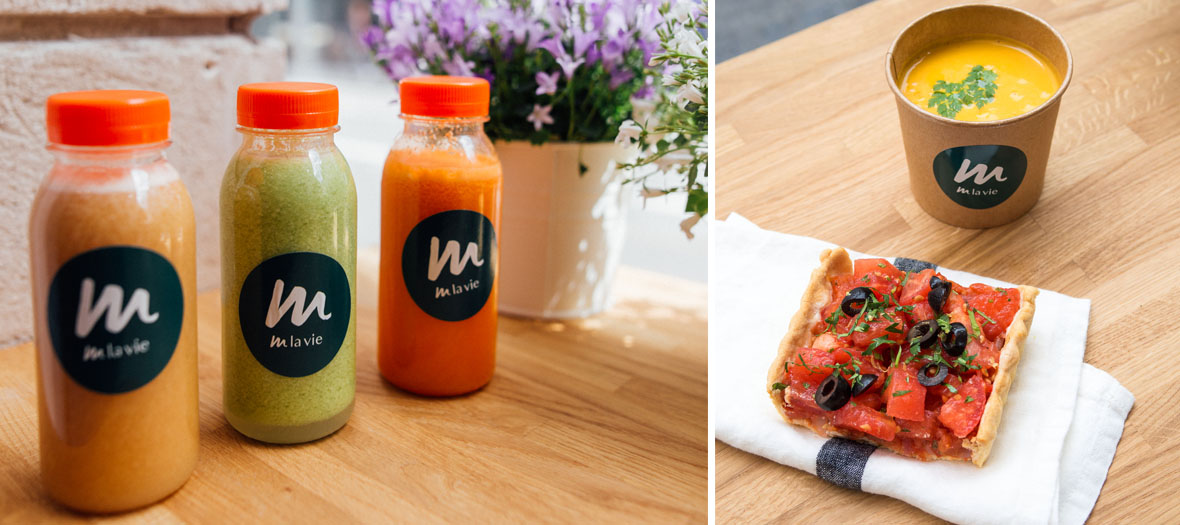 The plus? The vegans and gluten-free options, so everyone can enjoy going there.
We like: the infinitely cosy feminine setting. Communal tables, pink walls, and even a small extra room to nibble in peace and quiet.
Open Monday to Friday from 8:30am to 4pm.
Also check out the brunch for avocado buffs and vida the healthy cantine of Laury Thilleman.