The institution was shaken by the coconut palm. Between marriage for all and blended family in tribal mode and full of children, marriage revisits its 2019 version codes. On the occasion of the Grand Salon du Mariage which will be held at the Parc Floral this weekend, its organizer, Isabelle Clinchamps , tells us more about all the new cutting-edge trends.
Different reception venues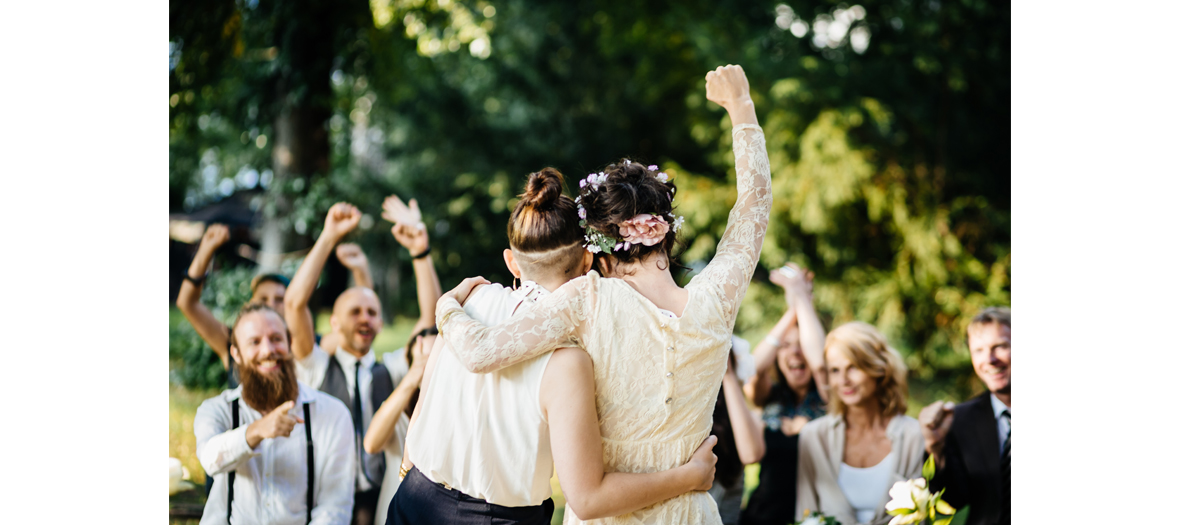 The vogue for castles and eternal white tents in the garden is about to pass.
" The exterior is still very popular, but on a new level, " explains Isabelle Clinchamps. Perhaps wilder : the large tables under the stars , in farmhouses, bastides , stables , in short places that have a history and character!
Another big phenomenon: the rental of yurts or tents of all kinds, a bit like in festivals. But also circus tents with a dance floor in the center to dance the night away ! We also see people reserving completely unusual places such as chalets or mountain restaurants in winter , but also schools, boarding schools so that all guests can sleep there ...
The big trend of MC
" The breakthrough in secular ceremonies gives the spiritual and emotional touch that the town hall is sorely lacking… when we do not have a religious ceremony " explains Isabelle Clinchamps.
It's sociological: between second weddings, gay or mixed marriages, the importance of the " sacred " outweighs the religious. To replace priests or rabbis: masters of ceremonies who display speeches , poems and songs of the occasion.
Fewer guests and helping friends
" Financially independent, couples for 2020 want a party and a ceremony that looks like them, to share with their friends and close family ".
Translation: we no longer feel obliged to invite the old aunt Olga imposed by mom but we prefer to play it " small committee " with preparations with his friends and a ceremony that stretches over several days, sometimes on a destination where the 'we tumble in groups to spend a real week of vacation.
We do as many things as possible ourselves, helped by our group of friends for the stationery workshops and the table plans . Everyone puts their hand to the paw to run a bar or make flower arrangements .
Decoration: we focus on the natural
Wood, fields, straw, flowers: everything reminiscent of nature and authenticity is in tune with the times.
Deep into vintage mania this year: the fashion for dried flowers is emerging! In addition to being beautiful, you can keep them as a gift for your guests or as a souvenir. The other big trend is the green walls that easily dress all places ...
Getting married in winter
Phew! Provence or Cap Ferret in July are no longer the imposed moodboard of a stylish wedding. Far from the copy-paste of the bohemian wedding in vogue for ten years, " winter is essential as the very fashionable season for chic weddings ", confirms Isabelle Clinchamps.
Less expensive, more flexible in terms of date, it is also a less cliché and " very inspiring moment for the decoration as for the outfit ", to live in unusual places: chalet , old barn , even a refuge: the assurance of demented memories.
Capes , coats in wool and knits of all kinds for the bride and scenes that can go far pine cones, holly, wreaths, faux fur plaids, candles galore, even fireplaces and multitude of illuminations. .
More and more activities
Gone are the days when only fireworks could make the guests happy. We only serve food, drink and dance: we really occupy our guests.
After the big trend of photobooths: the use of drones is very popular. Another phenomenon we see many games (company) organized outside: djenga, coconut shy, horseshoe game ... And even a good bowling. And for diehards: themed bars with beers, sweets, cigars, cupcakes ...

The Grand Salon du Mariage , € 10 for 2 people on October 19 and 20 at the Paris floral park, route de la Pyramide, 75012.