If we loved it last year with its gourmet snack format, this time the Ritz chalet is making its big comeback in an aperitif and snack version on Place Vendôme : the opportunity to do some Christmas shopping between two glasses of the best mulled wine in Paris.
Ritz-branded Christmas shopping
To add urgently to your Christmas wishlist : boxes specially created for the occasion in order to enter the wonderful world of the palace ! A gourmet box to delight sweet tooths with tea and homemade spread , or a prestige box to recreate the atmosphere of the Hemingway Bar at home with its iconic Martini glasses, its engraved Ritz Bar glasses and its carafes too beautiful (boxes from €182).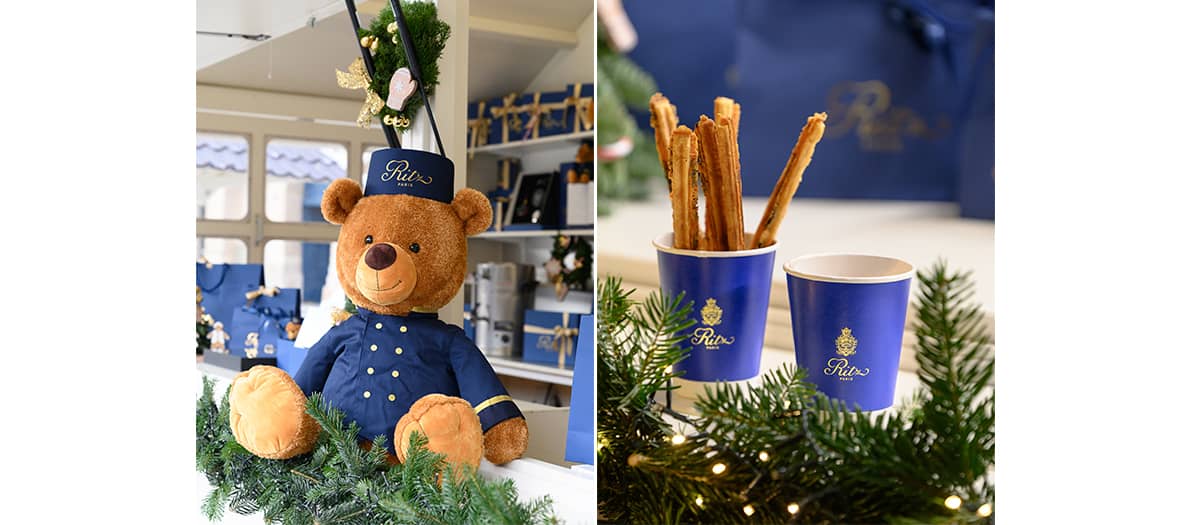 For the little ones or for those who take advantage of Christmas to return to childhood, the plush Bear Groom (available in 3 sizes, from €49) has just been added to the list of our desires. On the home side, the new Ambre Peristyle , Grand Jardin and Imperial Suite porcelain candles (all at €295) and specially designed for the Ritz will give our interiors that little touch of palace -style French charm to curl up in all December. . Many other little Christmas treasures can be discovered at the chalet, but it will also be an opportunity to have a drink at the most stylish Christmas Party in Place Vendôme .
The most chic Before in Paris
Everything is there ! We toast with a glass of Barons de Rothschild champagne (€19) while nibbling on the delicious Ritz matches with Comté cheese and truffles (€12).
The extra thing? Every Thursday from 6 p.m. to 8 p.m., the new Head Sommelier of the Ritz Florian Guilloteau offers sparkling exchanges between champagne lovers. A slightly spicy mulled wine will also be on offer: a subtle blend of pomegranate, blackcurrant, black Timut berries from Nepal , and rosebuds from Iran , enough to make this Christmas season even tastier.
Le Chalet du Ritz and its Champagne pop-up, from Tuesday December 6 to Friday December 30, from 11 a.m. to 7 p.m. on Tuesday and Wednesday, from 11 a.m. to 8 p.m. on Thursday, Friday and Saturday
Also discover Jade Génin opens her chocolate factory to die for!