Take our word for it, size is not everything. And here is the proof, the pocket restaurant of the very charming Yariv Berreby (ex KGB, ex Le BAT) has become the new must-go rendezvous of the Sentier fashion district. Community, locals, trendies, everybody is happy to squeeze in and taste the Israeli specialties of this talented chef who hails from Kitchen Galerie Bis and Le BAT.
There is no big deal decor. A street counter, a handful of wooden tables, posters and paintings sometimes a little askew. But what an ambiance! Lots of air kissing, joking around...meanwhile stuck behind his counter, Yariv whips up great eats for the smala.
At lunch, composed salatim plates (salads in Hebrew): eggplant and artichoke caviar, sturgeon; red cabbage and pickles ; carrot salad, lemon-curcuma vinaigrette, fresh coriander. Served with a grilled seabass or chicken keftas depending on the mood and a divine house lemon-mint maison lemonade. Cool, those in a hurry can go for the sandwich version in a crunchy baguette signed Terroirs d'Avenir. And if per chance, you happen to drop by on a Wednesday, dive on the schnitzels, amazing breaded chicken filets. Finally, refusing to taste his delicious babka (chocolate-nut cake, €3) would be sinful.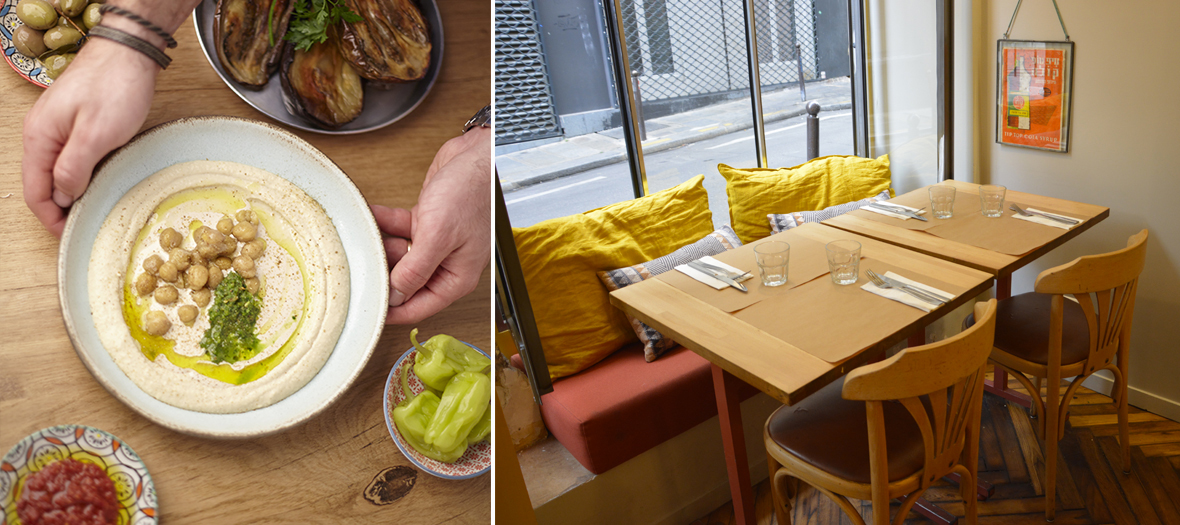 In the evening, the young man cooks totally free-style : houmous (€6), tartare of bass (€6), fish balls (€18), chicken leg grilled with Jerusalem spices (€18). A quick tip? Give him carte blanche—you will not be disappointed.
And to respect Shabbat, the curtain stays down on Saturday. But the team is back in great shape on Sunday for a brunch just like in Tel Aviv: chakchouka + salatim + dessert + drinks.
Open Sunday to Friday from 8:30am to 4pm. Tuesday, Wednesday and Thursday until 10Pm.
Also check out Tavline, the new hot Israeli table.