An imposing and mysterious facade guarded by men dressed in ecclesiastical clothing appeared this summer in the Marais. Could it be a sect, the HQ of the Illuminati, a live filming of the Da Vinci Code sequel? None of the above—welcome to the Hôtel Sinner, orchestrated by the group Evok (Nolinski, Brach, la Cour des Vosges). In all confidence, this unorthodox 5 star shelters a restaurant appealing to trendy Parisians.
A stunning monastic dining room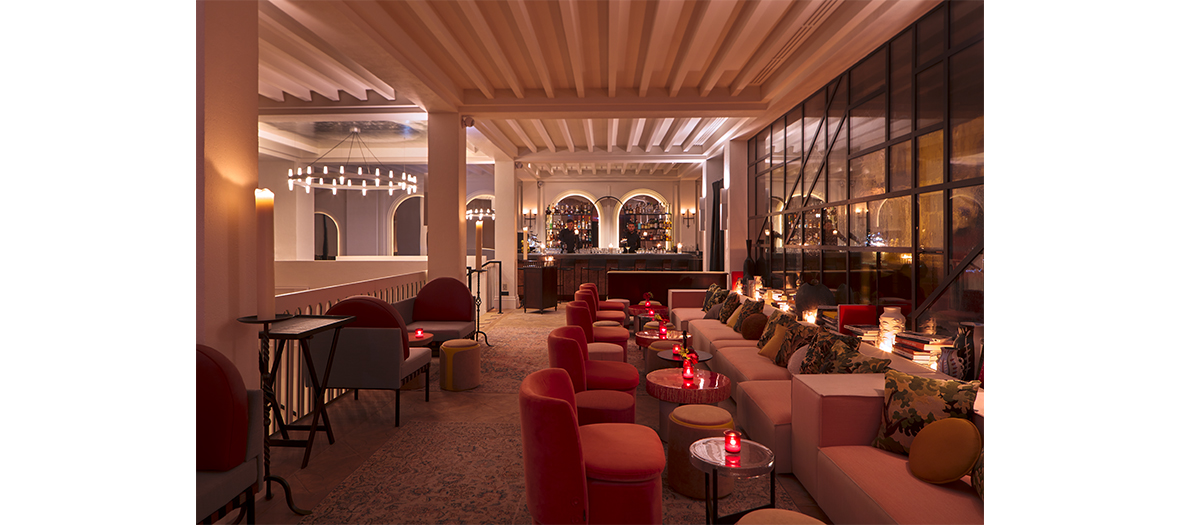 When the Marais of the Middle Age Templars encounters the world of 70's party goers, the result is Sinner, careful of the sparks! For the decoration, Tristan Auer, the talented architect (Les Bains, Hôtel de Crillon, Astair, Ran) signs a highly glam and ultra slick scenography:  dizzying high ceilings, vaults, round tables, imposing voile curtains, designer furniture… very impressive.
In the evening, the ambiance becomes quasi-mystical. Pretty girls and trendy boys are on deck, the place is filled with thick smoke, the DJ is at the turntables—anything can happen.
Everything is to be shared!
Executive chef Adam Bentalha, also at the helm of Brach, does not hesitate to mix the North African cuisine of his origins (ethnical dishes, cooking with a kanoun, the traditional Algerian barbecue, formats to be shared) with Asian and Latino references. It's a match.
On the menu: grilled cauliflower to be dipped in a tahina sauce (€18), torrid fritters of manioc and cheddar (€12), a deluxe pizzette stuffed with beef and parmesan (€14), kefta (€16), lamb chops with a chimichurri sauce (€31), royal seabass cooked in a banana leaf (€35), curry of coral lentils (€6), sweet potato fries sprinkled with zaatar (€6).
For the show, don't miss the ceviche platter (salmon, bass, yellowtail, beef, sea bass) which appears, like a rock star, behind white smoke (€38). All to be enjoyed with a detox juice (€12) or a signature cocktail (€19).
Ultimate sin of gluttony, the amazing desserts of Meilleur Ouvrier de France Yann Brys: lemon meringue tart, coffee religieuse, carpaccio of pineapple (€12-17), quite simply divine.
To be noted, the appealing lunch formula at €35, starter/dish or dish/dessert that changes every week.
Also check out Shabour and the new Lebanese restaurant Noura.