© Clément Dorval / Ville de Paris
"Stroller Land," really? Dubbed so for its strong appeal to families, Batignolles, this village-like neighborhood nestled between the chic 16th and the trendier 18th has much more to offer in terms of hidden gems and great finds. Romantic squares, boutique shopping, and gourmet hotspots - let's dive into the tour!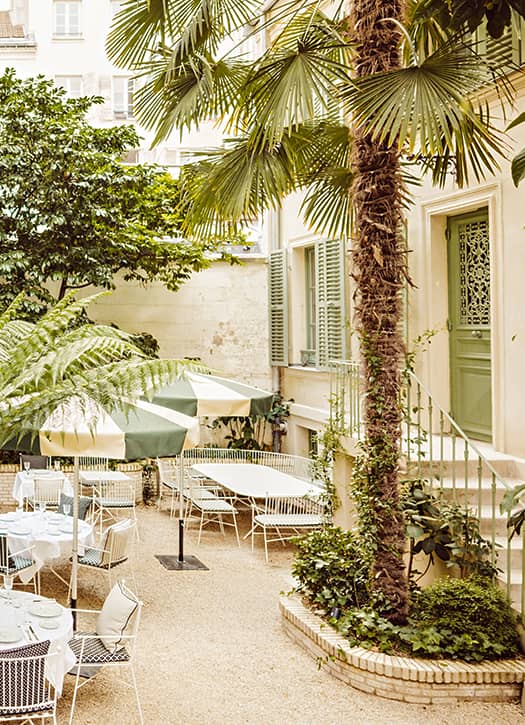 If you're a fan of minimalism, look elsewhere! The latest (and grand) project by Moussié + Sophie Richard, the minds behind the Hotel Providence, L'Eldorado, the historic hotel in Batignolles, has undergone a major makeover and has become the most sought-after spot this summer. People flock from all over Paris to discover its new terrace under the shade of palm trees (try the club sandwich for €19 or the spaghetti poutargue for €26), while the character-filled rooms offer a cozy Parisian love nest. Think rattan vintage furniture, sumptuous velvety tapestries on the walls, terraces, and windows overlooking the treetops for a wake-up call by birdsong. It's an artful blend of countryside charm and Parisian extravagance.
L'Eldorado, 18 rue des Dames, Paris 17th. Phone: 01 45 22 35 21. Rooms starting at €350. Restaurant open daily for lunch and dinner.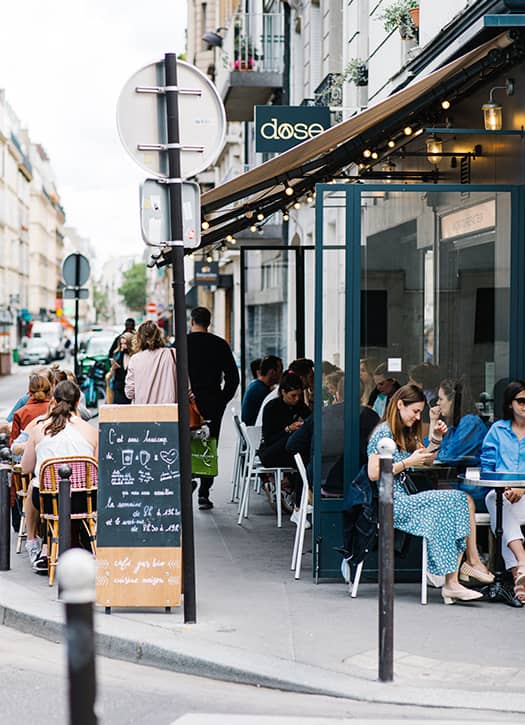 Behind the Sainte-Marie-des-Batignolles church, coffee enthusiasts are unwavering in their loyalty to Dose. It's where you find the best coffee in town. Whether it's Peruvian spice with notes of caramel and almonds or Ethiopian fruitiness exuding aromas of peach and vanilla, this micro-roastery deals in heavenly brews. The morning queue at the take-away counter speaks volumes! On the food front, granolas, cookies, and pastries are homemade in their lab just around the corner on Rue Capon.
Dose, 82 place du Docteur Félix Lobligeois, Paris 17th. Imported espresso for €1.50, daily cake for €3.50. Open Monday to Friday from 8:00 AM to 6:30 PM, and Saturday to Sunday from 8:30 AM to 6:30 PM.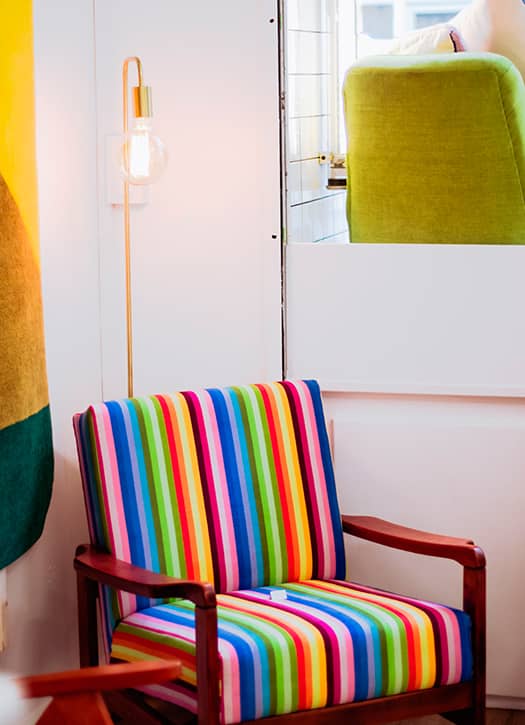 This creative studio tucked away on Rue Davy offers pop and vintage pieces that defy gloom. Inspiration? A mix of Bauhaus shapes with Matisse's color palette. Vintage armchairs from the 60s and 70s, sourced from Romania (the home country of Lavinia), are reupholstered with scraps from prestigious fabric houses like Courrèges, Pierre Frey, and Kenzo. The duo also designs incredible tufted rugs made in India from New Zealand wool (the best kind). The best part: you can order a custom rug from a palette of 1,800 colors.
Color Therapis, 35 rue Davy, Paris 17th. Chairs starting at €429. Open on Saturdays from 11:00 AM to 6:00 PM, other days by appointment via info@colortherapis.com.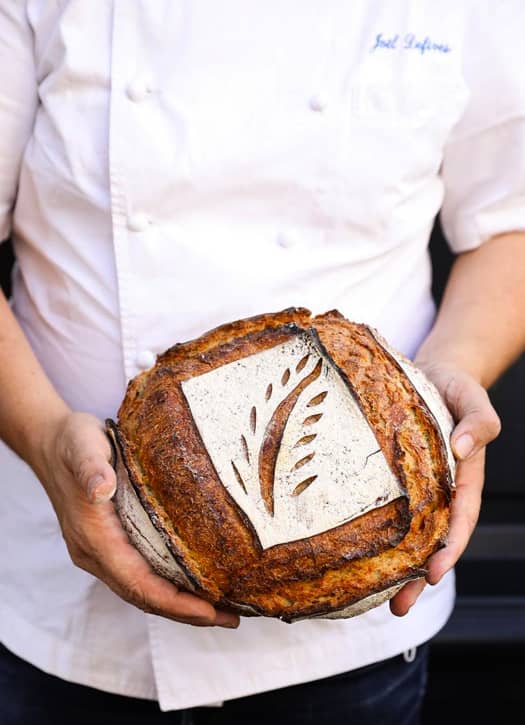 Are Batignolles becoming the new haven for artisanal food lovers? After pastry stars Jeffrey Cagnes and Yann Couvreur, MOF (Meilleur Ouvrier de France) Joël Defives, master baker and former executive chef at Thierry Marx's bakeries, has set up shop here. Behind the Art Deco façade, Baptiste, named after his adoptive son, champions the art of French baking. All products are made from ancient wheat with slow fermentation. Don't leave without trying the chef's pride: Baptiste bread, dark and bursting with flavors, perfect for generous buttering.
Boulangerie Baptiste, 17 rue des Moines, Paris 17th. Traditional baguette for €1.30. Open from Tuesday to Saturday from 7:00 AM to 8:00 PM and Sunday from 7:00 AM to 1:00 PM.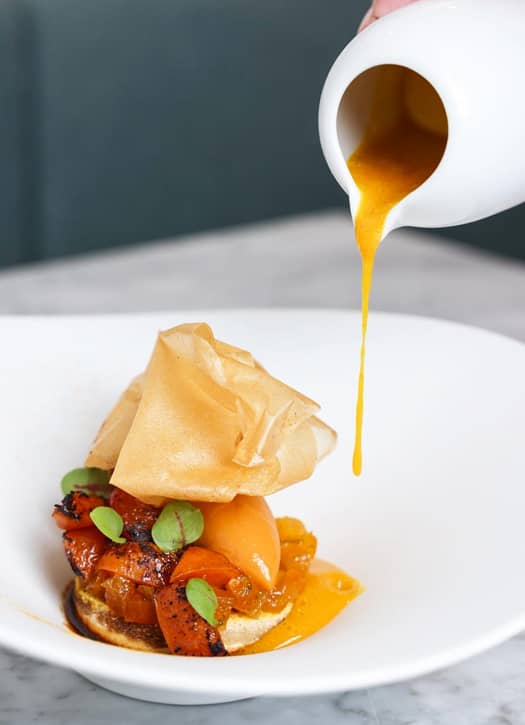 Before being a Michelin-starred restaurant, it's a love story: Kelly Rangama, a former Top Chef contestant, and Jérôme Devreese, a pastry chef with a background in luxury hotels. Together, they envisioned this luminous haven. What's on the menu? Author's cuisine with exotic accents. The three, four, or five-course menus promise a feast with succulent starters, marinated pork loins, Tandoori-style squid, or the irresistible matured pullet from Cour d'Armoise.
Le Faham, 108 rue Cardinet, Paris 17th. 5-course menu for €102. Open from Tuesday to Wednesday from 7:30 PM to 10:30 PM, and Thursday to Saturday from 12:30 PM to 1:30 PM and 7:30 PM to 9:30 PM. Reservations online or at 01 53 81 48 18.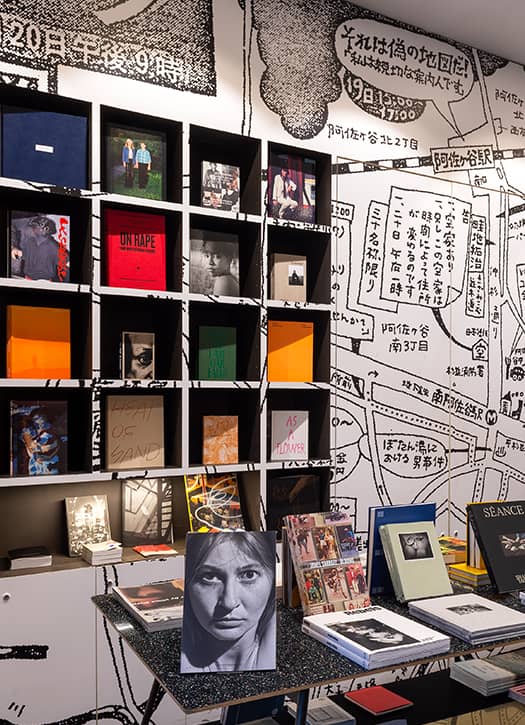 Tucked away in a cobblestone alley, this is the preferred meeting place for the artsy crowd in the neighborhood. Once a brothel and now the largest PMU (bar/tobacco shop) in France, this spot found its new purpose in 2010 when Diane Dufour and Raymond Depardon founded Le BAL, a pocket-sized museum dedicated to visual arts (photography, video, new media...) with a social and engaged dimension. The programming? Sharp and activist. The artistic direction balances between the emerging international scene, forgotten photographic figures, and form experimentation, with exhibitions every three months and two festivals per year. Plus, there's a lovely bookstore at the entrance and a small restaurant run by the association Le Récho, which trains refugees in the restaurant industry. On the menu: seasonal dishes inspired by the market and distant lands (à la carte: €8 to €17).
Le BAL, 6 impasse de la Défense, Paris 18th. Museum: full price €8. Open Monday to Friday from 9:00 AM to 6:00 PM.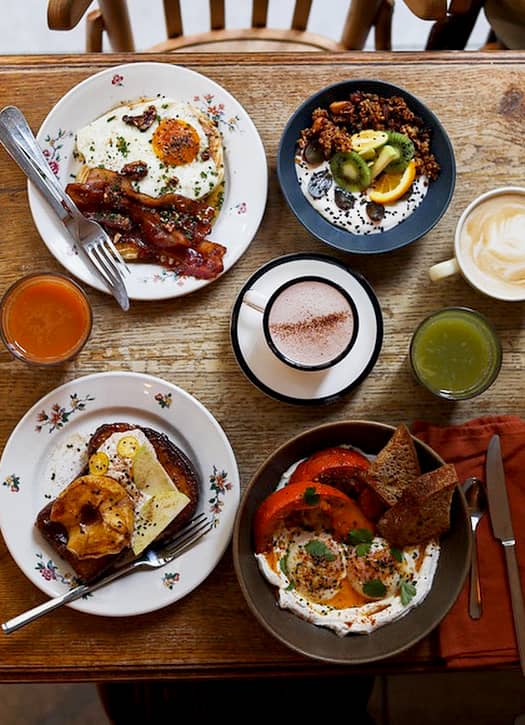 Offering homemade cuisine with fresh seasonal ingredients, even for children - that's the DNA of this popular canteen for parents who love good food. We love the comforting dishes and delicious pastries served on weekdays, but nothing beats the extravagant weekend brunch! Plus, you can reserve the restaurant's annex for your little one's birthday party.
Valma, 34 rue Lemercier, Paris 17th. Brunch menu for €25. Open Monday to Friday from 10:00 AM to 6:00 PM and weekends from 10:30 AM to 5:00 PM. Reserve online or at 01 74 64 45 68.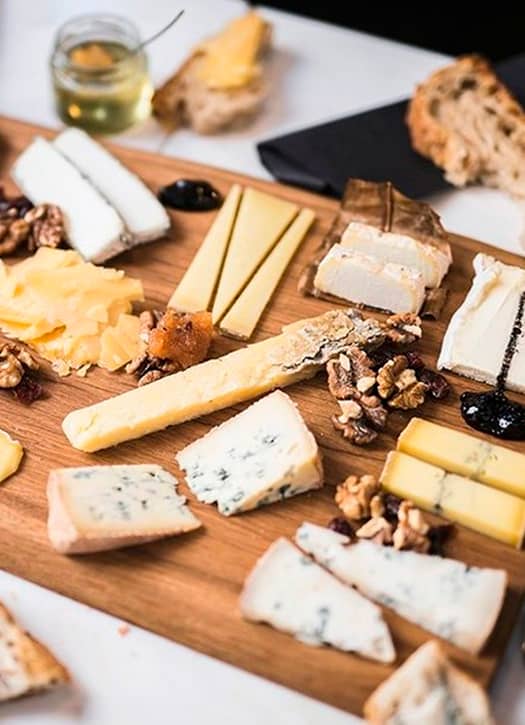 Manufacturer of cheeses for six generations, the Lincet family has opened this cheese haven in... an old butcher shop! On the menu: the best cheeses from France and Navarre, sourced locally. Stars of the tasting: Chaource, Epoisses, Brillat-Savarin with truffle, but also Cantal, Saint-Nectaire, Mont D'Or... Unforgettable: the gouda aged for 48 months with crunchy salt crystals. Add to that a great wine list and a well-trained and friendly staff, and you have one of the most desirable and authentic addresses in the neighborhood.
Formaticus, 16 rue Brochant, Paris 17th. 6-cheese platter for €27. Open from Tuesday to Saturday from 11:30 AM to midnight.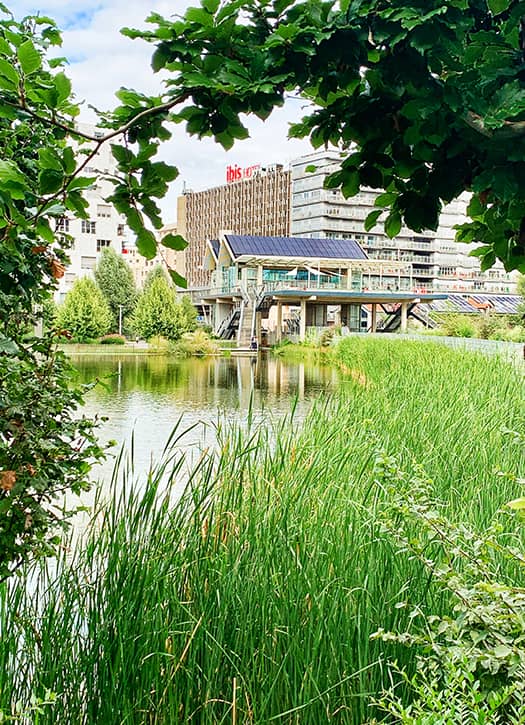 Run by the fine team behind Hasard Ludique, Hoba brings life to Martin Luther King Park with its fantastic food court and corresponding programming. The stands? Perched on a lookout, small hut-like counters reminiscent of a festival where you can grab treasures of street food, with options changing with the seasons (ramen miso squash for €13, falafel pita for €9.90...). Special mention for the terrace with its 180-degree view of the park and its ponds. On the cultural side, it all happens downstairs in a former forge transformed into a cocktail bar and cozy café where debates, documentary screenings, podcast broadcasts, cooking classes... and don't forget the famous Bingo Drag nights hosted by the divine Catherine Pine O'Noir.
Hoba, Martin Luther King Park, 44 rue Bernard Buffet, Paris 17th. Open Monday from 5:00 PM to 11:00 PM, Tuesday to Thursday from 12:00 PM to 11:00 PM, Friday and Saturday from 12:00 PM to 11:00 PM, and Sunday from 12:00 PM to 9:00 PM. Reserve online.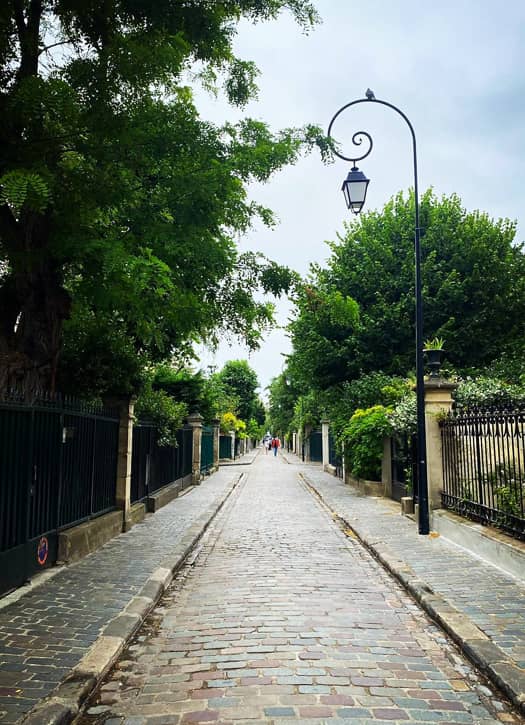 A touch of countryside in the heart of Paris! Known only to a few, this picturesque private lane is accessible during the day to passing visitors. With its mansions, balconies adorned with wisteria, and lazy cats, it's a refreshing haven far from the Parisian hustle and bustle. We love strolling here for a coffee break or on a Sunday with your loved one, admiring the house where painter Alfred Sisley resided and the one where Catherine Deneuve and Françoise Dorléac were born.
La Cité des Fleurs, Entrance at 154 avenue de Clichy, Paris 17th.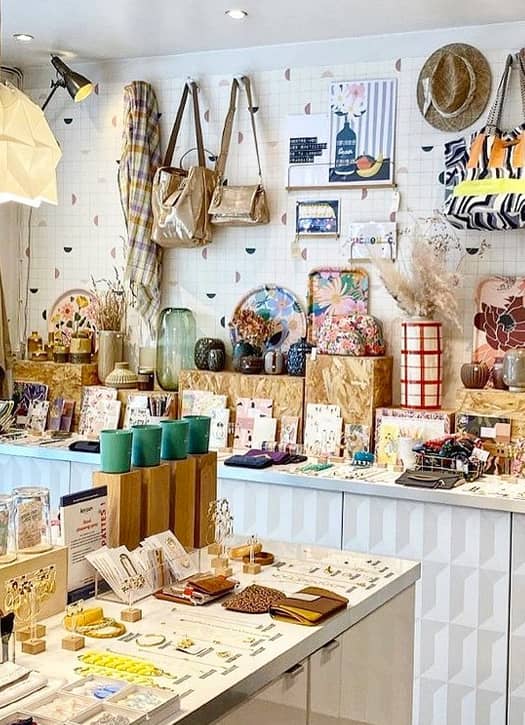 This boutique is the well-kept secret of chic and trendy Batignolles women. No room for gloom here! They cultivate a good vibes spirit with vibrant colors and fun objects. The selection: costume jewelry, fashion accessories, stationery, and home decor... all arranged in a bric-a-brac style. In our sights: a pair of bright green resin earrings from Feeka, a printed pencil case from Bindi Atelier, a cotton scarf from MaPoésie, and a rhinestone barrette from Les Femmes à Barbe.
Désordre Urbain, 96 rue Nollet, Paris 17th. Vase by &Klevering for €40. Open from Tuesday to Saturday from 11:30 AM to 7:30 PM.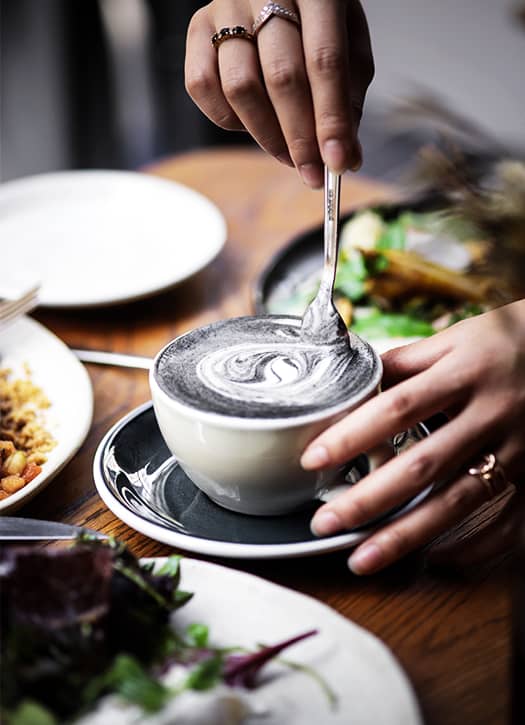 A terrace at the foot of Montmartre Cemetery with parasols as striped as Brighton Beach huts! With its underground laboratory, La Main Noire promises quality products, hyper-local sourcing, and artisanal craftsmanship. Sweet and savory pancakes and granola tart with sticky chai are complemented by creamy potions in matcha green, charcoal black, or turmeric yellow. Cool: you can purchase infusion products, including the famous black sesame paste.
La Main Noire, 12 rue Cavallotti, Paris 18th. Golden Latte for €4. Open Wednesday to Friday from 8:30 AM to 4:30 PM, then Saturday to Sunday from 10:00 AM to 5:00 PM.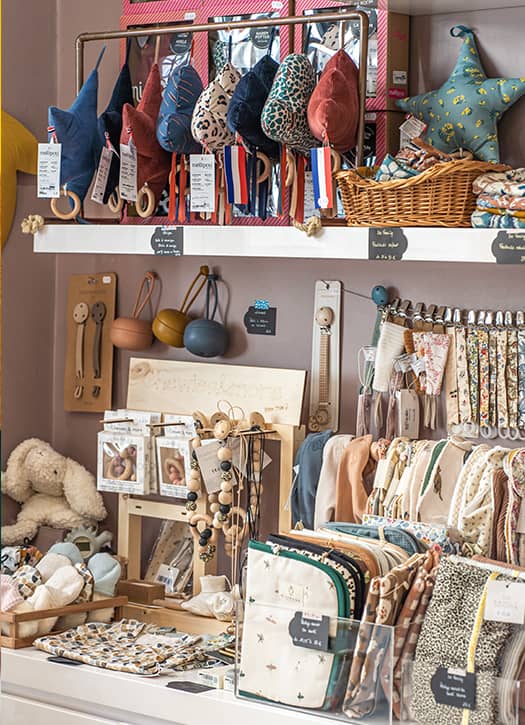 Parents in the neighborhood swear by this pastel-toned spot that oozes cuteness. Devoted to toddlers (from 0 to 5 years old), this shop is a treasure trove of playful and ethical goodies where you're sure to find the perfect baby gift, from So Family cotton sleepers to sustainable Liewood pacifiers, not to mention the essential Jellycat stuffed animals. And the owners, always up-to-date with the latest trends, go the extra mile to provide the best advice.
Le Pestacle de Maëlou, 92 rue Legendre, Paris 17th. Jellycat rabbit plush for €29. Open Monday to Friday from 11:00 AM to 2:00 PM and from 3:00 PM to 7:00 PM, and Saturday from 11:00 AM to 7:30 PM.
Discover also our Marais Headquarters and the most beautiful addresses in Saint-Germain-des-Prés.