For a sign of love or friendship, what could be more adorable than a personalized gift? Chic, funny, naughty or feng shui, here is a wide array of tempting gift ideas!
A perfume in one's image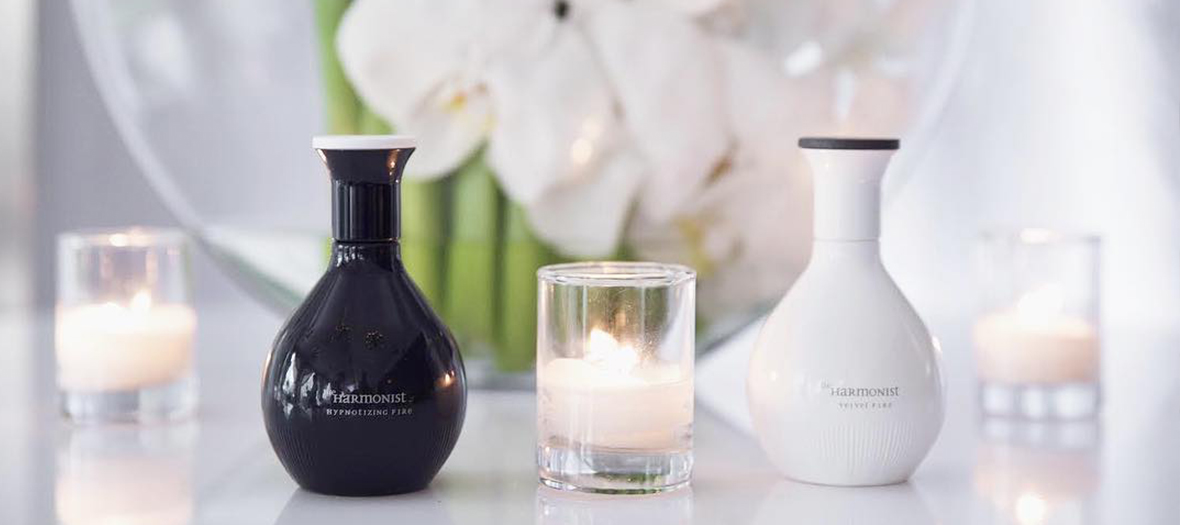 The object of desire: the ideal perfume for your skin, chosen amongst ten references depending on the personality, all based on feng shui. The idea? Based on the principle that smells we like are associated to childhood, like a personal bar code.
How to go about it: using the date and the time of birth (our own or a that of a friend / sister / mother), The Harmonist teams estimates that one is more yin (calm, moon) or yang (action, sun). Now need to be determined your element of predilection: earth, metal, water, wood or fire. You are now oriented towards the perfume that will have an action on mood and well-being.
The Harmonist, Extrait de Parfum 50 ml, €305. Online or at the boutique on 36 avenue George V, 75008 Paris.
A family portrait on a t-shirt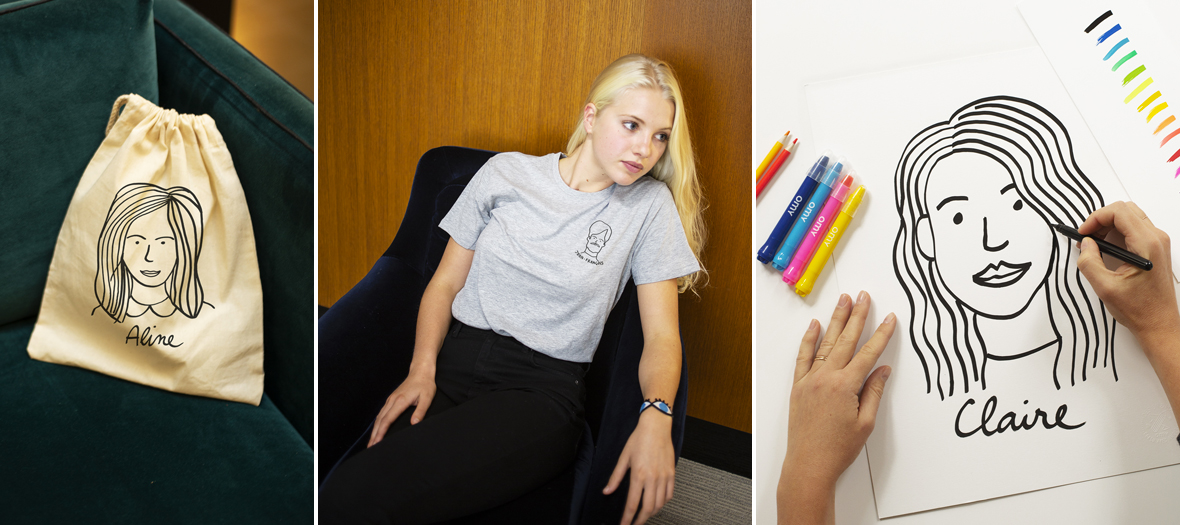 The object of desire: a t-shirt, a sweatshirt, a notebook, a tote, a toiletry kit or a poster with your portrait (or the one of several persons) sketched on the spot by min illustrators OMY, the pros of XXL colouring. Or how to represent your tribe different, with a felt stroke.
How to go about it: choose the piece that will appeal most, and give the photo to an in-house artist. 45 minutes later (enough time to go stroll nearby), your precious family portrait is delivered signed and with a certificate of authenticity.
Starting at €40. Pop-up PORTRAIT GALLERY OMY, at Bon Marché Rive Gauche, every Friday, Saturday and Sunday in December from 1pm to 7pm. Also available the rest of the year at the boutique on 2, Rue Gabriel Laumain, 75010 Paris.
Great looking earrings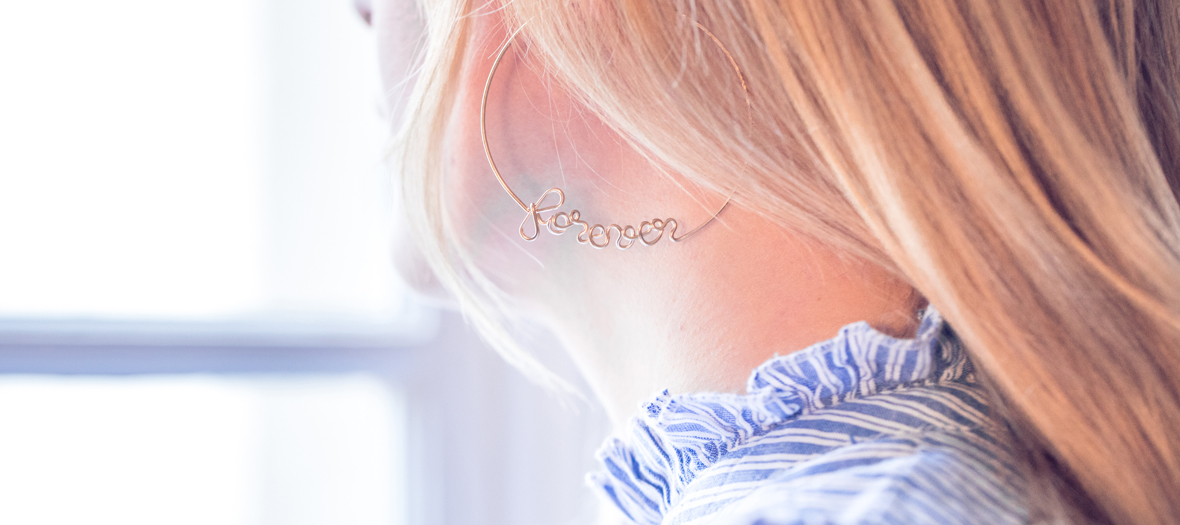 The object of desire: a pair of Atelier Paulin hoops earrings with your name handwritten, or how to copy Carrie Bradshaw who always wore her fetish namesake necklace.
How to go about it: start by choosing between yellow gold, pink gold or silver, also add the surname or love word that will be created by artisan. Your package will be delivered in 5 days.
Hoop earrings, Atelier Paulin, argentium thread €170, yellow gold and pink gold €210.
Namesake boxer shorts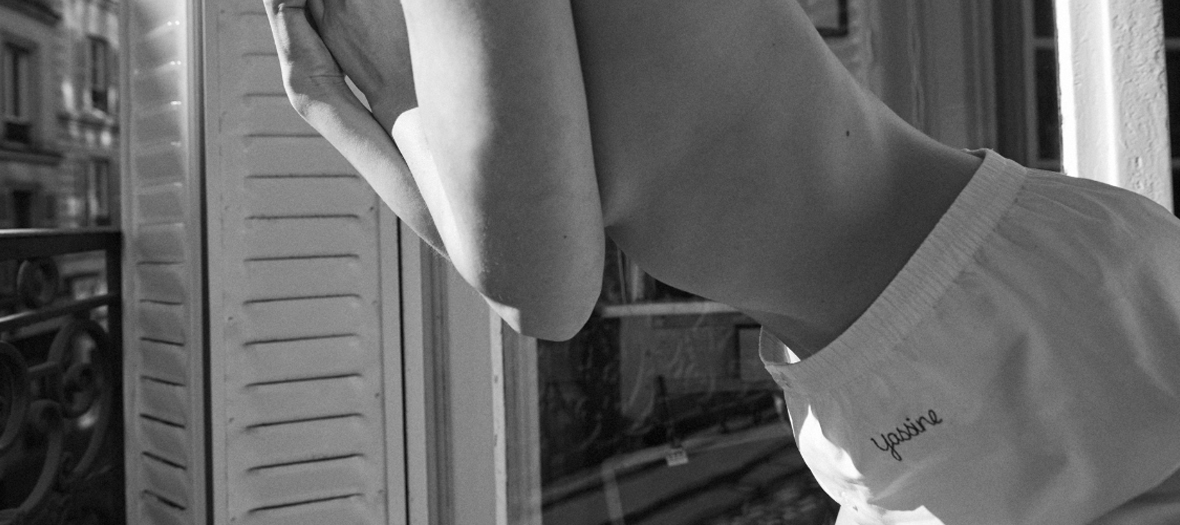 The object of desire: what could be more sexy for a guy than to see his girlfriend wearing his boxer shorts and nothing else? Especially when his own surname is embroidered, or then featuring a naughty little word …
How to go about it: order the piece that will spark your love drive at Henriette H, the queen of embroidered undies, on line or #IRL in her nouvelle boutique. 15 characters maximum, amongst 16 different colours of thread, including gold and silver, exclusively at Xmas. Count one week for delivery.
Unisex boxer shorts Henriette H, €55 + €5 for the embroidery. 24 Rue du Château d'Eau, 75010 Paris
L/UNIFORM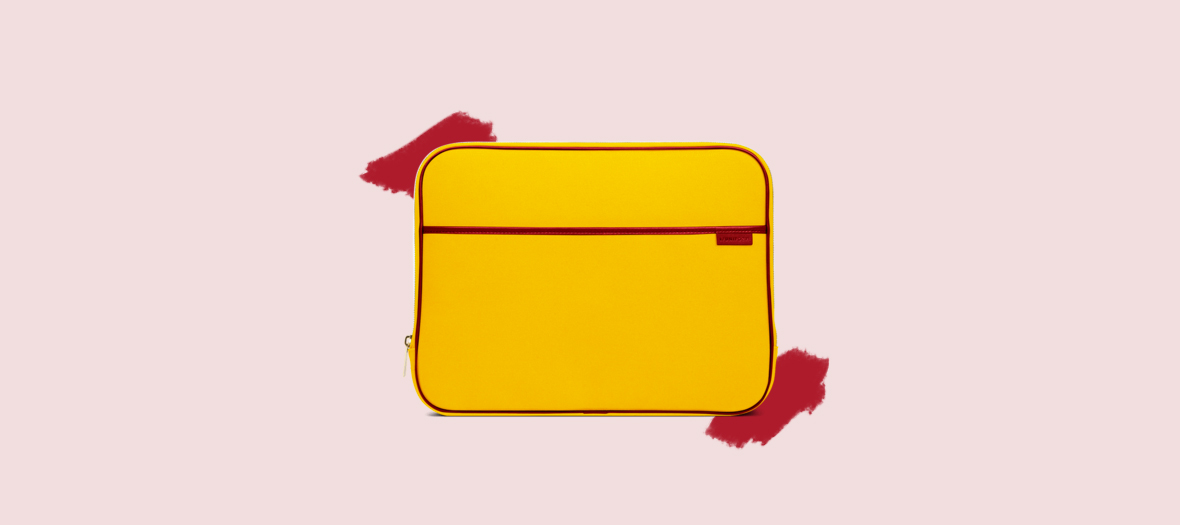 The object of desire: a lap top cover in furiously stylish canvas and leather- especially in yellow, on which you can have the initials of your favourite geek printed. A great way to show off in the open space.
How to go about it: better go to the boutique and choose the piece you want (from a bag to the Pad cover including the vanity and card holder) and have the possibility of printing more than three letters.
Computer cover, L/Uniform, €260. Personalisation: 3 letters offered. In the boutique only: from 3 to 6 letters €60, de 6 à 9 letters €120, more than 9 letters €180.
The megalomania slippers of Chatelles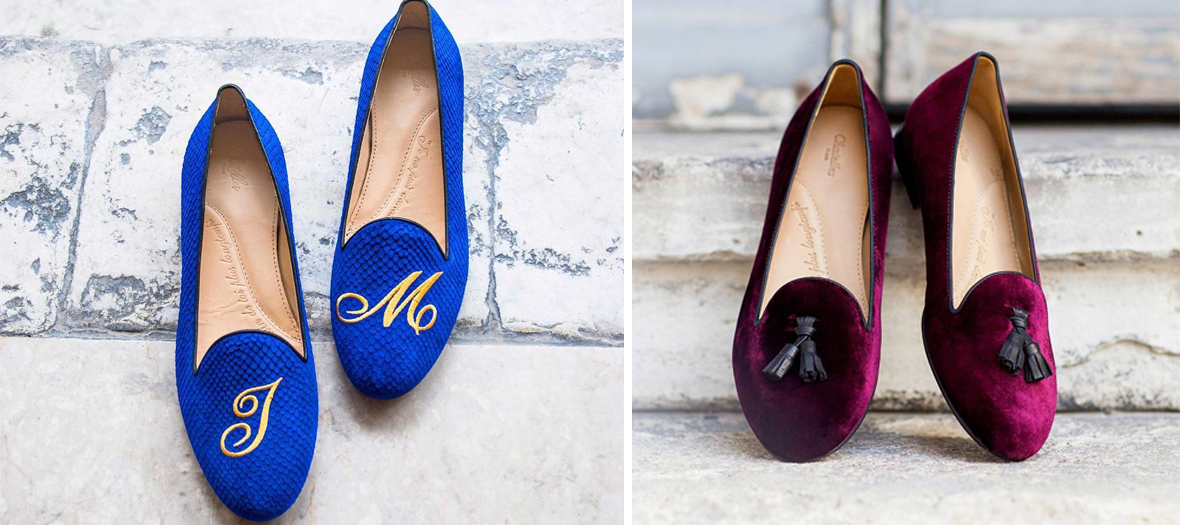 The object of desire: very fashionable slippers in leather, suede or velvet to be personalized with tassels or the special initials of your darling fashionista.
How to go about it: chose the pair slippers that will make her go crazy, then either add colourful tassels, or her embroidered initials to really stand out on the Paris pavement—in red, blue or gold.
Slippers to be personalized, Chatelles, starting at €178. Add €18 for the tassels, to be ordered on line or at the boutique: 94 Rue du Bac, 75007 Paris. For the initials, personalisation can only be done on the site, au at the price of €380. Delivery delays: 3 to 4 weeks.
An embroidered pyjama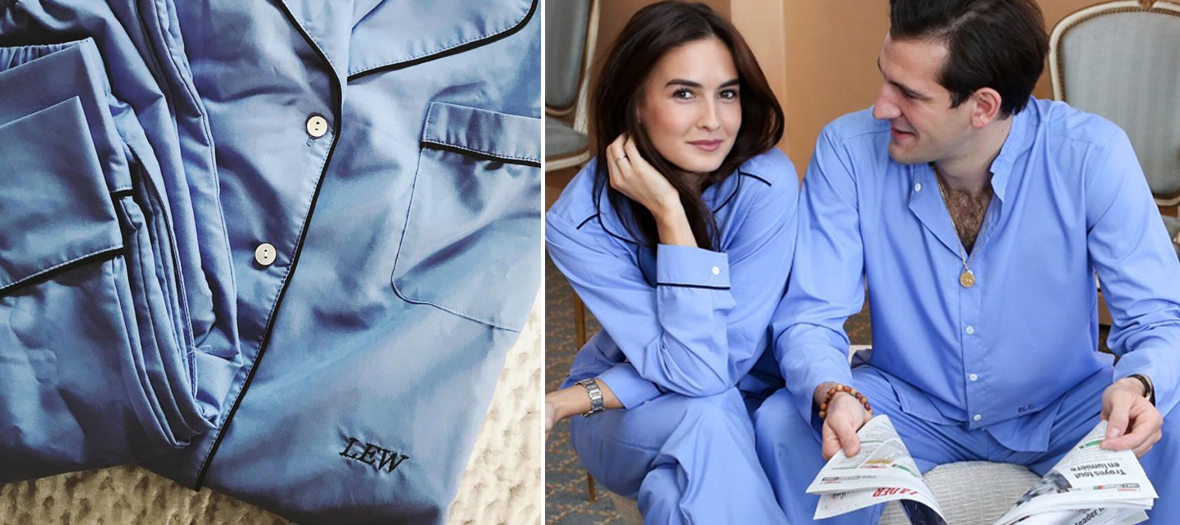 The object of desire: pyjamas or the tunic by Più Lifestyle, embroidered in your name, in bamboo cotton and made in Hong Kong by specialists. Even more snobby: their great interpretation of the men's nigh tunic like in Marrakech—creating the buzz amongst trendy Parisians...
How to go about it: plain blue, striped, navy or white, add on the pyjama of your man, on the bust or the wrist, his name embroidered and chosen amongst 7 super chic colours.
€125, the pyjama, + €10 for the personalisation. Online orders on www.piulifestyle.com.
A personalized key-chain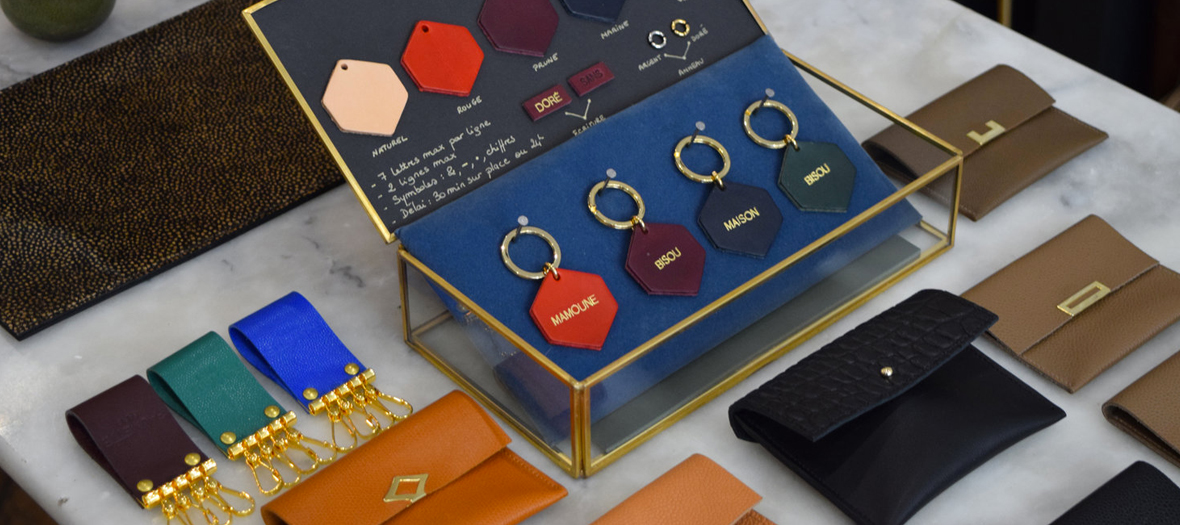 The object of desire: a pretty leather Fauvette key chain in 7 handsome colours, to be hot-stamped with a small meaningful. Papou d'amour, Best Mum, Welcome Home, Bisou Bisou… Just choose.
How to go about it: in line or in the boutique, choose amongst the 7 colours, 9 letters maximum per word on 2 lines maximum. The "❤" symbol is also offered. Count 1 to 3 days of delay or 24h if you pick it up at the boutique.
Personalized key-chain, Fauvette, €20.
An embroidered it-bag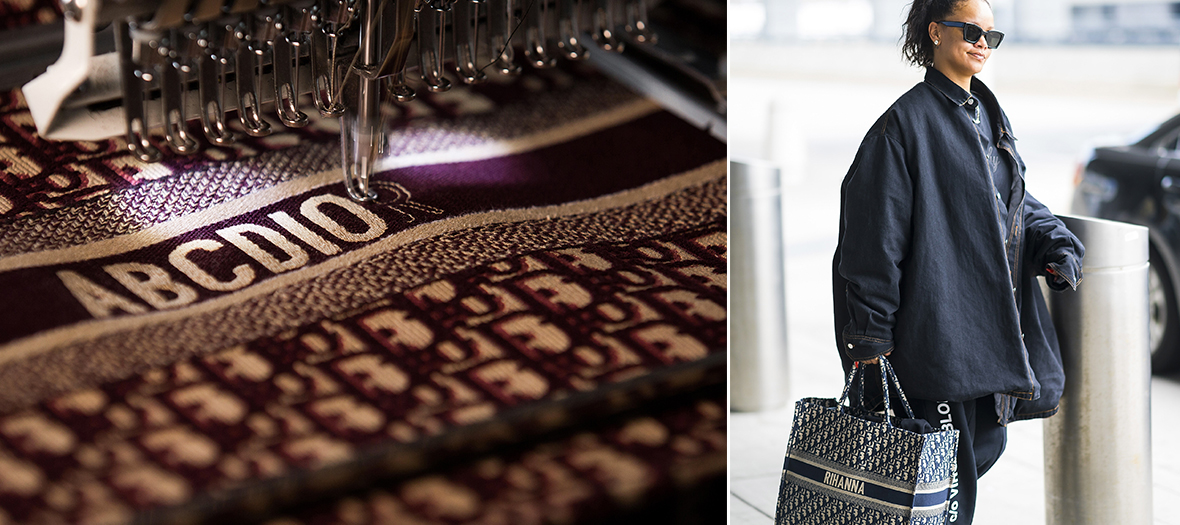 The object of desire: the absolute it-bag of the moment by Dior, the . lucky owner instead of the label. Rihanna, Chiara Ferragni and Jessica Alba are already wild about it.
How to go about it: head directly for the Dior boutique on Avenue Montaigne for a very stylish personalized gift you will keep all your life. Choose your favourite one in toile de Jouy, embroidered of with a logo (between 2,100 and €2,300), then add €200 for the embroidery replacing Christian Dior, in 13 letters maximum, the desired name or surname. As soon as the bag is ready, approx. 3 days, you receive a call to come pick it.
Book Tote, Christian Dior. To be embroidered at the boutique, 30 Avenue Montaigne, 75008 Paris.
Engraved jewellery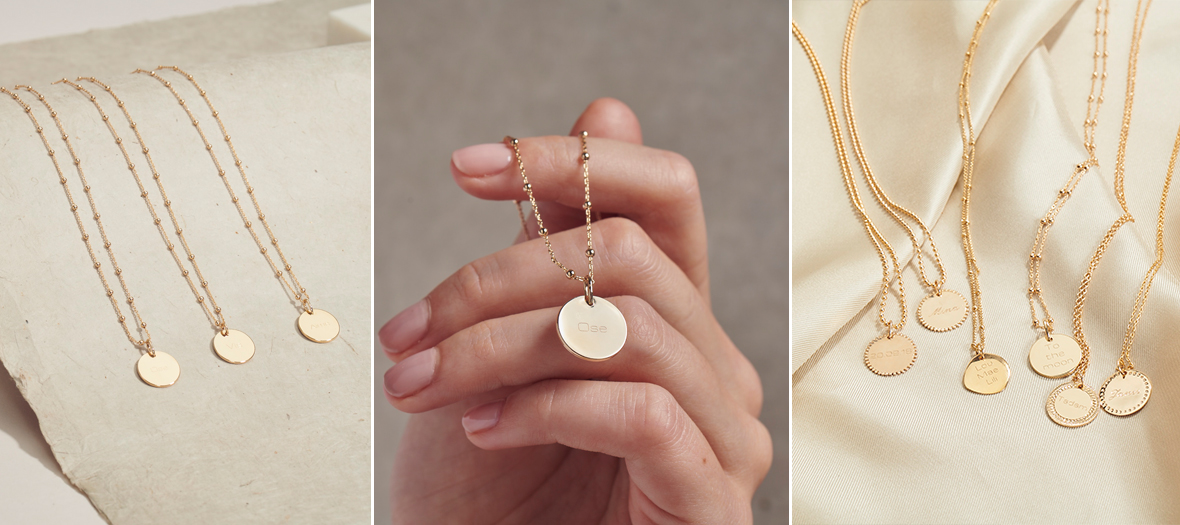 The object of desire: a nice piece of jewellery, delicate and in keeping with the times for coquettish Parisiennes. Medallions, bracelets and necklaces by LÕU.YETU are creating the buzz on Insta, and have becomes musts to be collected to the infinite.
How to go about it: rendezvous at the wild pop-up of the brand, on 3 levels in the Marais. On the top level, you can bring your favourite piece to be engraved—however, it must have a flat surface. The service is free and lasts no more than 3 minutes. In light of the success story we suggest going there off hours to avoid the queue.
Until the 24th of December at the pop-up LÕU.YETU, 118 rue de Turenne, 75003. Monday to Friday 11am-9pm, weekends starting at 10am.
Image gift wrapping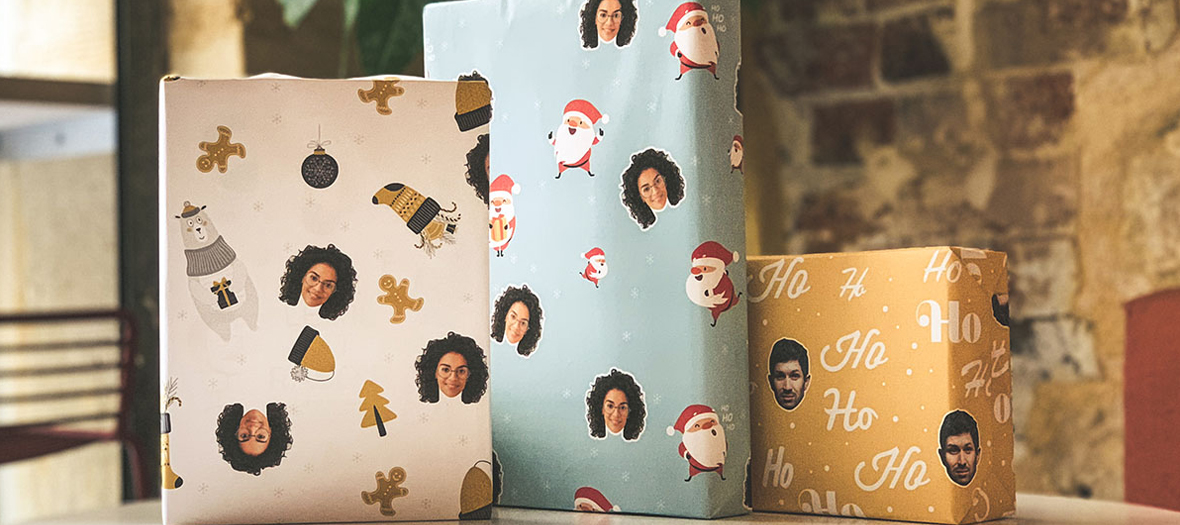 The object of desire: to pimp your gift, how about personalized wrapping? With his or her face printed on paper with motif, your brother / sister / BFF will easily find their package under the tree. Fun, no?
How to go about it: choose the size and the motif of the papier, then add portrait that will highlighted to only keep the face. As bonus, the three buddies at the origin of #Starace create everything in their small Paris workshop.
Rolls of €9.50 to €19.50 €, delivered between 4 to 10 days. www.hashtag-starface.com.
Also discover the home of Christmas and the amazing porcelainworkshop of Alix D-Reynis.