" Dressing is okay "! Does this slogan speak to you? You must have come across the funny posters of the NUS label, flanked by men in Adam's outfit with the sex hidden under the brand's logo: a fig leaf.
It is the good-natured spirit that reigns in their boutique in the heart of Batignolles , as comfy as you want with the walls painted in their signature blue, an old carpet and a large sofa to make shopping a chill and never restrictive experience.
It must be said that as a neighborhood store , NUS regularly organizes meetings with other stalls in the area for a feel good melting pot around tastings, drinks and breakfasts. A big family, in short… Psst: we are whispered into the earpiece that singer Sinclair and chef Juan Arbelaez like to shop there.
To try dare-dare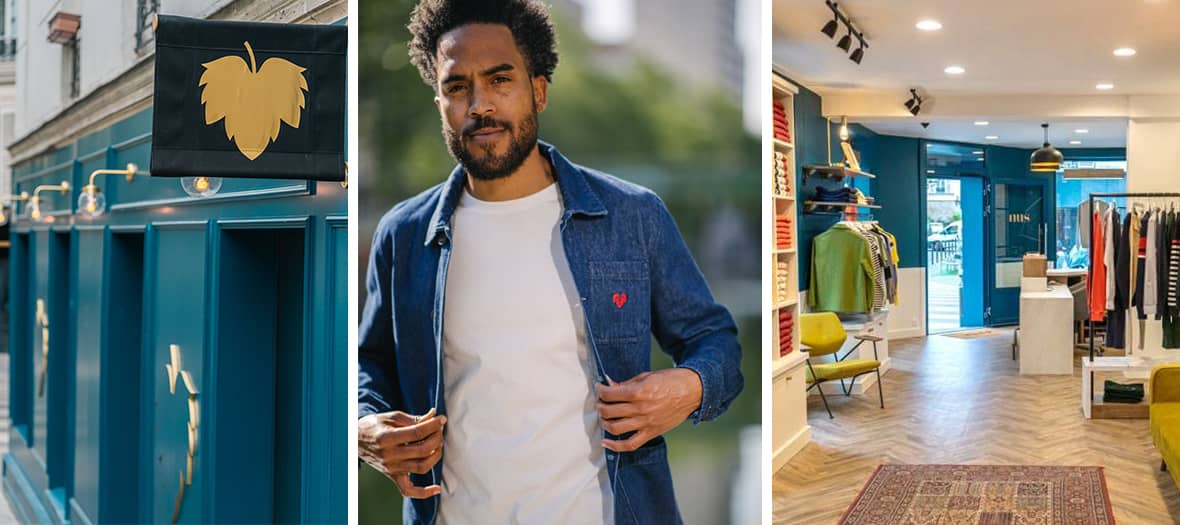 In this colorful place is presented the perfect dressing room of the Parisian who does not take the lead but does not want to fall into the basic beast and villain. It looks timeless with a twist : parachute canvas shirt (€ 75), organic cotton t-shirt in all colors (€ 30), Bermuda shorts in a perfect khaki (€ 70), cargo pants to roll up to the ankles (95 €), denim workwear jacket (€ 130), striped shirt to be left open over a t-shirt (€ 95), fir green swimsuit (€ 75) or even cap dappled with its vine leaf (€ 40).
The absolutely must-have piece: the beige and green two-tone cardigan (€ 110) in soft cotton, which will no doubt be pricked in half.
Open Monday to Saturday from 10 a.m. to 8 p.m.
Also discover a pair of Westons like new and at half price.