You missed the Menswear fashion week? Fashion is big mystery as far you are concerned ? No panic, we have prepared a recap highlighting the 5 menswear shows of this Fashion week.
The Balmain homage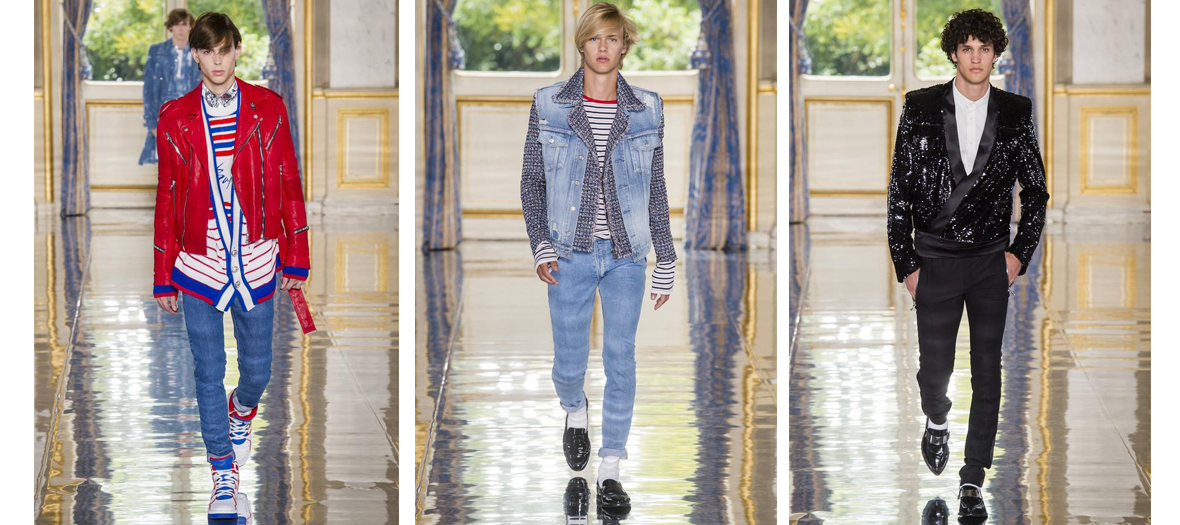 Olivier Rousteing, artistic director, signed at the Quai d'Orsay a collection in homage to the King of pop: Michael Jackson. The models went down the catwalk in pop costumes : a zipped red perfecto blouson, sleeveless jean jacket, t-shirt with sequins… Al this with a background sound that included Bad, Scream and a remix of Jam.
The Louis Vuitton novelty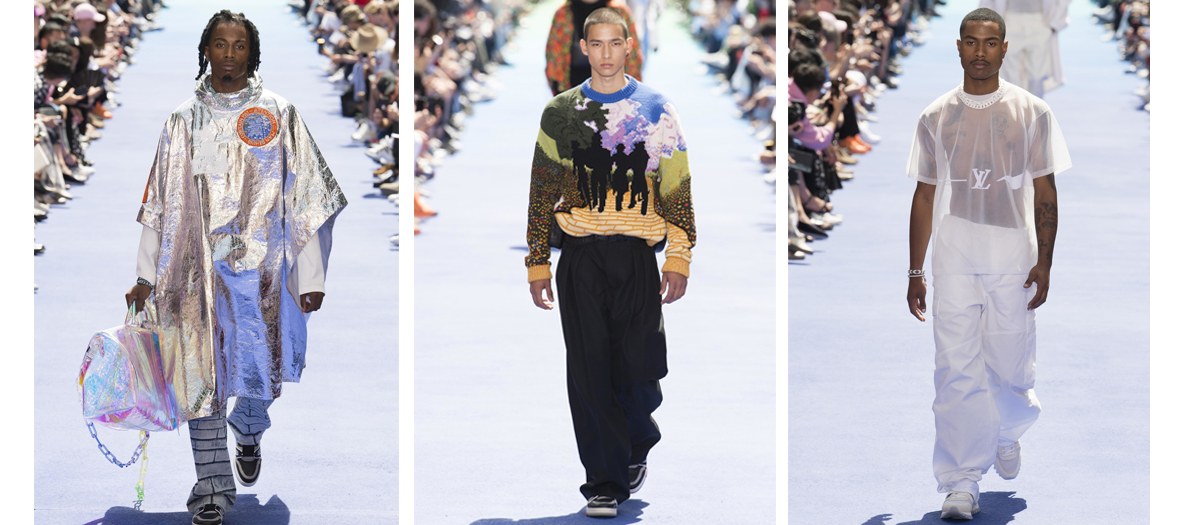 Rainbow event fashion show for the arrival of Virgil Abloh at the head of Louis Vuitton. The founder of the high street wear label, Off White, went all out with a very selective audience and models (fashions pros, rappers, actors etc). T-shirts mentioning "Louis Vuitton Virgil Abloh" were even distributed to the guests. A successful melting pot between the Haute Couture house and the AD. On the programme: a revisited "Keepall" bag, a Wizard of Oz pullover and a transparent t-shirt … A new wind is blowing.
The Dior Homme bee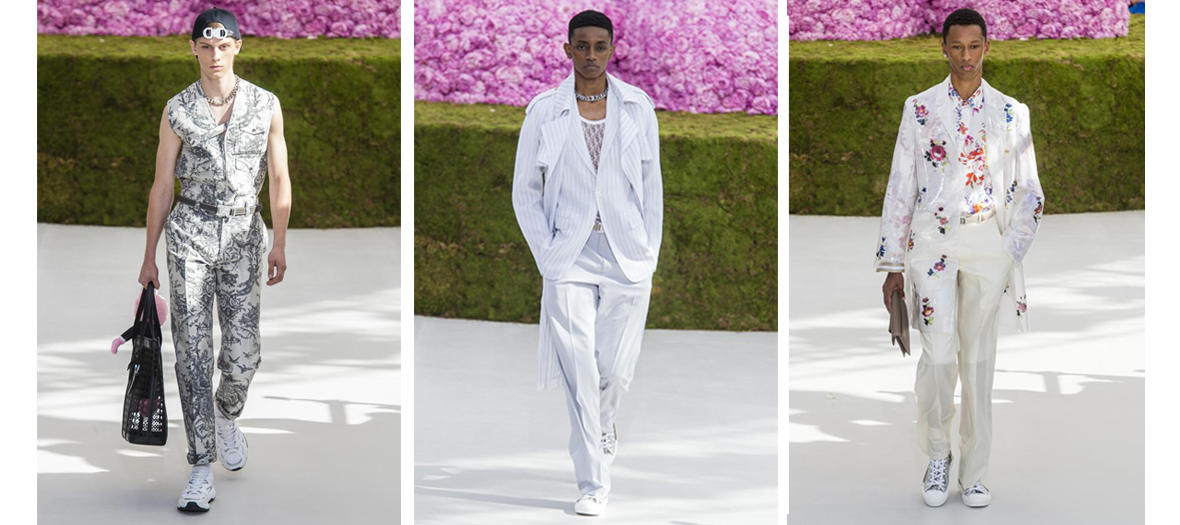 A successful first fashion show also for Kim Jones. Formerly at Louis Vuitton, he interpreted the work of Christian Dior and the House with light touches: embroideries, jacquard, toile de Jouy, and the bee (symbol of Monsieur Dior) reinvented pop style by Kaws. Full circle.
The dark side of Ann Demeulemeester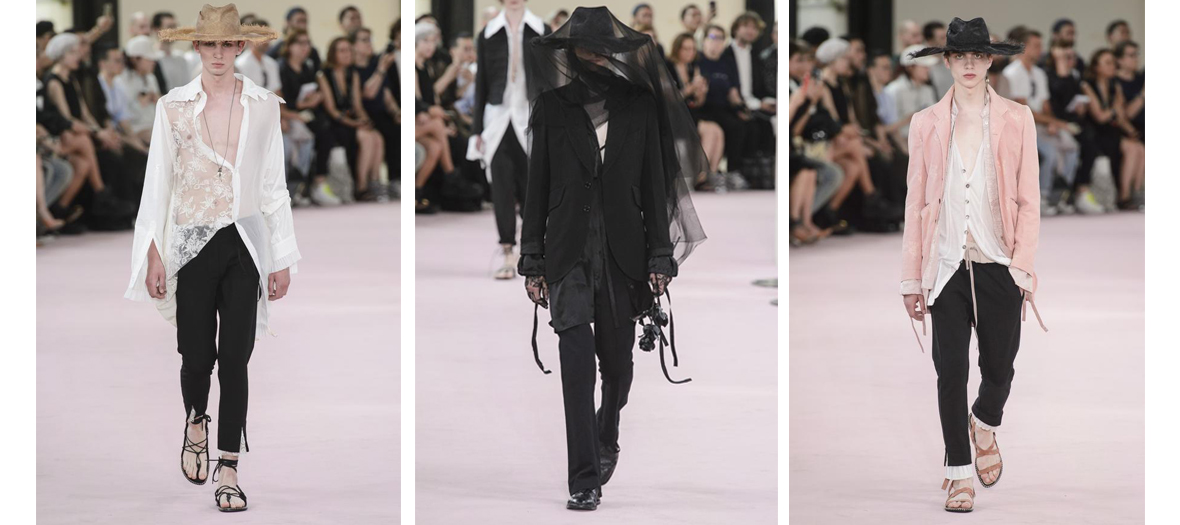 A dark and romantic show that Ann Demeulemeester always masters with talents. Silhouettes that seem to come straight out of a poem by Arthur Rimbaud: silk, embroideries and pastels convey to the tall modes a look of androgynous scarecrows.
The Gadjo of Jacquemus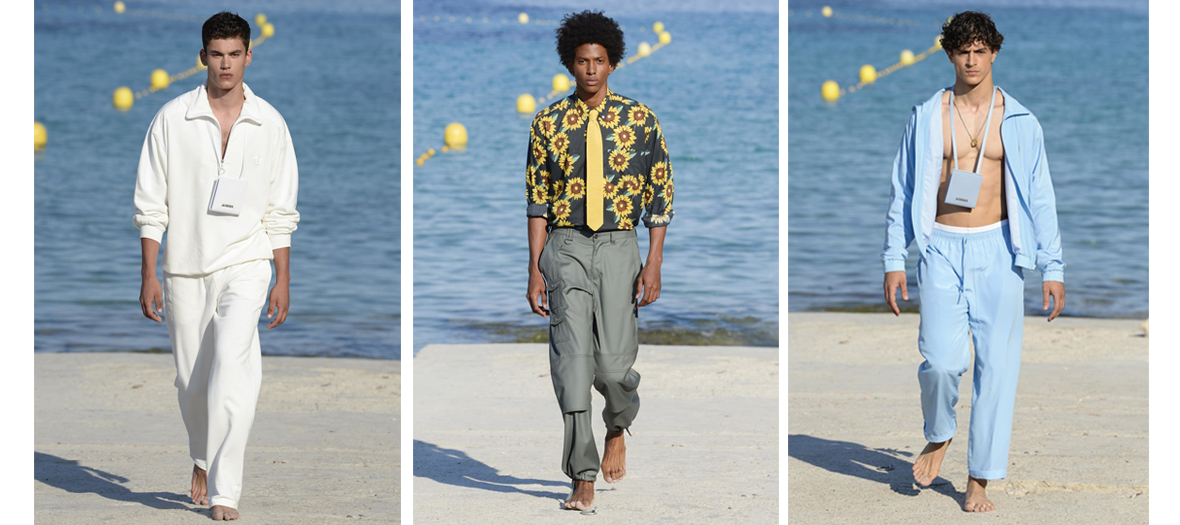 The curtain dropper was entrusted to Simon Porte Jacquemus who took all the guests to the calanques of Marseille. A first men's show, "Le Gadjo", inspired by good looking Southern boys. Simple yet modern cuts and silhouettes... A sunflower yellow shirt, knitwear, cargo pants and Bermuda shorts with lots of pockets… Pastis in hand, it was an open invitation from the designer to come discover Provence.
Also discover "the ideal toiletry kit of a guy on holidays" and "Checking out the sales in the Marais" (Men)