From parades to Parisian cobblestones, there is only one step. The man is flamboyant fashion this season, with real trends spotted on the catwalks male. If a bohemian wind is sweeping the catwalks, we can clearly see a return of the bourgeois wardrobe , while the stylish boys take on certain feminine codes with virility.
While certain daring obsessions are proving to be complicated to assume on a daily basis - the plunging neckline marcel, the leopard print and the micro-shorts in particular, others are already eyeing the temperate but sharp fashioners. Leather pants , fuchsia detail , XXL print shirt , jumpsuit or moccasins ... At the end of men's fashion week , a little tour of the tracks of the tocades easy to adopt and which are already making us addicted.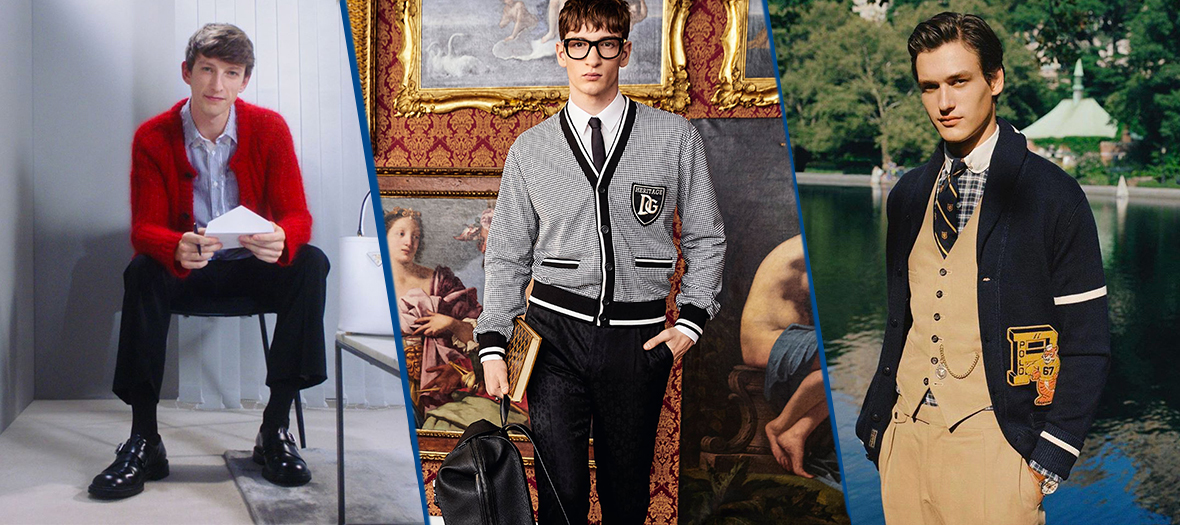 Attention chameleon! In a fluffy mohair version at Prada , crochet at Dolce & Gabbana , a preppy shawl collar for Ralph Lauren or grunge with holes and holes on the Gucci knits, the cardigan stands out as the starlet of the catwalks. No longer reserved for the traditional petty bourgeoisie, it is transformed for mid-season and is more stylish than ever in an oversized comforter version with a bit of destruction.
© Dolce & Gabbana, Prada, Ralph Lauren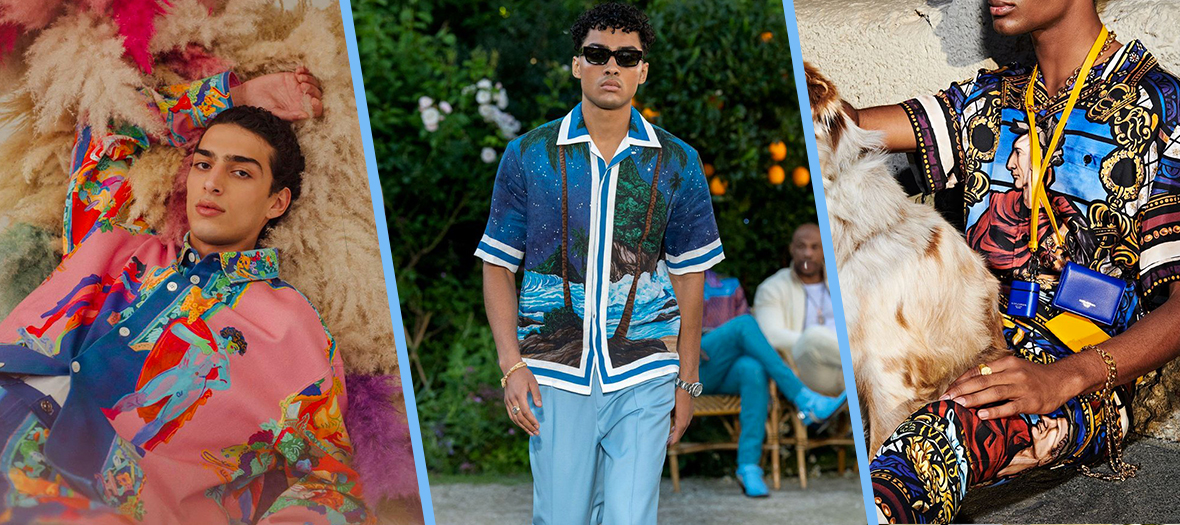 The little shy print to play the fool who pretends to dare, it's finito. This year, the motif is monumental , panoramic on the blouse.
A colorful story that is told in particular at Valentino , Versace , Casablanca , Prada , Dolce & Gabbana or even MSGM , in silky and fluid materials to put on over a knit or even on the skin for sunny days, with Bermuda shorts ( matched or not) and moccasins.
© Versace, Casablanca, Dolce & Gabbana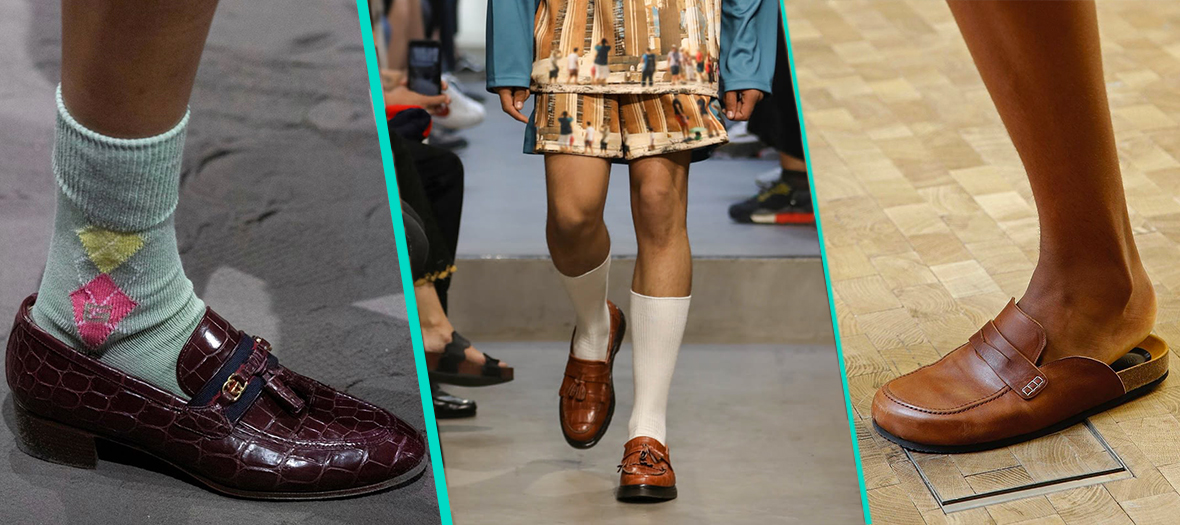 This year, the ankle is revealed thanks to the accessory to have absolutely: the beautiful moccasins of dad. And no question of stashing them under pants. At Gucci , Thom Browne , Blue Marble or JW Anderson , he proudly shows off with pants cut above the malleolus, even knee-length shorts with long socks.
But beware: the goal is not at all to gentrify the outfit, on the contrary. The moc 'just supports the fantasy of a print, a banana or a hairstyle a bit messy, far from the Windsor-compatible uniform. An essential investment, therefore.
© Gucci, Blue Marble, JW Anderson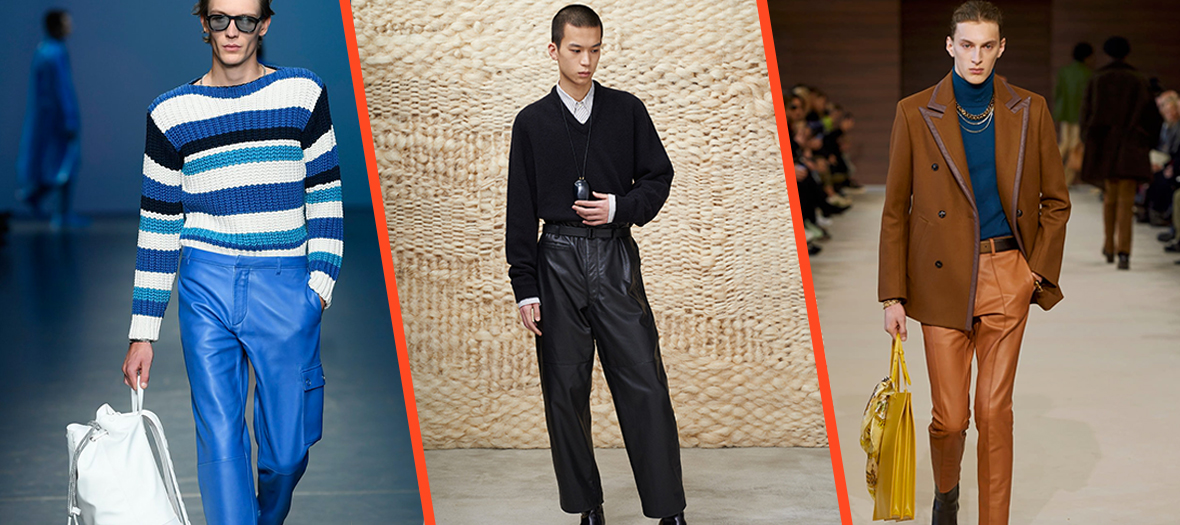 A favorite piece of sex symbols Brad Pitt , Lenny Kravitz and David Beckham since forever, the leather pants are back on the front of the fashion scene. But not really to rock a look this time around.
At Dior , Amiri , Hugo Boss , Fendi , Lemaire and Salvatore Ferragamo , it brings a sometimes cavalier note, sometimes elegant, to texturize woolen capes, sweaters and jackets. We now draw it in all shades and not just black: mouse gray, azure blue, tobacco… Exit the Matrix effect , hello to aristocratic leather.
© Hugo Boss, Lemaire, Amiri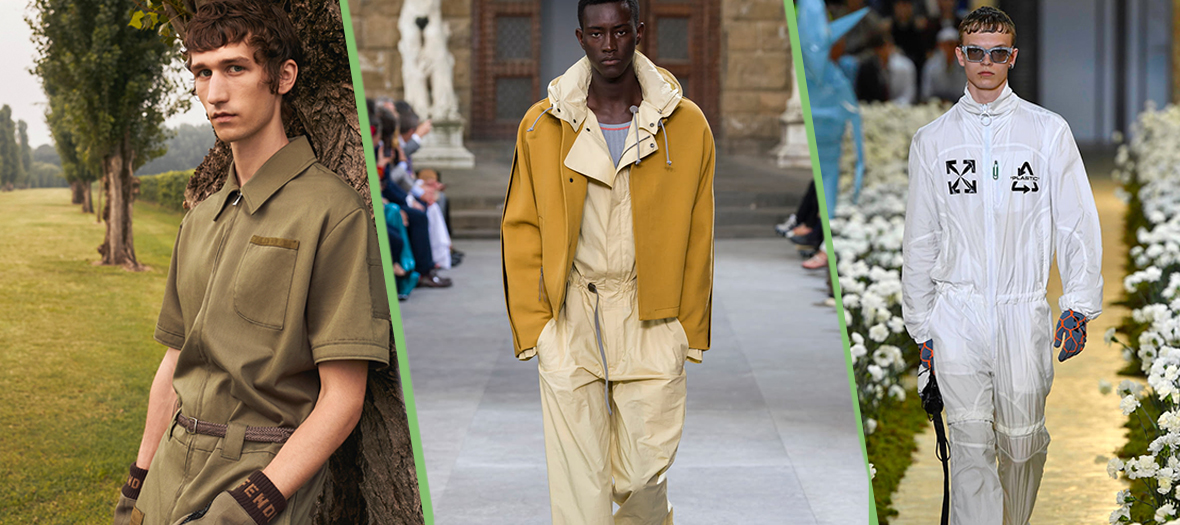 Not manly, the combi ? Don't let that narrow remark stop you from getting started again. After all, this clothing of utilitarian origin was mainly worn by mechanics, fighter pilots and astronauts: we have known more girly trades.
Rick Owens , Fendi , Ann Demeulemeester , Off-White , Dior and Juun.J rehabilitate it for today's men in a flexible version, with buttons, prints, zip or hood, belted or not… In short, the jumpsuit for boys is democratized in truly portable versions, to marry with sneakers and a trench coat, as well as accessories such as cycling glasses or bob for the more adventurous.
© Fendi, Dior, Off-White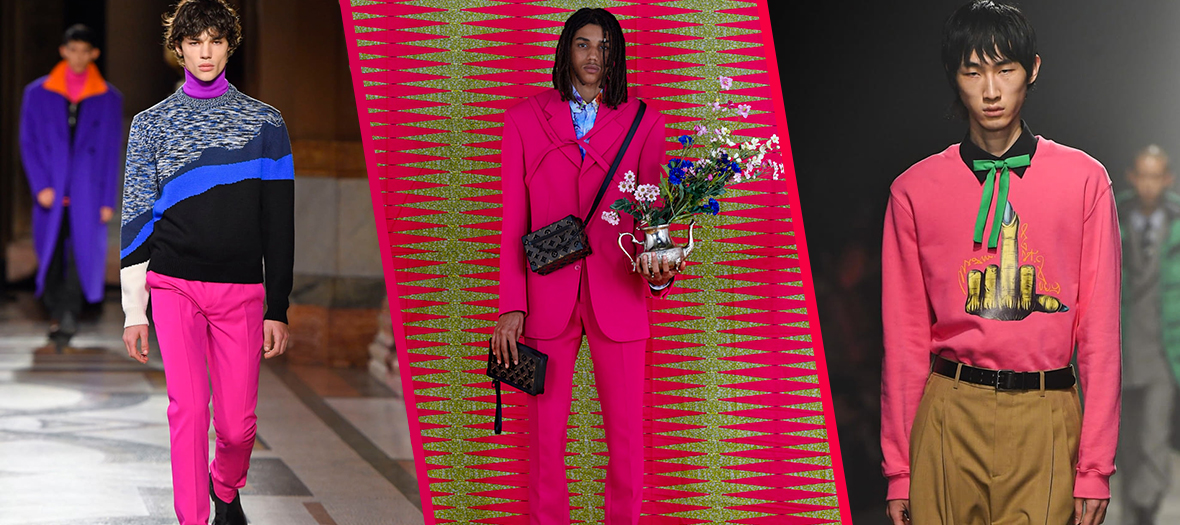 Women no longer have a monopoly on fuchsia . Good-looking color par excellence, it is found in men in all-over or with touches of accessories for those who prefer to proceed in stages. A sweater here at MSGM , a tailor there at Louis Vuitton , Jacquemus or Berluti , the men's wardrobe takes hold of the feminine hobby of the year.
Why deprive yourself of it? Fuchsia is a decidedly bright splendor that blends admirably with white, orange, blue and camel.
© Berluti, Louis Vuitton, MSGM

Also discover the new Weston Vintage store and the coolest men's collabs of the moment .