Things are buzzing on Rue des Grands Augustins! At number 25, say goodbye to Kitchen Galerie Bis and welcome Oktobre. Familiar with the place, the thirty-something chef Martin Maumet, who previously worked at this address alongside William Ledeuil, has taken charge to showcase his talent and revive French cuisine. You're going to love it!
Guided by Studio Bateaumagne, Martin Maumet has given himself a blank canvas by completely redesigning the restaurant's decor and aesthetics. The mood? Autumnal, like a Van Gogh painting, bathed in a warm color palette ranging from beige to brown to bordeaux. Oktobre creates a warm and poetic atmosphere that reimagines the brasserie spirit with stylish banquettes adorned with wide stripes and walls covered in botanical paper panels resembling fields of flowers. We adore the small private room at the back of the restaurant, with a homely ambiance featuring a large table, books, and bottles. Dining as a couple? Head to the table near the window, softly filtered by a linen curtain.
Although he worked at Byblos in Saint-Tropez and Jules Verne with Jemmy Brouet, it was with William Ledeuil that Martin Maumet found his place and earned his title as a chef at just 22 years old at Kitchen Galerie Bis. After a decade of familiarity with the herbs and condiments cherished by William Ledeuil, he retained a taste for unconventional seasonings, lively flavors, and a traveler's spirit that electrifies the classics of French cuisine. At Oktobre, he presents a striking bistronomic cuisine that breaks away from the usual norms. In collaboration with sommelier Romane Laignel, this young chef offers much more than just a new restaurant.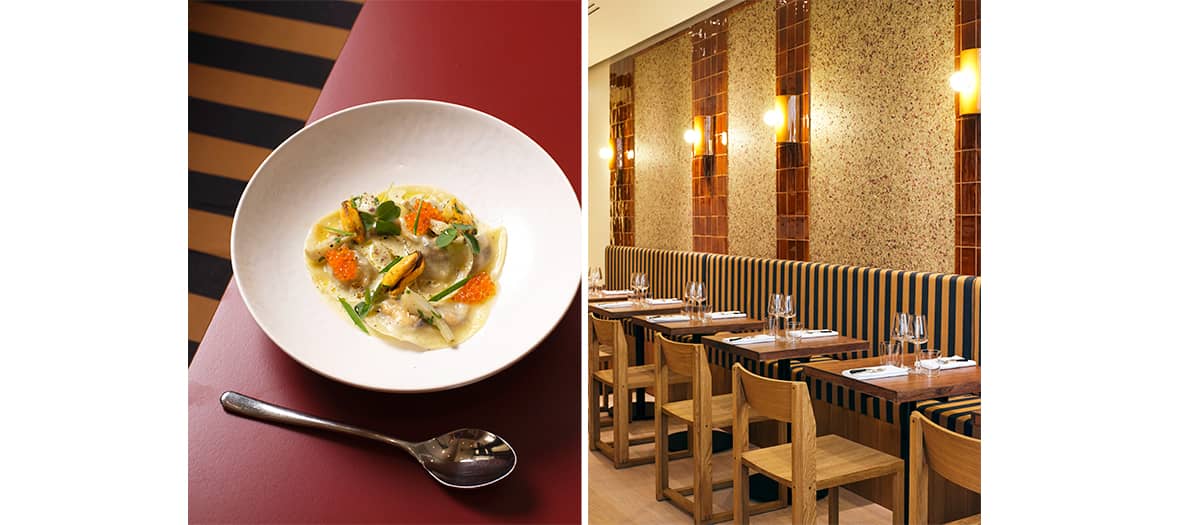 A glance at the menu immediately hints at vibrant cuisine and a royal lunch formula for €39. Let yourself be surprised by three appetizers labeled "to discover." Three bowls arrive on a tray: energetic green beans, mackerel, kombu vinaigrette, and sesame. A tomato water sweetness with cucumber and smoked eel. And a beef tartare elevated with horseradish, dried bonito, and puffed rice.
For the main course, the catch of the day has captured an outstanding medium-rare red tuna, accompanied by zucchini, artichoke, fennel, olives, and a bouillabaisse sauce. The sweet finale revolves around an apple drizzled with miso caramel, a spoonful of raw cream, and accompanied by a tagete sorbet for a refreshing touch. A flawless performance. Verdict: this cuisine is sharp, agile, lively, and elegantly surprising.
Open from Tuesday to Saturday, for lunch and dinner.
Also, explore the new chic spot where politics meets, and Martin Simolka's new brunch, book asap.