It seems Pierre Bouko-Levy always hits the bull's eye. After making a name for himself at the helm of Miznon Paris and the very noticeable opening of Mulko where he was highly implicated, the Franco-israeli chef is creating sparkles at Shouk (translation of market in Hebrew)—right near Canal Saint-Martin.
Hot, hot, hot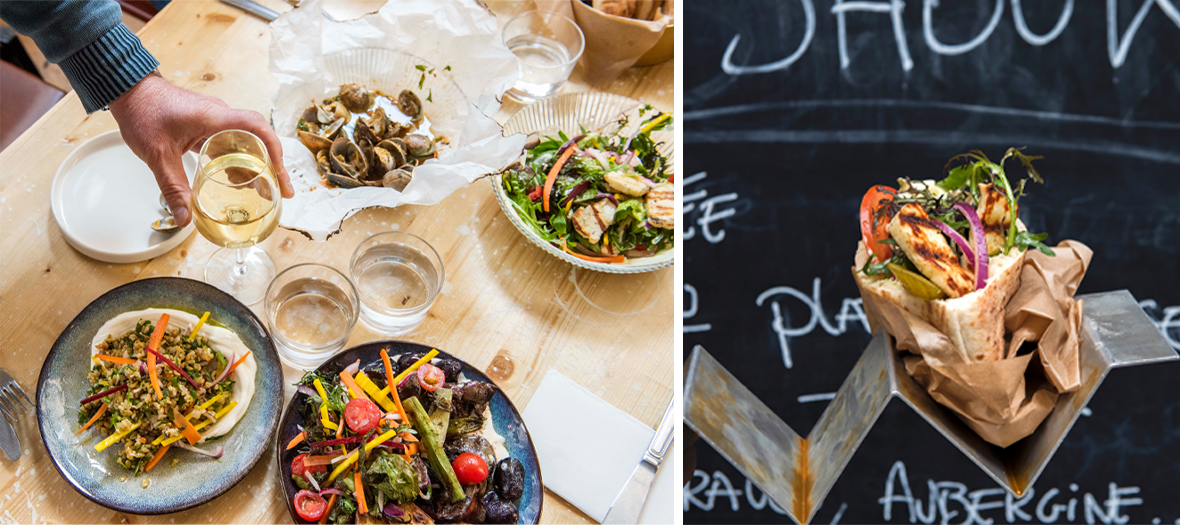 Are you familiar with mangal? Originally from the Middle-East, this flameless barbecue allows to cook food directly on the wood charcoal embers. Benefit of the operation? A slightly smoked taste.
The one at Shouk runs full blast: meats, fish, vegetables, Pierre Bouko-Levy gives it his all. And the result is a deliciously tender eggplant (€9), a divine plate of veggies (€8), a skewer of kebab to be dipped in a house sesame cream (€17) and the salad with halloumi, this delicate goat and ewe cheese with arugula, cherry tomatoes, cucumber and red onion (€14).
The good idea? Order a mezze and share with a cocktail (€10) or a natural wine.
Play it like in Tel Aviv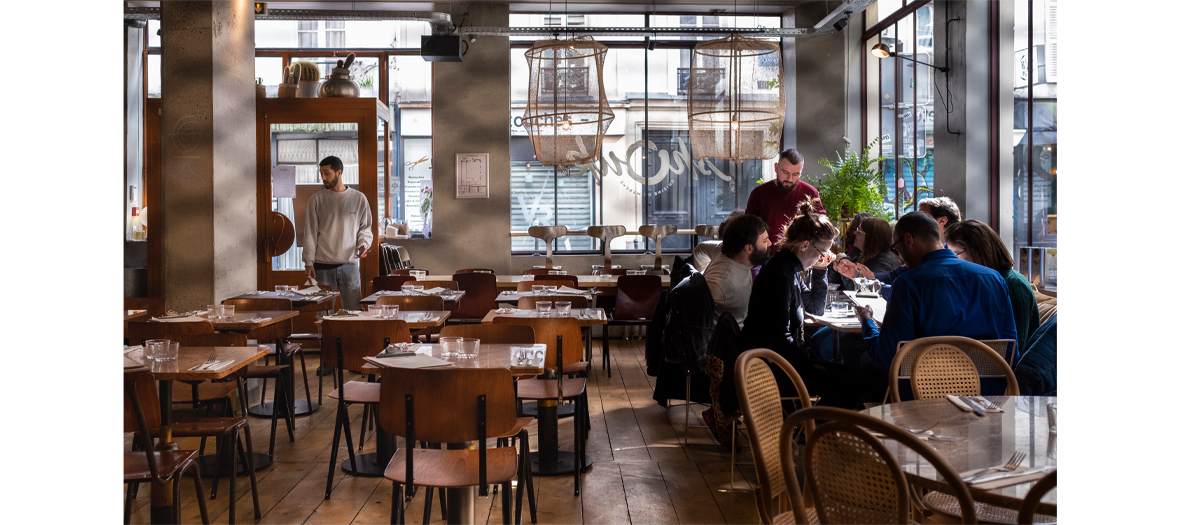 Same enthusiasm for the pitas, imported directly from Israel, because nobody makes them better than over there, it seems, garnished with a shawarma of yellow chicken and Greek yogurt (€14) of a  combo of tomatoes, thina, zaatar, olives (€12). For dessert, go for the knafé (angel hair, cheese, syrup of cardamom, marmalade of cherries, €10).
In terms of decoration, Israeli Gali Rosenbaum took advantage of the space to create a stylish cantina under the mesh hanging fixtures, with on one side, the open kitchen with a counter, and on the other wooden tables, a living room area with banquette/cushions and caned furniture. It's just like being there.
Open for lunch and dinner from Tuesday to Sunday.
Also check out Créatures and Le Grand Café d'Athènes.