Known under its original name L'Atelier Libanais, best Lebanese in Belleville, opens a second address in Oberkampf and changes its name to L'Artisan Libanais. Hipsters will rejoice with this new HQ ideal to nibble on yummy mezzés.
The family spirit
If your heart misses a beat when hearing the soft words "houmous", "labneh" and "pitas", you have picked the right place—family ambiance and authentic cuisine are on deck. L'Artisan Libanais is a cantina whose decor is worked on in the slightest details, cement tiles flying the colours of the Lebanese flag, embroidered wicker baskets and  vintage plates—in short a true round-trip to Beirut.
A four-hand project
At the helm: Mikael, a Parisian who fell head over heels in love with Lebanon and Charlie, a very talented chef who knows by heart all the traditional Lebanese family recipes—the perfect mix to create a Mediterranean restaurant that will be the big hit of the 11th, attracting a hipster crowd, eager to try nice hearty dishes, served in a cantina that is totally off-the-beaten-track.
A Mediterranean journey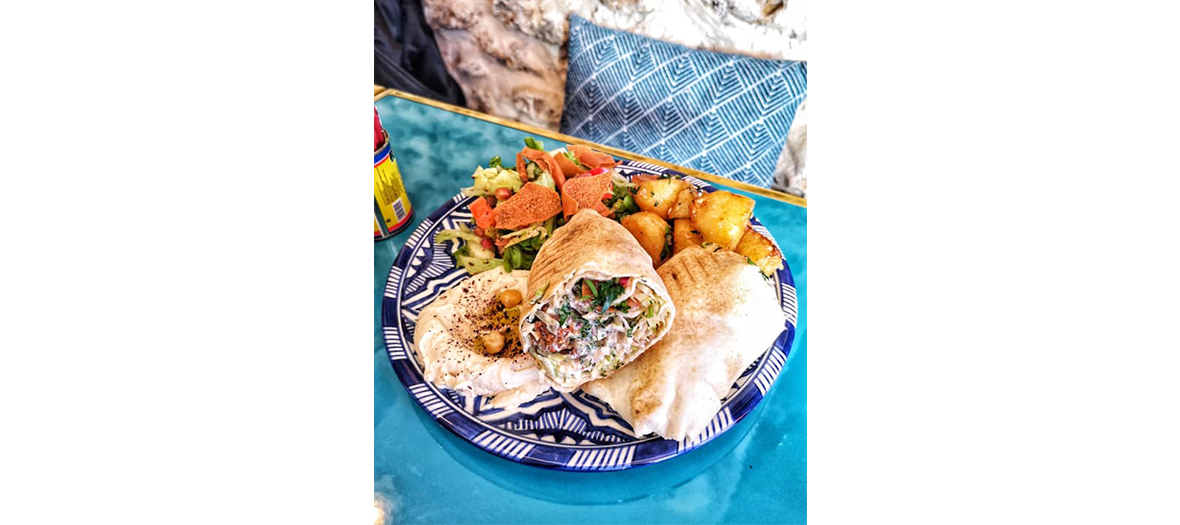 Here everything feels just like home! Everything is friendly and to be shared! Starting with super generous mezzés of labneh, houmous, taboulé,moussaka, eggplant caviar (between €5.20 and €5,90), arayes (pita stuffed with cheese, a killer … €5.80), falafels(€12.50)… Veggie twigs will appreciate the wide array  of delicious dishes to be washed down with sun-filled Lebanese wines. To finish on a sweet note: a gourmet mint tea and irresistible pastries are a must (€5.90).
Too lazy to go outside? Order a home delivery of mezzés as well as fritters (cheese-beef-spinach…) for €15.90 /person via deliveroo.
A small souk
The spirit of a large market just like in Beirut. Here you can actually partake in the souk market ambiance by enjoying Lebanese specialties. Teapots, pouches, Alep soap, wicker baskets, rose or orange blossom syrups, teas, spices… Small treasures from the Orient divided a little bit everywhere on the shelves and at mini prices. Keep your eyes peeled!

Open Monday to Thursday from noon to 11pm, Friday – Saturday from noon to midnight


Also discover The latest table of Maison Noura and Libertino, the new address of Big Mamma.