When great starred chefs revive street food, delicious and delightful concepts ensue. Let's take a look at the latest recipes you don't want to miss out on.
Basque style: Jòia Bun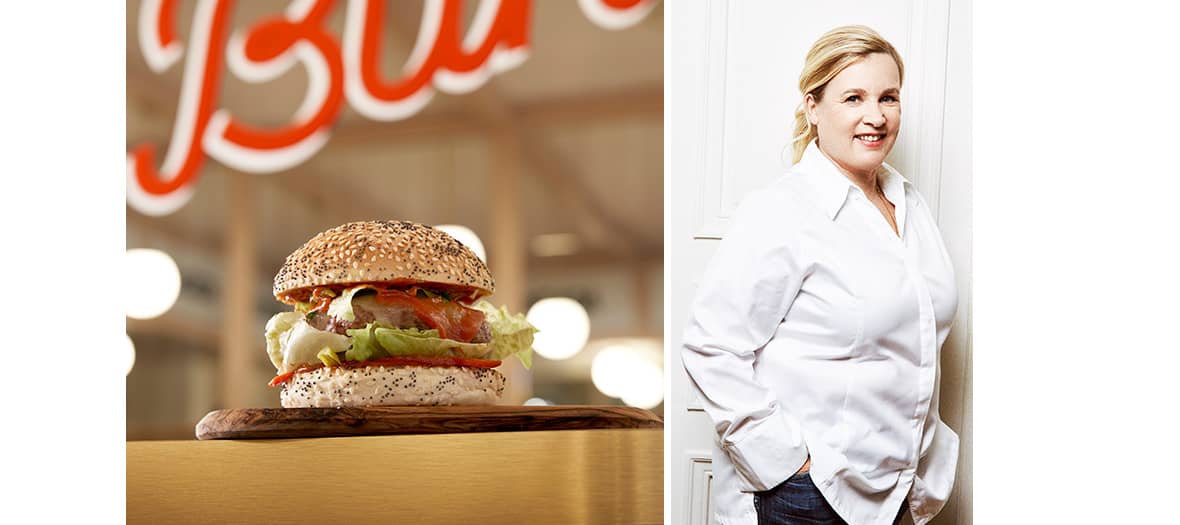 About the chef — This is the story of a three-star chef whose restaurants–like many others— were shut down during the repeated lockdowns. But preventing Hélène Darroze from delighting her regulars pushed her to start offering take-away burgers.
Since then, everyone's been begging her to get back into it. Today Jòia Bun is opening for keeps, minutes away from the Opéra, on site and walk-ins only.
The burgers — Inspired by her Basque heritage, Jòia's burger recipes are all twisted with ingredients from there: from yellow Landes chicken to piquillos to txanguro crab... all wrapped in an airy bun sprinkled with poppy seeds and sesame seeds, homemade, naturally, just like the ketchup and aioli used to dip the crunchy potatoes.
The crispy chicken (included in Jòia's menu) and the croquetas are outstanding.
Jòia Bun, 16 rue de la Michodière, Paris 2nd. Burgers ranging from 14,50€ to 25€.
Korean style: Burger Père et Fils x Pierre Sang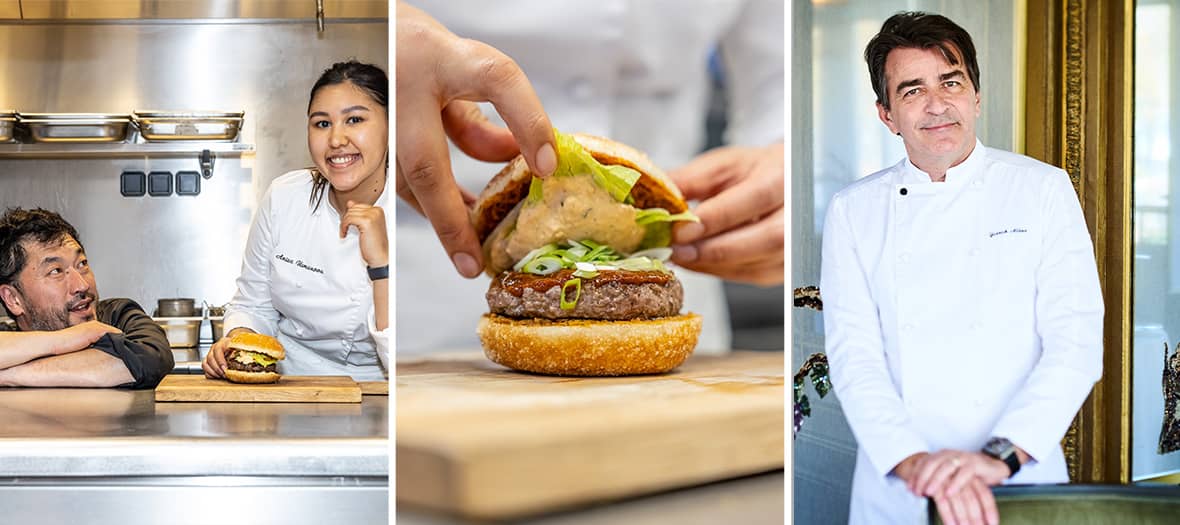 About the chefs — Pierre Sang, the chef behind Burger Père et Fils Anisa Usmanova and the 3-star chef Yannick Alléno have partnered up to create a burger bomb, only available for a month and to be consumed at Burger Père et Fils, the place Yannick Alléno and his late son Antoine created.
It should be noted that part of the proceeds will go to the Antoine Alléno Association.
The burger — Haute couture with a touch of exotic flavors. The name? Nanoom, which means "sharing" in Korean. But who would want to share a Father & Son fried bun burger topped with Ssamjang pepper sauce (Pierre Sang's signature) with Norman cow steak deglazed with soy caramel sauce, and kimchi mayo? #foodporn #foodie! The showstopper: the chicory and vegetable chip side dish. yum, yum!
Now for the lazy ones, UberEats will deliver it at your door.
Burger Père et Fils - Beaupassage,  53-57 rue de Grenelle Paris 7th.
NANOOM - limited edition from March 10 to April 10. 19 € for the meal / 15 € for the burger.
© Ilya KAGAN @ilyafoodstories
Smashie style: FTG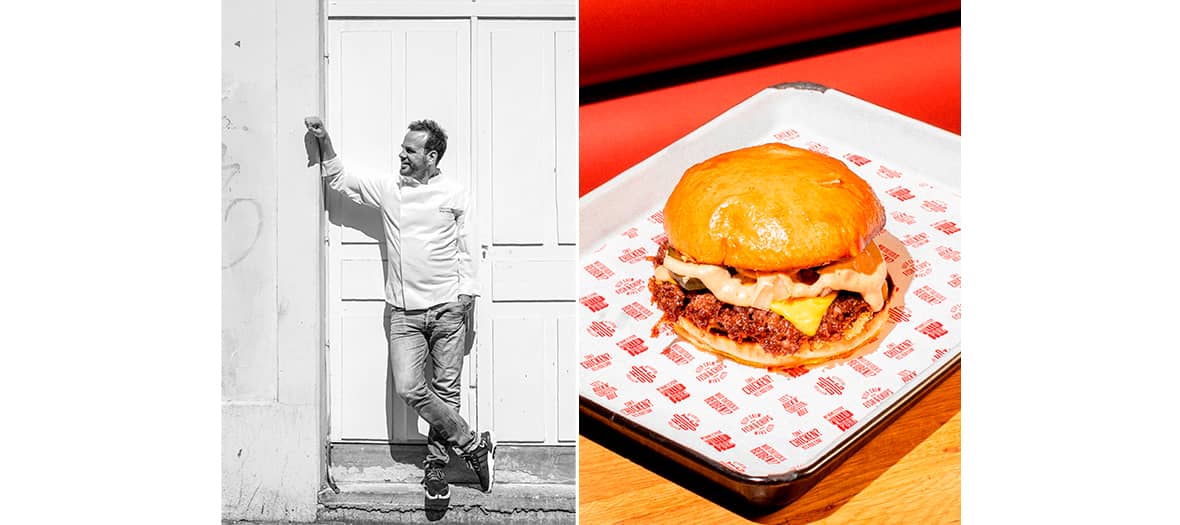 About the chef — Gregory Marchand strikes again. The chef from Rue du Nil hits the mark both at his Michelin-starred restaurant Frenchie, and at his street food joint FTG, which elevates street food to a whole new level (we're talking pulled pork and pastrami sandwiches...).
The burger — Paris' finest Smash prepared with the chef's passion for sourcing and creating: French beef, organic potato fries from an organic farm, crispy French beef, creamy American cheese, raw onions, homemade cucumber pickles with vinegar, FTG's secret sauce to be spiced up with bacon, jalapeños, English cheddar.
A culinary delight to be ordered with cookies and brownies from the starred table's pastry chef.
Frenchie To Go, 9 rue du Nil, Paris 2nd. Delivery via UberEats and Deliveroo. From 9€.
Vegan style: Burgal Paris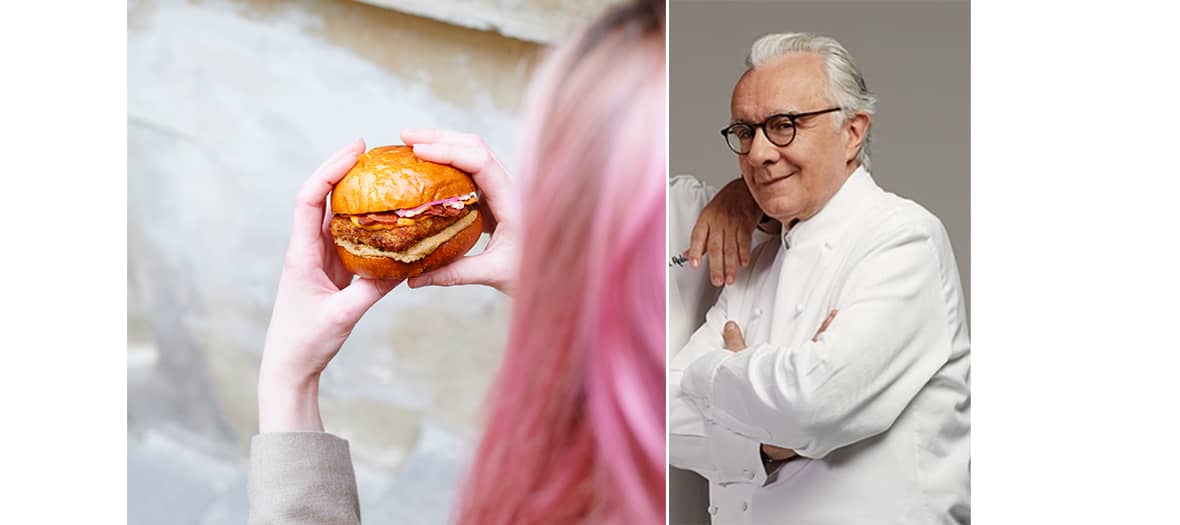 About the chef — Alain Ducasse relocates Burgal, a food kiosk previously located on the Place de la Bastille, to the Musée d'Orsay square, in the spirit of Popl, Noma's burger joint in Copenhagen.
The burger — a brilliant locally-sourced recipe that unites vegans & food lovers around quality products made in France, with an emphasis on hyper-local products from the Greater Paris area. This gives way to a vegan, gluten-free brioche bun prepared by Boulangerie Thierry, a veggie cake with a smart mix of zucchini, carrots, parsnips, lentils, onions, quinoa, topped with eggplant caviar.
To perfect the dish: spicy vegetable mayo and tasty pickles, to be accompanied by three-vegetable chips.
Burgal Paris Place de la Bastille (corner rue de la Roquette), Paris 11th. Burgal, chips & drinks 12,50 €.
Also discover Dumbo opens a new address in the 10th and the best burgers in Paris