Traditional or revisited, at the table or in street food mode, the spring roll is in the spotlight. Review of the 10 best spring rolls in Paris, to savour with your fingers of course.
Banoï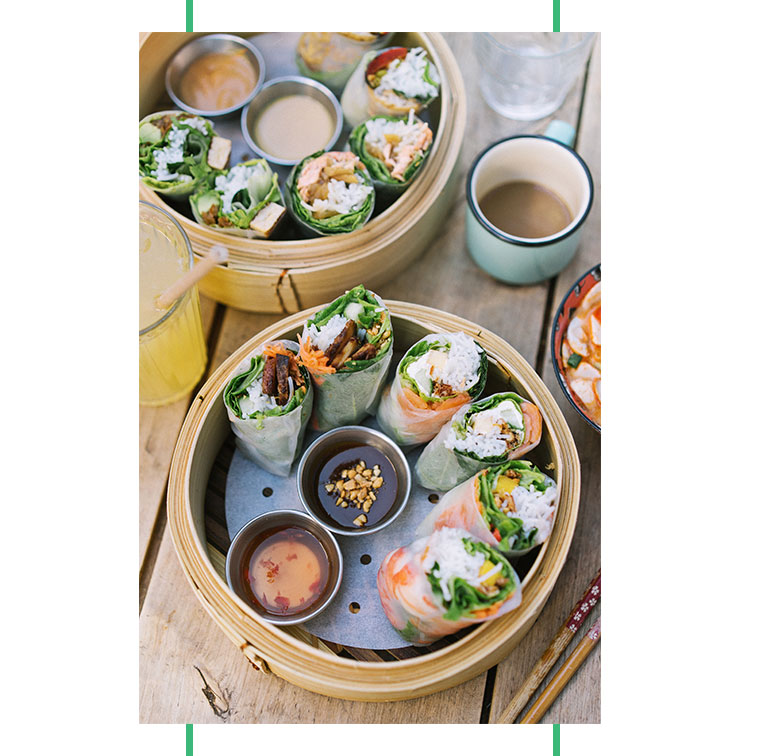 The monomaniac counter of the 11th, opened in 2016 by the lovely My-Ly Pham delivers the best spring rolls in Paris in every category. Her credo? A Vietnamese method in the purest tradition on a base of rice vermicelli in a chill atmosphere.
In total, 7 really appealing recipes: pork with lemongrass, carrots, pickles, cucumber, peanuts; Japanese omelette, avocado, glazed onions; smoked salmon, fresh cheese.
To be dipped in irresistible house sauces.
Lunch formula 3 spring rolls + starter or dessert €9.80
Banoï, 129 Rue Amelot, 75011 Paris - 01 71 93 48 75
Ngoc Xuyen Saigon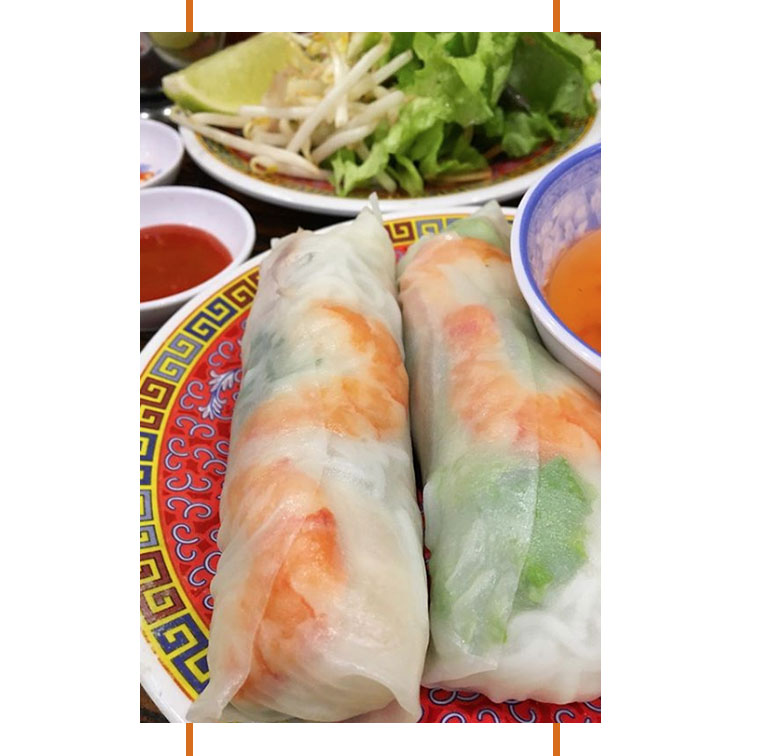 © @taksekin on Instagram
"It tastes like over there," says Loan, our best Vietnamese friend. Difficult to make a nicer compliment, true? This authentic hole-in-the-wall of the 13th owes its reputation to its soups and its spring rolls, right on target.
Check out this translucid rice paddy through which once can see shrimp, rice vermicelli, salad and Thai basil. One last small tip, show up at 11:45am or after 2pm to avoid the line.
Spring rolls €5 for two
Ngoc Xuyen Saigon, 4 Rue Caillaux, 75013 Paris - 01 44 24 14 31
Picky Spring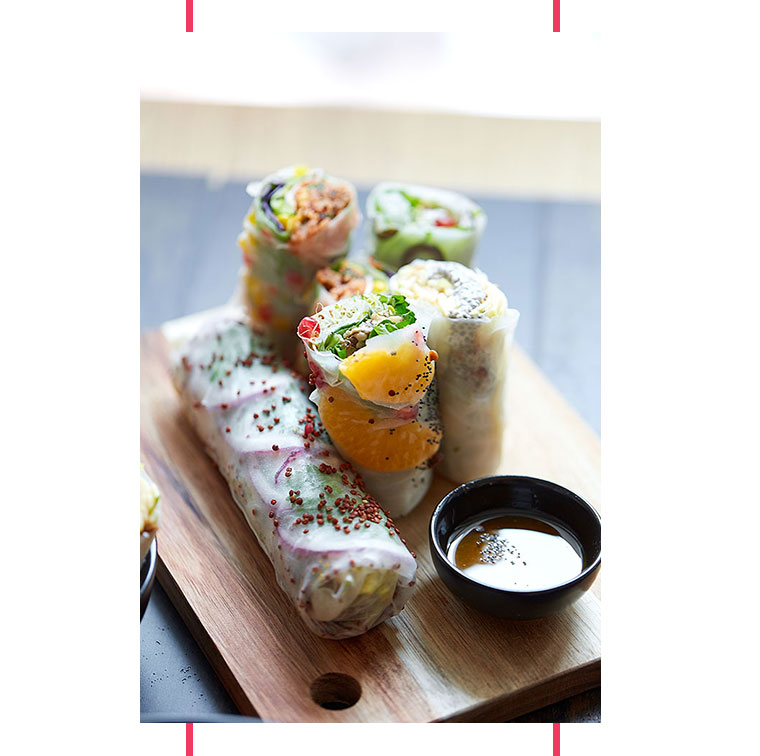 Healthy spring rolls where you want, when you want (or almost). Picky Spring delivers salads and low cal desserts (validated by a nutritionist) nestled in rice leaves. Particular sign: they contain no rice vermicelli.
Our top 3: Mexican (corn, green bean, pepper, quinoa with tomato), Cajun chicken (marinated chicken, green apple, cucumber) and chocolate! Ideal for a pit stop lunch or a zero guilt TV dinner. Picky Spring has just opened a shop in the Batignolles.
Salty rolls €4.20 – 6.20. Sweet rolls €3.90
Picky Spring, 29 Rue de Saussure, 75017 Paris - 01 45 75 66 28
Chez Ly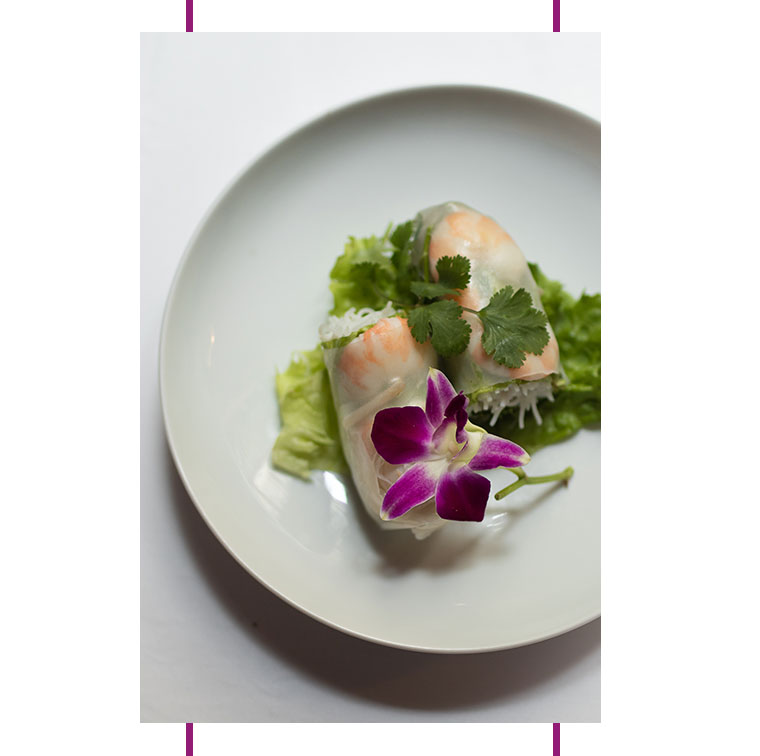 No need to introduce Madame Ly, a real tycoon of Asian cuisine, at the head of a small Middle Kingdom in Paris. Before sampling her traditional Peking duck, we start off with her remarkable beef or shrimp spring rolls. Yum.
Spring rolls €15 for two
Chez Ly, 8 Rue Lord Byron 75008 Paris - 01 45 63 88 68
Flows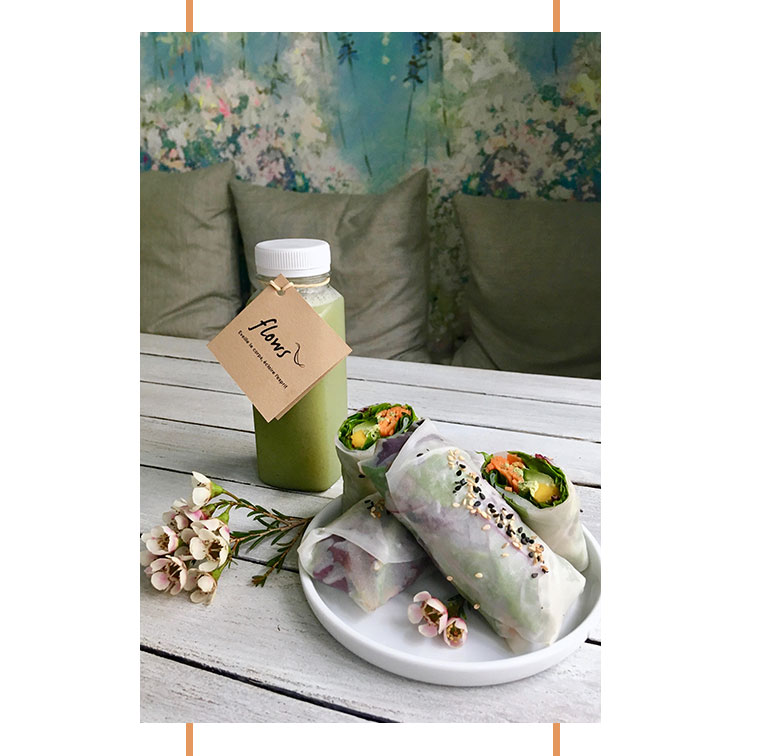 Healthy is sexy. And the proof is this darling address in the Batignolles, vegan and gluten free, that refreshes fit girls with freshly squeezed juices and small colourful plates.
Zoom on the spring rolls made of arugula, carrot, cucumber, avocado, mango, Cajun nut stuffing and fresh herbs, coriander.
€3 each spring roll and €8.90 for three.
Flows, 66 Rue Legendre, 75017 Paris - 01 45 23 11 08
Rolls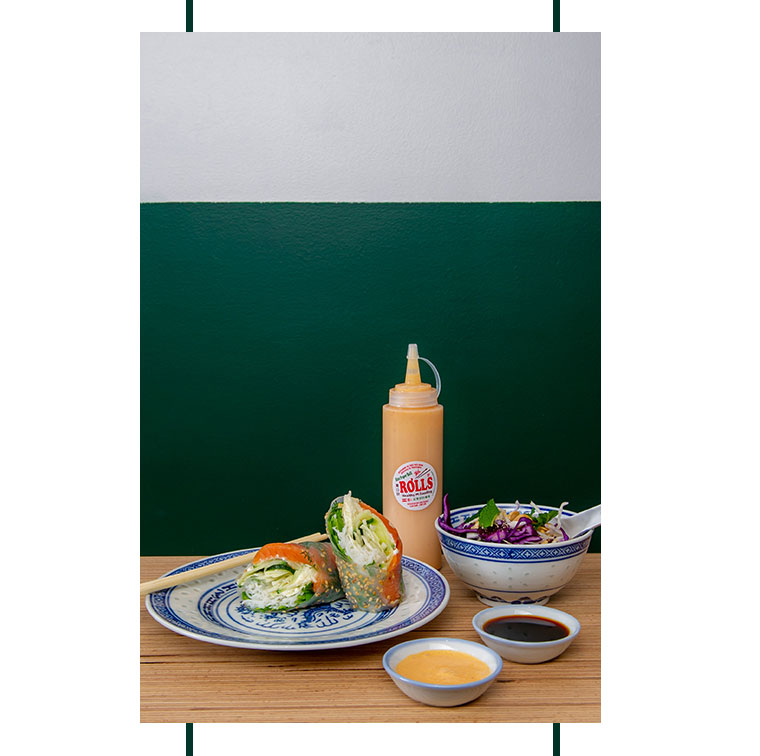 As its name indicates, this brand new pocket restaurant, located in the Sentier, focuses on spring rolls. On the menu, 8 fusion recipes stuffed with rice vermicelli and arugula, a twist from the classic preparation that usually contains batavia or lettuce. Result, a slightly tangy taste.
Our favourite? The Bacon Rolls (avocado, apple, cabbage, mayo wasabi), the Duck Rolls (orange, fried onions) and the Shrimp Rolls (avocado, mango, fried onions).
€4.90 per roll
Rolls, 29 Rue des Jeuneurs, 75002 Paris - 09 50 04 10 46
Nanashi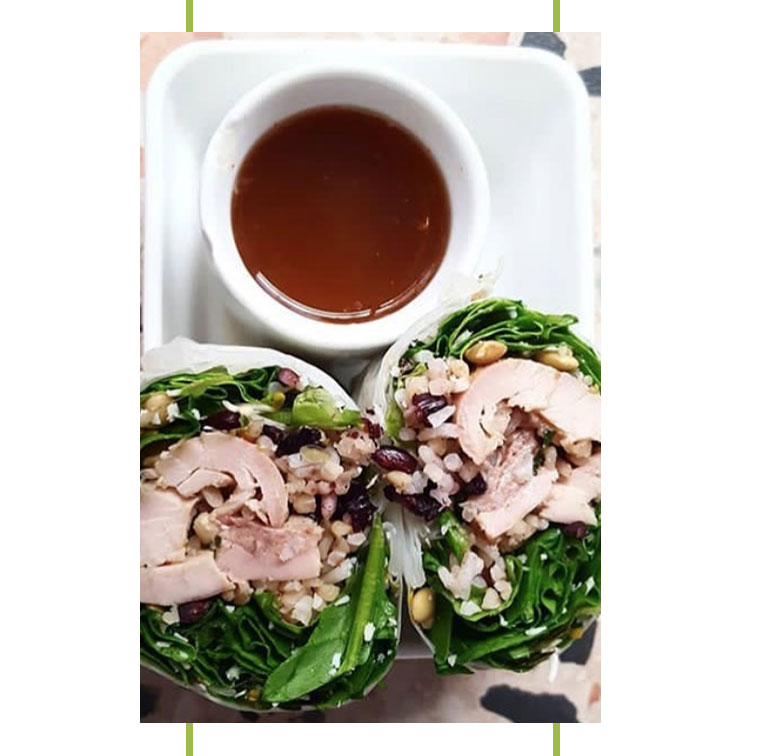 ©@flowerose_7 on Instagram
In addition to its couture bentos and its signature chirashi, the trendy cantina appeals to small appetites with delicious spring rolls, available with chicken or vegetarian (salad, rice noodles, young sprouts, beets, shiso leaves, and depending on the days, apple, avocado, mango or kaki).
A great classic to dip in a special soya sauce. Hand heart.
Spring roll €4
Nanashi, 57 Rue Charlot, 75003 Paris - 01 44 61 45 49
Hôtel Bienvenue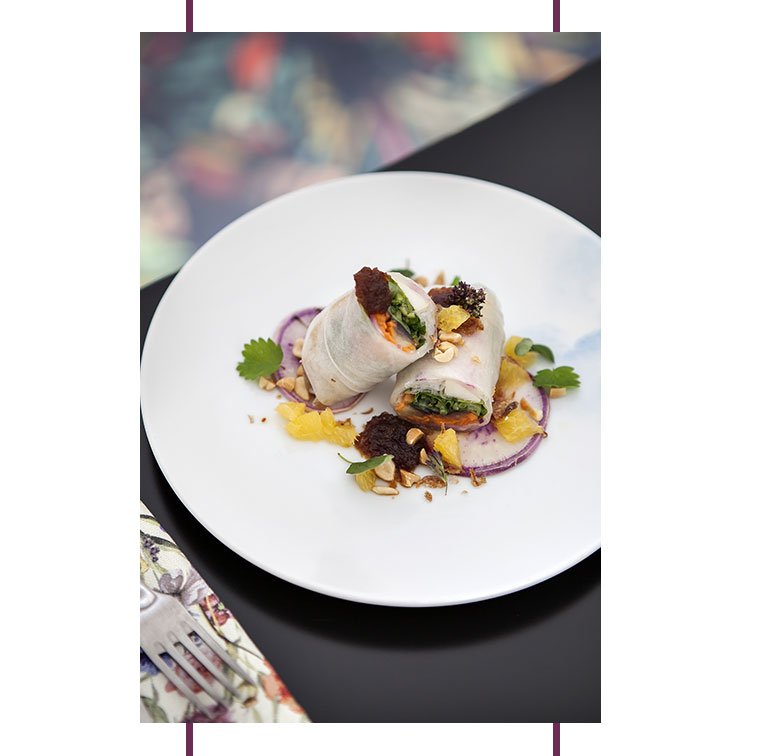 The bucolic dining room designed by Chloé Nègre doubles up with a secret terrace accessible when the first rays of sun show up. All the more reason to come taste the amazing spring rolls of Japanese chef Maori Murota.
Your mouth is already watering? Rice vermicelli, marinated carrot, eggplant, pear, red cabbage, red meat radish, mint. All served with a slice of fresh orange, coriander and a vinegar onion sauce. Clap clap.
€6 each
Hotel Bienvenue, 23 Rue Buffault, 75009 Paris - 01 48 78 32 18
La table du Vietnam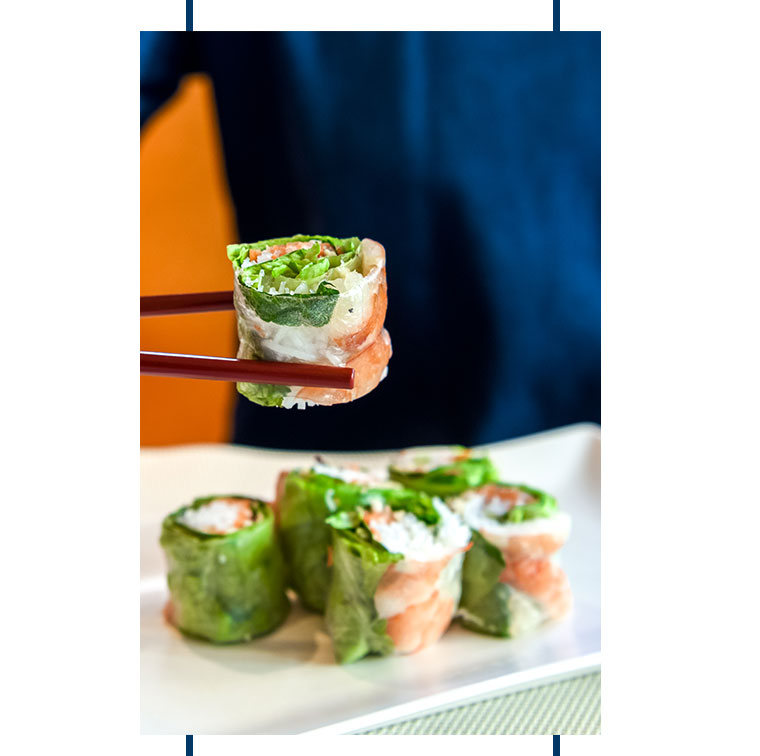 New decor, new menu, the table of My Nguyen underwent a small lifting to celebrate the arrival of her cousin Ly Nguyen (Le Santal). It's now with four hands that these two restaurant owners manage this must-go address in the 7th.
Amongst the specialties, one finds of course their timeless shrimp or beef spring rolls with the secret house sauce.
€10 each
La table du Vietnam, 6 Avenue Bosquet, 75007 Paris - 01 45 56 97 26
La Reine Mer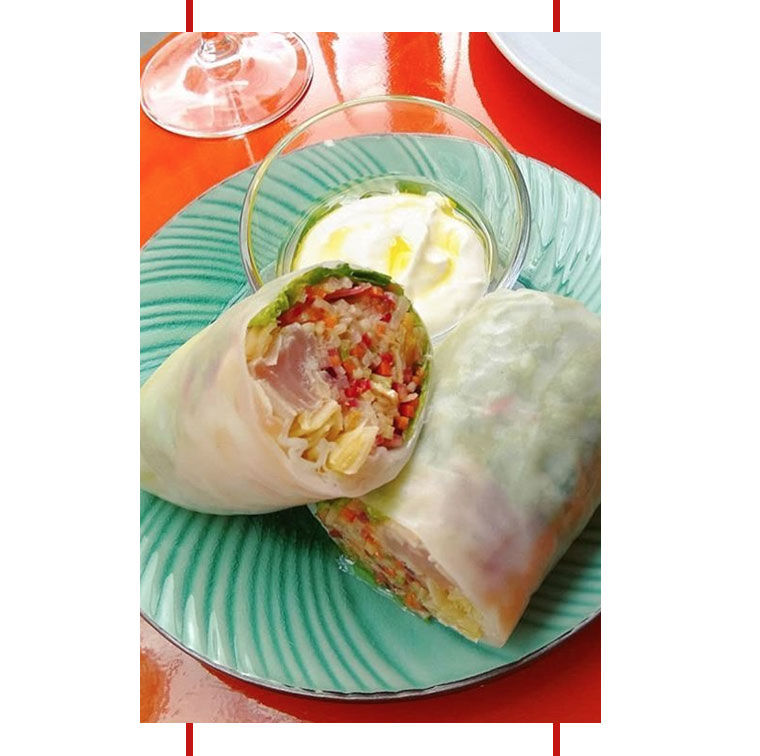 © @lareinemerparis on Instagram
Actually eating inside a fish shop, such is the original concept of this stylish maritime counter in the 11th. Here, no mention of spring rolls but of "sandfish", understand rice paddies garnished with the raw fish of the moment and crispy seasonal vegetables, pimped with great seasoning (sauce farmer cheese wasabi sauce, cardamom...).
At the moment? Saithe and sea bass.
Spring rolls €9
La Reine Mer, 1 Rue Jean-Pierre Timbaud, 75011 Paris - 01 43 55 29 06
Also check out the Chinese restaurant Tonton yün and the best baos in Paris at Petit Bao.