Where to go shopping when you are a cool and stylish Parisian ? That is the question ! We have some good news for all those looking for trendy quality labels and boutiques for men. Here is a selection of all the really stylish labels and places to find a snazzy suit, a nice pair of shoes, snappy socks and boxer shorts of designer clothes without having to call your banker.
To find ties, socks and boxer shorts: Dagobear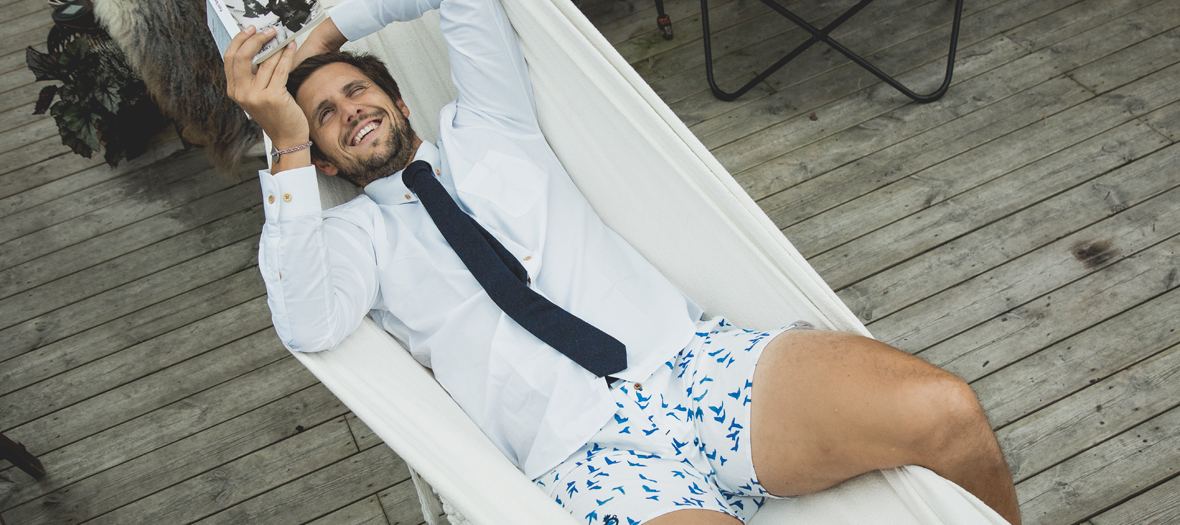 Hipster is cool but you don't want to overdo it. So to freshen up the underwear, ties accessories of good looking Parisians, who don't relate to the old fashioned briefs, the Dagobear boutique in the Marais is ideal. This young made in France trendy brand has all the assets to please classic guys looking for a twist and stylish dandies—all it reasonable prices.
Their claim to fame? Inventing the perfect boxer short. Superb organic cotton, inner seams, small details... With a cut worthy of Charvet and pop colours, it's the ultimate in terms of cool.
In the same spirit, Dagobear signs everything: wooden cufflinks, super cool knitted or wool ties, socks in lisle Scottish thread with zippy colours in a pair of Church's. In short, the ideal boutique for a cool Parisian..
Open Tuesday to Saturday from 11:30am until 7pm, on Sunday from 1pm to 6pm.
Dagobear, 19 rue de Turenne, 75004 Paris. 08 26 38 24 88. www.dagobear.com
A shop op for super made in France basics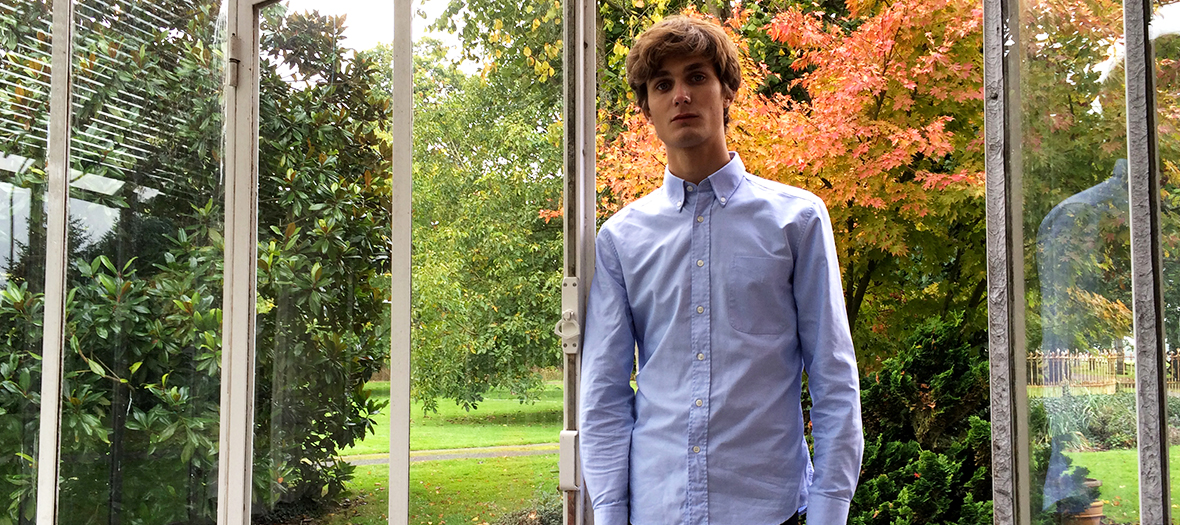 AVN, abbreviation for Atelier de la Venise Normande, is the story of a 2.0 fashion imagined by Olivier et Arthur, two cute guys originally form Pont-Audemer (nickname "The Venice of Normandy", get it?). A KissKissBankBank campaign and a big buzz on the social networks later, a real 100 % made in France label fashion was born.
Perfectly fitted shirts (€149), white tee-shirts worthy of Marlon Brando (€39), belts (€60) and wallets (€30) in vegetal leather, precious jeans … In short, all the basics of the masculine wardrobe pimped with good looking details, and in optimal fabrics. All in all, only 9 modes— it's a small production.
The must: the raw pair of jeans with a straight cut in Milano canvas (€160), with its red seam on the lapel and its patch in vegetal leather. The perfect denim one has been looking for since forever.
So it's not surprising that these chic nuggets are distributed in swank Parisian boutiques such as l'Exception, La Garçonnière and Vestiaire Général.
More info on www.a-v-n.fr
For stylish tailor made suits: L'Apiéceur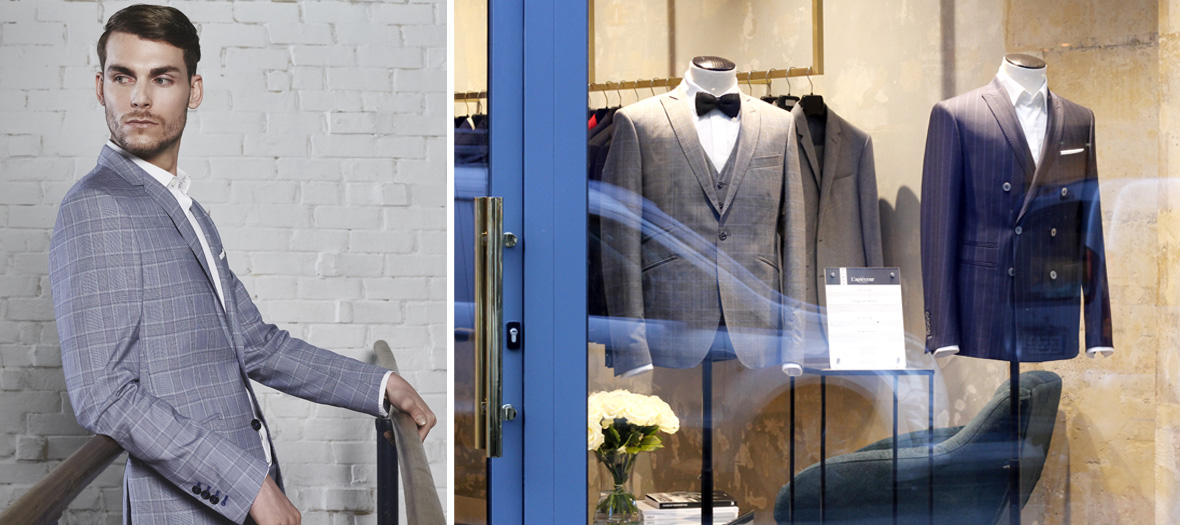 Some wear it every day to go work, others pull it out of the closets on important occasions. Whatever the occasion, the suit is a very important piece of the masculine wardrobe and it needs to be just right. A pair of short pants like Steve Urkel? Big no-no. The same goes for the extra long sleeve that conveys the demeanor of clumsy penguin.
Stylist-modelist, Camille has launched a brand of tailor made suits for today's men. Models in keeping with the times, impeccable cut and 100 % personalisable: plain fabric or with motifs, wool or cotton, choice of lining, colourful button hole, embroidered initials. Everything is possible. Jacket, blazer, shirt, pants… Fabrics come from England and Italy, confection takes place in the workshops, guarantees of a real know-how in Rumania. Result, the young woman dresses just as well thirty-year olds as finance golden boys of forty years, chic dandies and future newlyweds.
Careful, better plan ahead. After a first rendezvous in her design boutique of the Marais, count 4 to 6 weeks of waiting time for a first fitting. Then, one or two weeks for the last pour adjustments. Result? A two-piece suit cut exactly for you at a reasonable price (between €650 and 950) considering the quality of execution, the fabrics chosen and the precious advice of Camille.
Book an appointment before your visit.
9, rue du Pont aux Choux 75003 Paris. 06 64 90 05 25. www.lapieceur.com
For a good looking pullover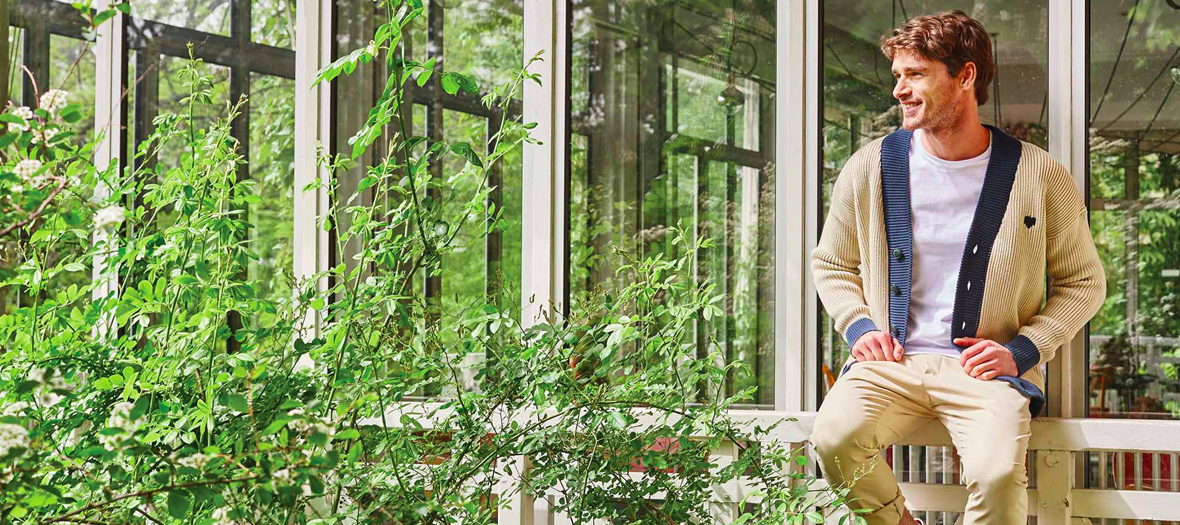 "Buying clothes should not be a serious matter" ! Do you relate to this slogan? Well, that's because you must have run into the amusing billboards of the Nus label, featuring naked men hiding their private parts under the logo of the brand: a vine leaf.
There is a very positive atmosphere in their first boutique of Batignolles, somewhat hidden, but very comfy once you are inside. A 70's Scandinavian ambiance, wild plants on the wall, vine leaves drawn behind the check out counter, and a well-dressed and helpful friendly staff from beginning to end. Psst: we have been told that the handsome singer likes to shop here.
On the brass racks, nice well-cut pieces in sourced fabrics (Italy, UK, Portugal), this should bring a real twist to a classic style. Special kudos to the cotton pullovers, perfect for cuddles: a kaki teddy style waistcoat (€99), casual sweat with jungle logo (€79).
The must-have pieces : an olive over-shirt in flannel (€89), to be worn open on a white tee-shirt or then over a shirt in pale blue cotton.
To be noted: the small corner Garçonne et Chérubins, the stylish sneaker kings (€175). Urban and elegant, they mingle very well with the spirit of the place!
Open Monday to Saturday from 10am to 7:30pm. On Monday, opening at 2pm.
Nus, 19 rue Clairaut, 75017 Paris. 01 73 75 78 41. www.vivre-nus.fr
For beautiful shoes: Pied de biche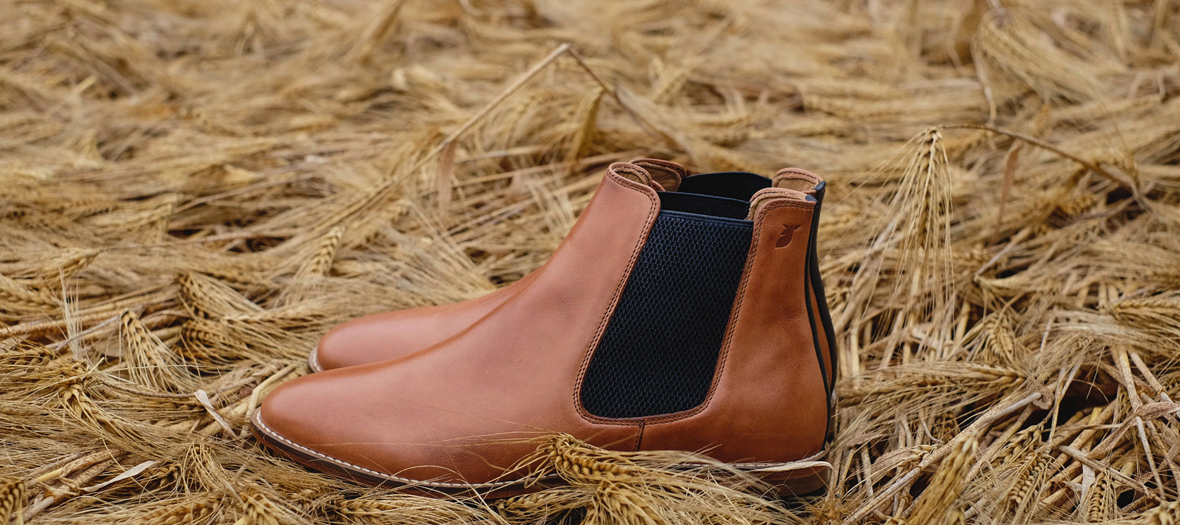 It's the new hot spot all the guys are running to. At the origin a specialist of the Chelseaboot (you know, the riding booties with a clever its side elastic), the label Pied de biche has widened its catalogue. Chic Derby, city runner, stylish jodhpur (bootie with buckle)… In total, six strong models conceived to as urbanite footwear. Their common denominator? A resolutely urban look, handsome Italian leathers, dark and elegant overtones and frankly very attractive prices.
The secret? Zero intermediates. The young brand deals directly with upscale Portuguese workshops. To get your hands on of their models. Forget resellers. You need to go to the e-shop or in the boutique that has just opened in the Marais.
A first cool and cosy enclave that regroups the entire collection. Practical if you want to try a pair (or two) before deciding.
Women are also welcome. Pied de biche offers all its models for ladies for a wildly androgynous Parisian style. That way there is not jealousy.
Open Monday from 1pm to 8pm, Tuesday to Saturday from 11am to 8pm, Sunday from 2pm to 7pm).
Pied de biche 5 Rue Commines, 75003 Paris. 07 81 34 70 71. www.pieddebiche-paris.com
For a dandy look at a great price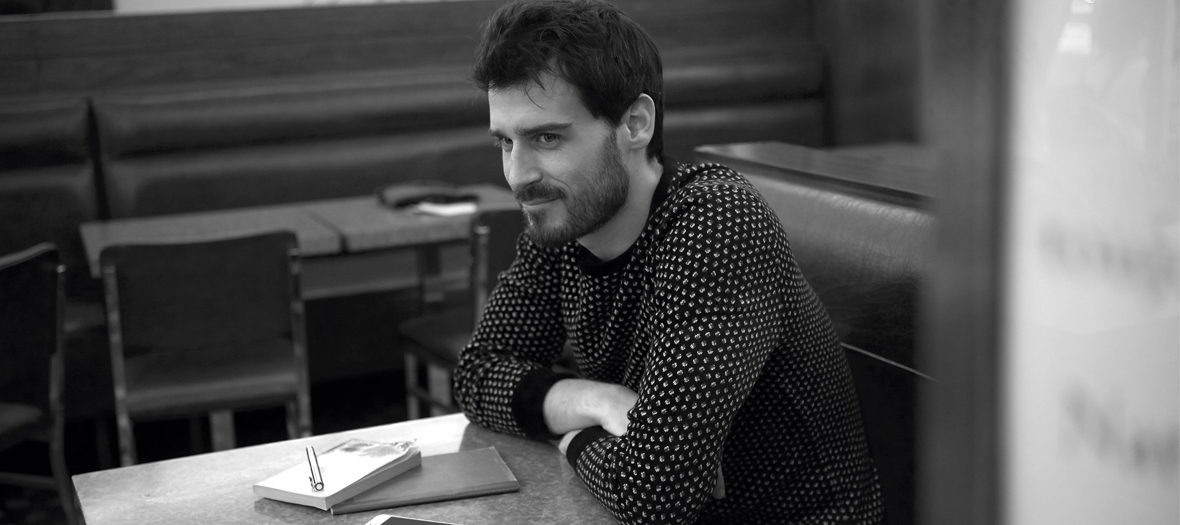 No need to present Devred 1902, the affordable HQ of Parisian dandies. Between its barber boxes for Xmas and its mini happening collections, the French label continues to spark our curiosity. Like every year, it's the highly awaited returns of the de la Capsule Saint-Germain, incanated this time by the handsome writer Baptiste Gourden.
The principle? A very addictive ephemeral collection imagined elegant yet casual dwellers of Saint German. Silk charcoal tie (€24.99), white turtleneck to outline shoulders (€34.99) and smart white shirt with round collar (€44.99).
In short, a true voyage in the Saint-German-des-Prés district going back to the 50s, with a small note of modernity that makes all the difference. To wit, our favourite piece : the grey cap in tweed, the star accessory for fashion buffs (16,99 €).
Open Monday to Saturday from 10am to 7:30pm.
Devred 1902, 26 Avenue de l'Opéra, 75001 Paris. 01 42 61 71 07. www.devred.com
To pick up famous labels at less cost: Simon's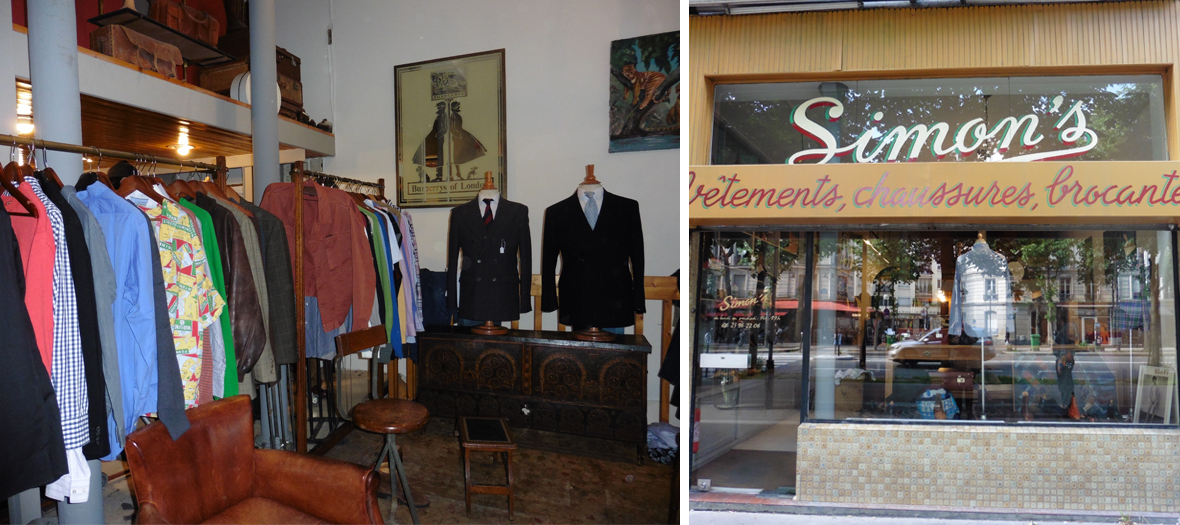 With its selection of prestigious labels and trendy designers , this second-hand shop near Gobelins, dedicated to men's fashion, is a hot spot. Having a keen sense of style, Simon spots all the chic and timeless pieces, no matter what period, as long as they have allure and are in mint condition. Really good deals...
Examples? A super rare pair of navy blue Weston in limited edition (€)300, a fab leather parka labeled Armani, super elegant English jackets in tweed (€80), indispensable Charvet (the best), Church's and Paraboot footwear… Gents can really come out of there with a new head to toe wardrobe. And the turn over is permanent. Translation, go there often !
The only side step to the 100 % masculine offer, Burberry trench coats also available for women(€150).
Open Monday to Friday from 2pm to 7pm.
Simon's, 10 boulevard Arago, 75013 Paris. 06 23 96 22 06. www.simons-cash.com
Also find Nus, the Boutique for men with a bang