Every weekend, it's almost a Parisian religion: the irrepressible need for brunch. A terrace. Eggs. A healthy juice. A burger. Look no further: we have listed the new addresses to truster.
Cali Uptown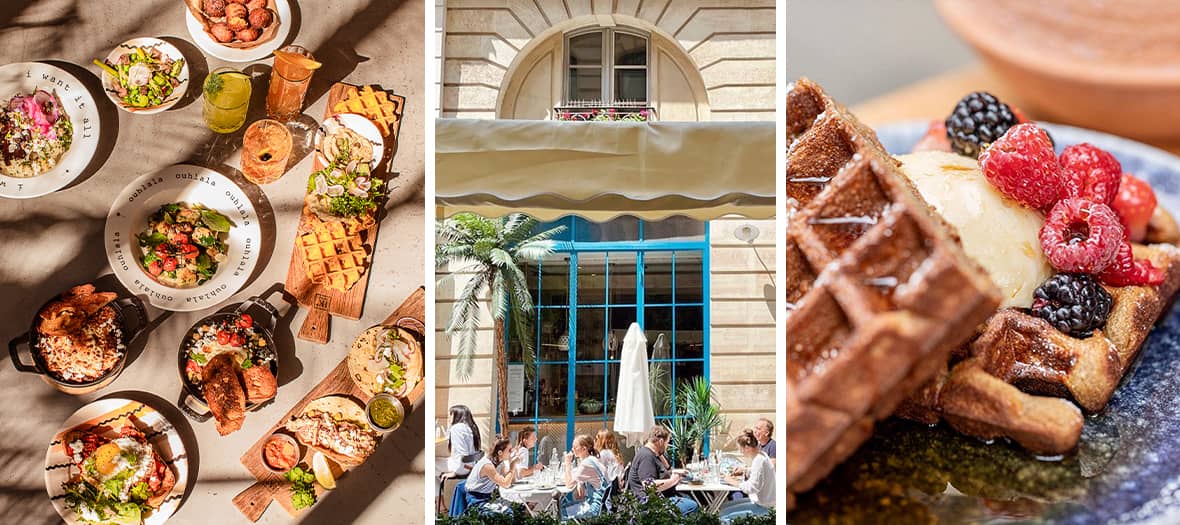 The place. Did you like Cali Sisters ? You will love to discover its little brother in the 10th instead of the old Phantom . The DA has been entrusted to Studio UNLTD (which is a hit in the US) and signs its highly anticipated first real in Paris. Suffice to say that the opening of its gable terrace on Hauteville Street teleports you with as much panache as ever to California.

On the program of delicacies : a really hot € 30 formula with sweet dish + salty dish + 1 hot drink + 1 cold drink of your choice which compiles the best-sellers of the house with green and super-sourced products: rhubarb lemonade, focaccia chicken sandwich, lunar waffles, spring salad with asparagus and burrata, granola, vegetal latte, green chakchouka, pancakes, french toast, pink smoothie and golden latte. And the possibility of taking a la carte in case of a little hunger ...
Every Saturday and Sunday at Cali Uptown , 36 rue de Paradis, Paris 10th
© Instagram / Mister Tripper and Matthieu Salvaing
Kanope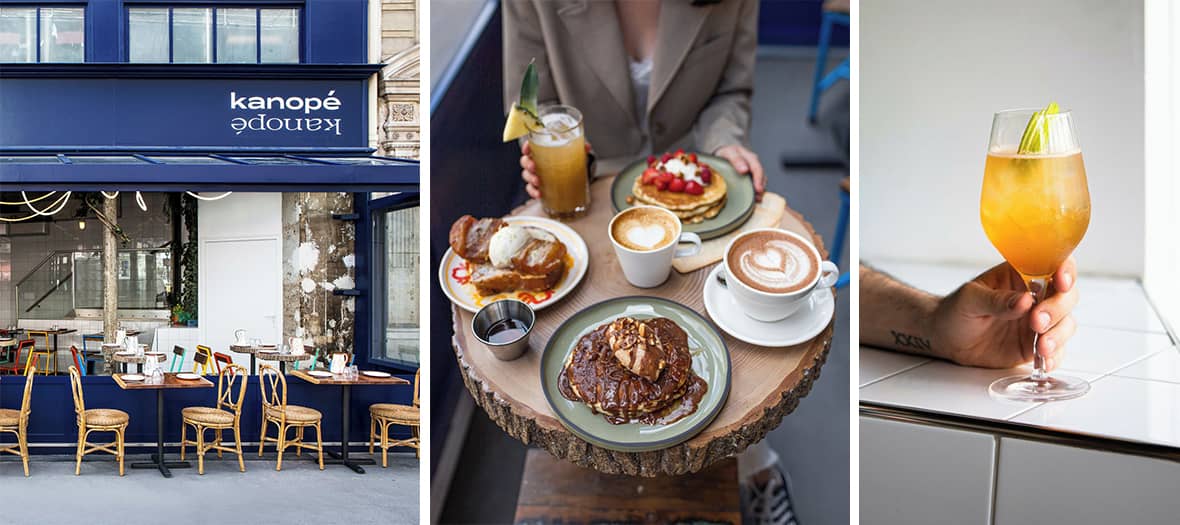 The place . After the success of the Kozy Bosquet, which makes daddy's sons happy at Ecole Militaire, the duo Antoine Le Vu and Romain Le Pape are slammed into the East side with a new place furiously in tune with the times which is accumulating caps sexy coffee-shop during the day and glam bar in the evening as soon as the aperitif hour strikes. Even squizophrenic on the decorative side, since the architect David-Olivier Descombes (founder of the DOD agency ) went on a trip between Brooklyn and the Amazon rainforest. The result is surprising… and amazing!
On the program of delicacies : à la carte brunch Brooklyn surety obliges! The chef deposits: between hellish latte , porn or healthy smoothie , but also bircher muesli (8 €), plate of pancakes , Bacon , poached egg (11 €), mac and cheese with truffle (15 €) toast of ricotta cream, pesto with wild garlic, asparagus, beautiful little peas and radish (13 €) sandwich, spicy pulled beef Landes, yogurt sauce and mint, grated carrots, pickles and mayo, fried onions (12 €).
Brunch served on Saturday from 10 a.m. to 3 p.m. and Sunday from 10 a.m. to 4 p.m. at Kanopé 46, rue Lafayette, Paris 9th. Reservation recommended: 06 15 68 31 97.
© Instagram / @ kanope.paris
Mr. George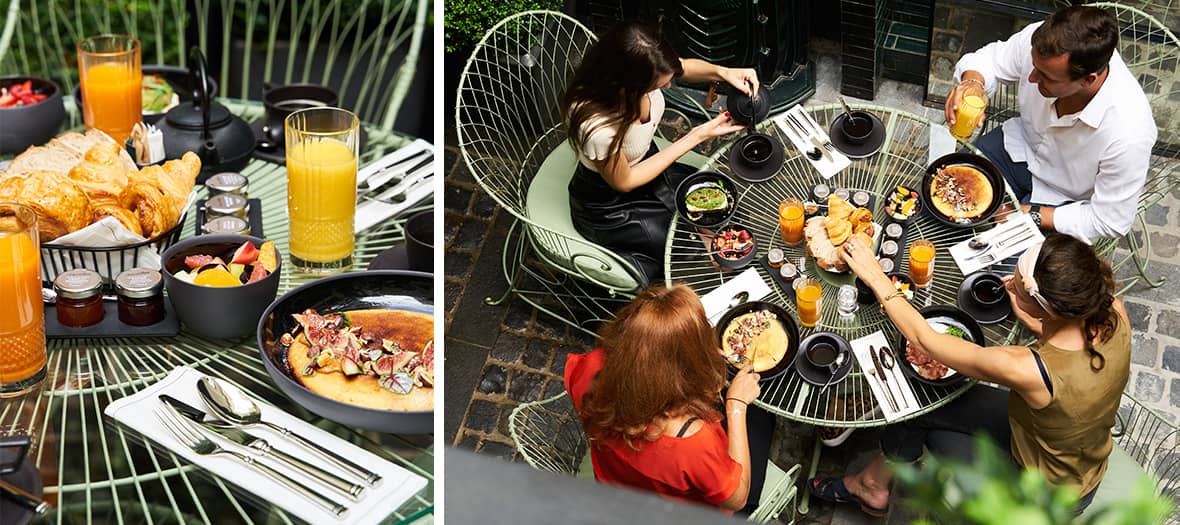 The place. A little paradise hidden in the 8th district, this brand new boutique hotel houses hanging gardens … A green setting where chef Thomas Danigo does a great job. Starting with a brunch that will be the phenomenon of the West of Paris this spring .
On the program of delicacies : a luxury formula well felt and served at the table (60 €) with fresh juice , pastries , pancakes , scrambled eggs with summer truffle and fresh fruit salad or its healthy version (50 €) in juice mode detox, homemade galangal infusion, avocado toast, fresh fruit salad. Note an amazing kid's menu (€ 22) for families or an à la carte version for more capricious appetites….
Every Saturday and Sunday from 12 p.m. to 3:30 p.m. at Monsieur George's , 17 rue de Washington, Paris 8th. Reservations recommended: 01 87 89 48 49
Season Martyr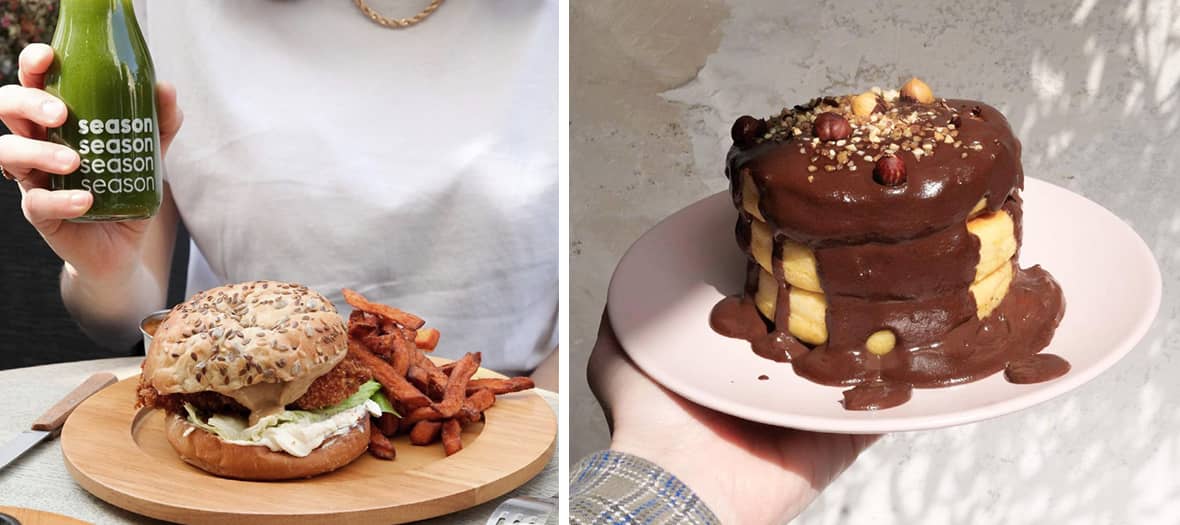 The place. Cathy Closier makes people happy. After her babies in the Marais , the big boss of Season , the most influential of French-style coffee shops , arrives with her recipe for success in an insane setting signed by the Pope of designers, Matthias Kiss … and a terrace of madness. Something to delight the SoPi gang.
On the program of delicacies : a menu that does not change between the week and the weekend but in itself constitutes the brunch of your dreams, with or without gluten , vegan or full porn. It gives: a banana bread toasted with caramel (€ 7), açai bowl (€ 10), a veggie-burger , a pink latte (€ 5.50) a plate of breakfast pancakes with scrambled eggs, avocado and syrup maple (€ 12), the most Instagrammed avocado toast in Paris (€ 15), the famous grilled chocolate sandwich (€ 9) or an exquisite naan sandwich with chicken, peanut sauce, Philadelphia and sweet potato fries (€ 17) .
Every day and Saturday and Sunday from 8:30 a.m. to 6 p.m., Chez Season Martyr , 30 Avenue Trudaine, Paris 9th
CoCo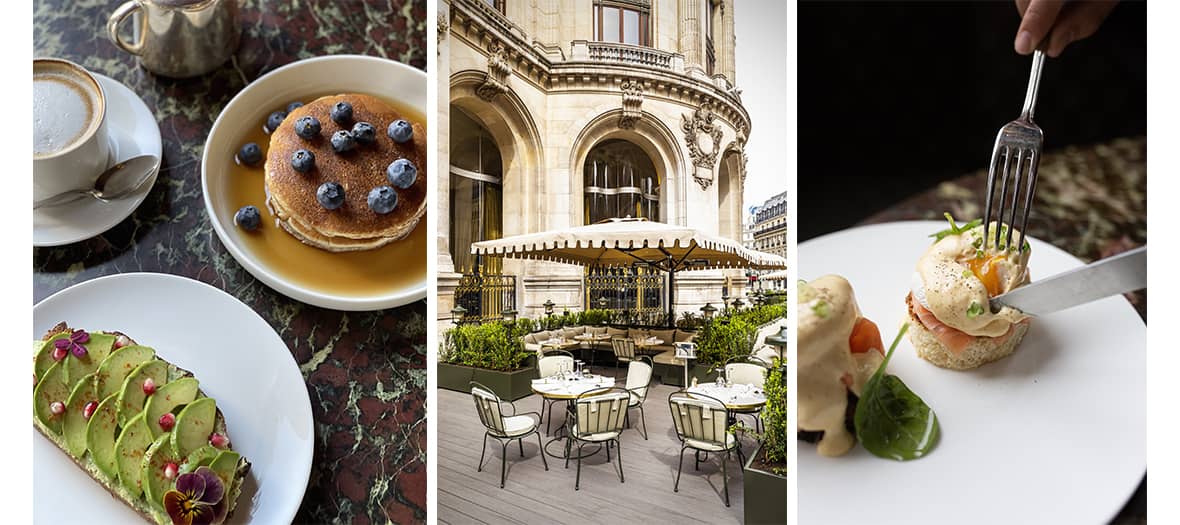 The place . Among the tables where you are sure to meet beautiful people and live an elegant experience, CoCo , the highly coveted dining room of the Paris Opera orchestrated by Paris-Society , serves as a fashionable and social HQ by Excellency. Its couture and sophisticated terrace, sheltered from cars, is therefore dreamed of as a naturally perfect place to chill, be seen and have brunch . This is the big novelty of the season!

On the program of delicacies. No formula but as in posh New York institutions, a menu dedicated to brunch every Saturday and Sunday, starting with cult cocktails of the genre: pimms (€ 17), mimosa (€ 17), bellini (€ 17), . Applied best-sellers are there depending on the mood level. To treat hangovers: luxury burger (€ 27), eggs benedict (€ 19), waffle with praline sauce and whipped cream (€ 14), pancakes (€ 16), maple syrup and blueberry (or French toast with caramel and red berries (€ 17) for the hungovers For the twigs coming out of yoga : chia bowl (€ 16), avocado toast (€ 16).
Brunch served Saturday and Sunday from 12 p.m. to 5 p.m. at CoCo , 1 Place Jacques Rouché, Paris 9th
Riviera Brewery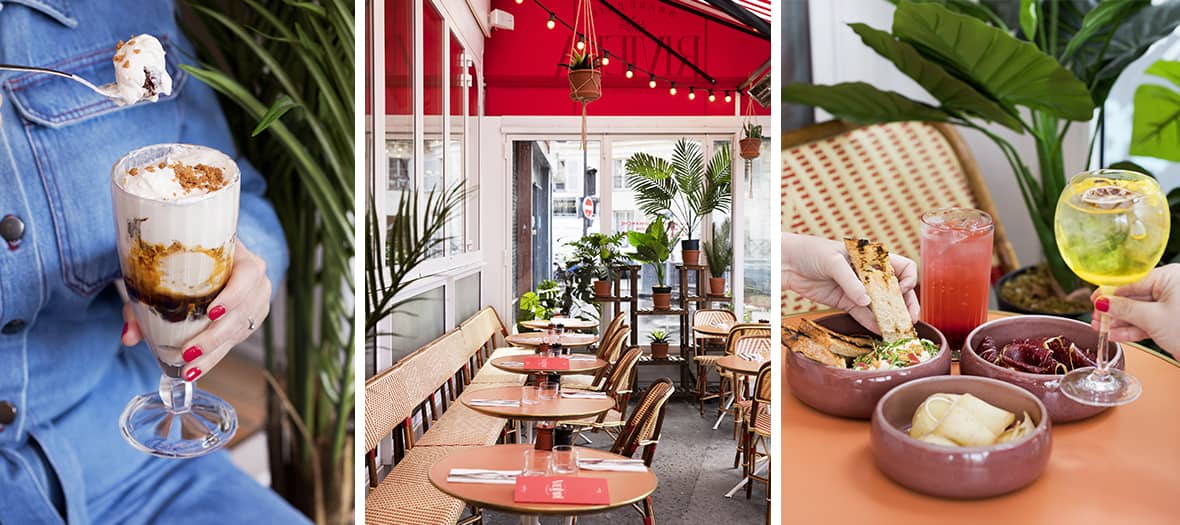 The place. Like an embellished gable on Square Montholon : the Riviera signs a very good Parisian brasserie 2.0 in the 10th district, with chef Julien Gasperi in the kitchen, a real beautiful terrace , but above all Friedmann & Versace in the decor. You will love.
At the delicacies of the program: a unique formula, efficient heartfelt actually small price (26 €) with a large single plate composed: eggs benedict, gravelax salmon s alade Vegetarian, Greek yogurt blueberry brioche to blossom orange tree and caramel, strawberry couscous , all accompanied by fresh fruit juice of the day and a hot drink.
Every Sunday from 11:30 a.m. to 4 p.m. at Brasserie Riviera 118 Rue la Fayette, Paris 10th, Reservations recommended via bonjour@lariviera.paris or 01 42 63 06 05
© Emanuela Cino
Sir Winston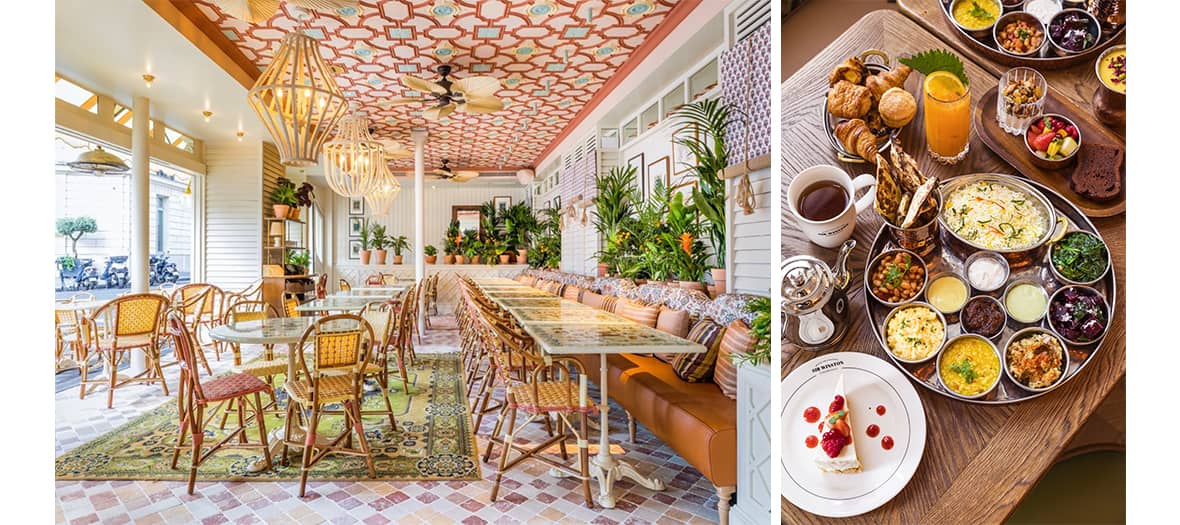 The place. Laura Gonzalez has reinvented the Sir Winston Churchill, an old institution a few steps from the Star ... It gives an ultra-coveted address deep in the London vibes of trendy neighborhoods which mixes the classics of the British pub with the best of the Indian cuisine under the curation of Indian chef Manoj Sharma ( Amaya in London, Desi Road in Paris…).
On the program of delicacies : a feast of the best veggie sides of the house served on an Indian platter (€ 25.90): squeezed orange juice , naan , spinach and eggplant caviar , spicy tomato beans , massala eggs , roasted beets, yellow lentils Dahl, hari sauce, curry, labneh, onion chutney, fruit salad season ...
Brunch served every Saturday and Sunday from 12 p.m. to 3 p.m. at Sir Winston , 5 Rue de Presbourg, Paris 16th
© Instagram / Sir Winston
Also discover The best groceries in Paris and the best coffee shops to work from home