The magic word has been pronounced! If you are looking for the best pancakes in Paris, healthy granola, tasty scones, burgers Sunday chicken/fries, you are in the right place. We have tracked down for you the 10 best brunches of the moment to be tested urgently—covering all categories.
The most " vegan & gluten free": Alcazar with La Guinguette d'Angèle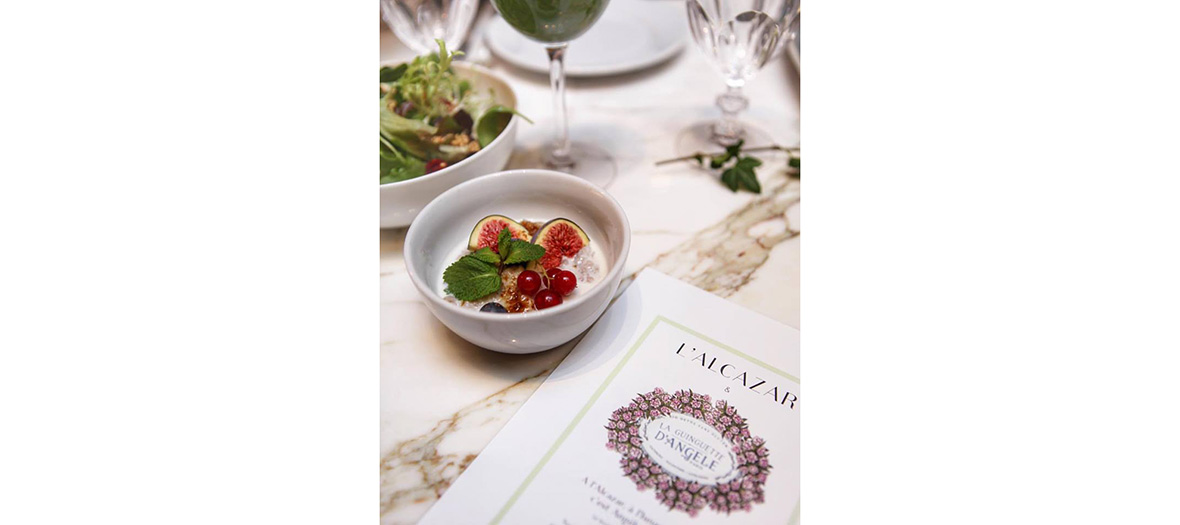 The pitch: When Angèle Maeght, the queen of vegan and healthy foods with her Guinguette d'Angèle, is setting up her first exclusive brunch in the tropicool decor of the Alcazar, in Saint-Germain-des-Prés, Parisiennes on the lookout for a glam', organic and no gluten brunch will not be disappointed…
On the program: all the green juices or vegetal milk you can drink. As for other liquids: tea, matcha latte or hot chocolate with almond milk. Just choose your sexy dish: toasted avocado, chicken + mashed butternut, tataki of organic salmon, ginger and grass salad or veggie burger, all with cool sides (vegan spreads, porridge, vegan cakes). And for a final high note: granola or acai bowl.
We like: finally a light, vegan brunch so cool and glam' at a reasonable price (38€) …
Reservations suggested
Alcazar, 62 rue Mazarine 75006 Paris, 01 53 10 19 99
More infos on L'Alcazar.
The most British : Miss Marple
The pitch: when she is not on a fashion shoot, Martine Cohen, a confirmed fashion journalist, is at the helm of the tea salon she recently opened in the very chic 7th. A setting "with a twist" decorated with leopard wall-to-wall carpeting and slightly kitschy paintings, in the image of Miss Marple, legendary heroin of the sassy Agatha Christie.
On the program: an authentic Anglo-Saxon style brunch in 3 steps on Sunday, so yummy. Step 1: the sweet part with a choice of a great muesli (vegetal milk option); Chantilly pancakes, banana, maple syrup; authentic British scones or fab pear-apple sauce. Step 2: salty, this time, chose between scrambled or soft boiled eggs, or the homemade tart of the day. Step 3: cakes, still with us? Cheesecake; chocolate or orange cake (35€).
Its heart asset? Elegance and British chic. White tablecloth, pretty tableware and a very efficient service.
Réservation 01 45 50 14 27.
Miss Marple, 16 Avenue de la Motte-Picquet, 75007 Paris, 01 45 50 14 27
The most "delivered in bed": Frichti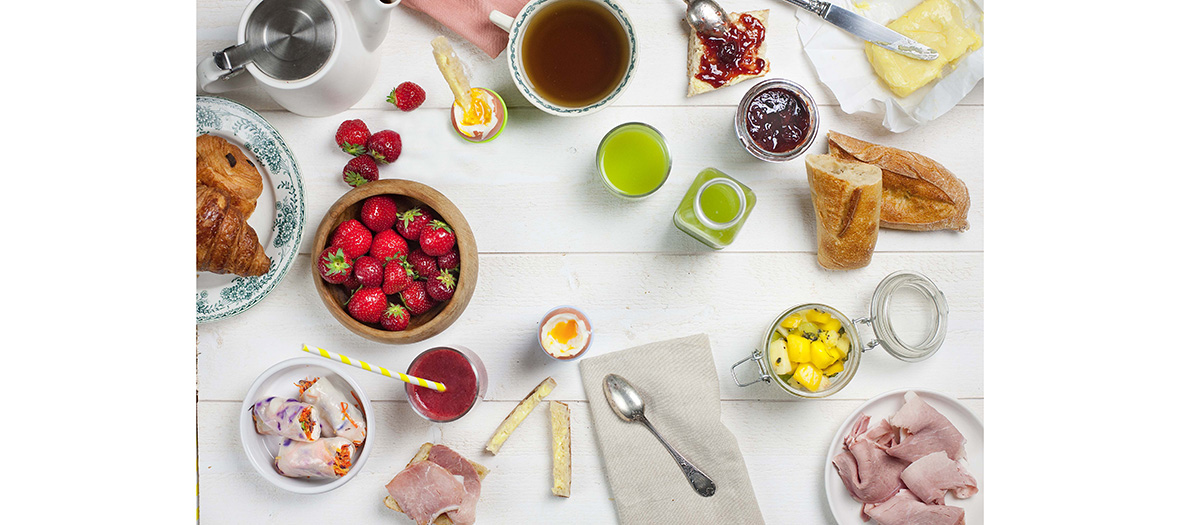 The pitch: Frichti, the pros of home-made dishes and very good products is launching a brunch at a wild price, delivered in 30 minutes flat to your doorstep at the unbeatable price of 29,50€ for 2 persons. Paradise for lazy bones.
On the program: farmer eggs and a side for the omelet or soft boiled eggs + good bread and viennoiseries from Kayser + Bordier butter, the very best + Alain Milliat jam+ a small cheese from La Petite Ferme de Paris + house coleslaw + du Prince de Paris white ham, the real ham from rue de Charonne) + Bordier vanilla yogurts+ freshly squeezed orange juice.
We like: top notch products and the possibility of ordering extra treats. Delivery on Saturday and Sunday until 3pm for lazy bones who want to stay in bed late.
Frichti, www.frichti.co
The most glam': Canard et Champagne
The pitch: if like most French, duck is your favorite dish and you also enjoy champagne bubbles, this place has your name on it. Already at the time of Farago, Jean et Pierre had checked out the best champagne and fowl producers, 100% deluxe and feather light prices.
On the program: a comfort style menu as though you had stopped by your grandma's on Sunday, but much more fancy: free range chicken, their legendary duck breast (our favorite) or duck confit, with match stick or mashed potatoes, seasonal veggies. Choose between fruit pancakes of a trendy avocado toast. Don't miss dessert: chocolate mousse or Granny style fruit tart. As for drinks, fresh fruit juice, a warm drink + champagne (+ 6€ for a glass+ 25€ for the open bubbles bar). Careful, this does is not a reason start making duck faces.
Its heart asset? The combo chicken/fries + chocolate mousse + orange juice for the kids (15€) with available baby sitters to watch over them.
Canard et Champagne, 57 Passage des Panoramas, 75002 Paris, 09 81 83 95 69
More info on Canard et Champagne
The most "Sunday lunch" at La Régalade Saint Honoré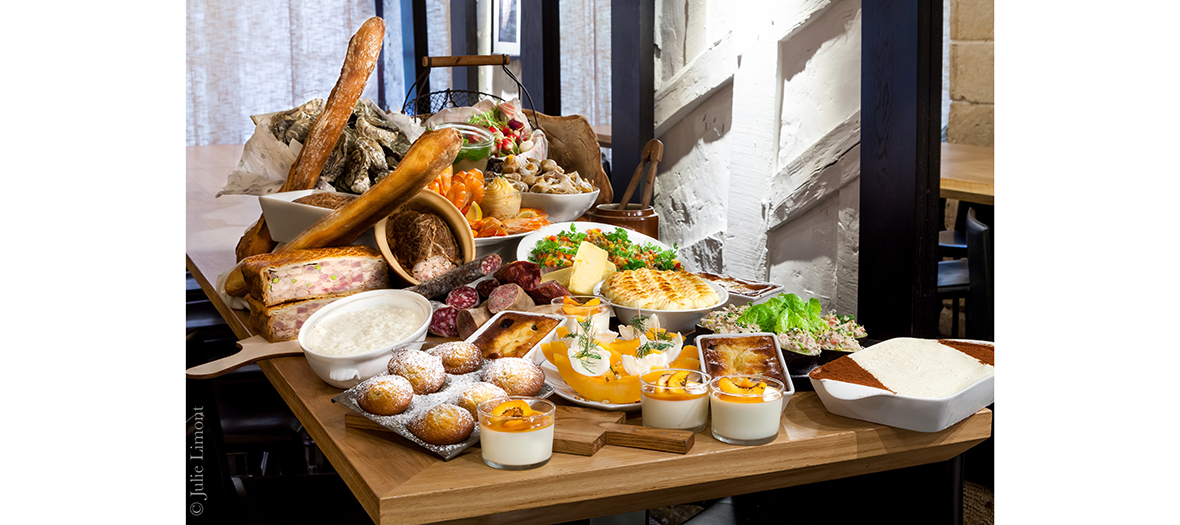 The pitch: no need to present the marvelous Bruno Doucet and his "La Régalade" neo-bistrots favoured by foodies and gourmets! Half-way between a Sunday lunch and brunch, the star chef whips up a very personal version of the Sunday meal… Single menu at 35€.
On the program: crunchy radishes, avocado and crab meat with tomato and salad. Then you get to the serious stuff such as their pit-roast chicken or the « La Régalade prime ribs of beef »— for serious eaters. Proust madeleines for dessert! Special kudos to the caramel milk rice pudding—unforgettable.
Régalade Saint Honoré, 106 Rue Saint Honoré, 75001 Paris, 01 42 21 92 40
More infos on Régalade.
The most comfort food: Umami
The pitch: passion #matcha. The green powder that makes Tokyoites hysterical has slipped into a great number of offers in this design coffee-shop at République, recently inaugurated. And the Sunday brunch is not exception, and it's great op to benefit from the superpowers of the famous Japanese green tea.
On the program: a pure shoot of matcha for 30€ all included. A plump brioche with matcha, pancakes stuffed with matcha, scrambled Japanese style eggs, fresh goat cheese with yuzu, chicken skewers marinated in soya, taboulé of quinoa, fruit salad, freshly squeezed and a warm drink? A matcha latte with a little heart to instagram immediately.
Its heart asset? The just as sexy veggie and gluten free version.
Check it out, corn bread, smoothie bowl with matcha, slightly fried rice patties with sesame, house tofu, vegan salad, opera cake with matcha, orange juice and warm drink (27€)
Réservations 0148040602
Umami Matcha Café, 22 Rue Béranger, 75003 Paris, 01 48 04 06 02
More info on Umami Matcha Café
The most "Parisian chic" at Angelina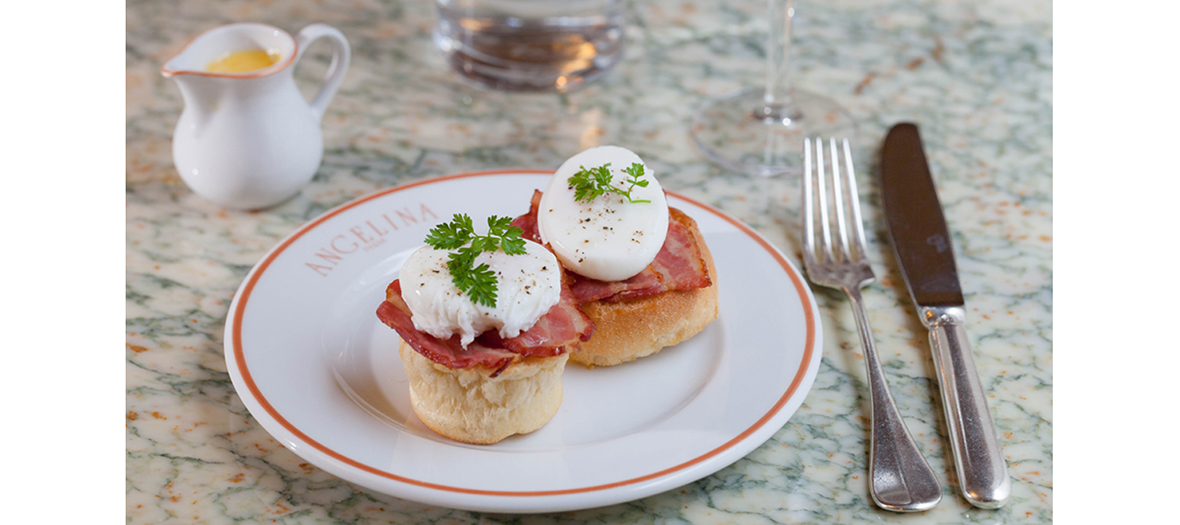 The pitch: the mythical tea salon on rue de Rivoli is more than ever the rendezvous of Parisiennes in the know. Proust and Sagan loved it here. So do we! And the typical Parisian brunch is more sexy than ever.
On the program: a nice formula at 39,50€ in 3 steps. Start with the great Angelina classics (warm drinks including an excellent hot chocolate, juices, viennoiseries, jam, honey and chestnut cream). Take your pick between eggs Benedict with a hollandaise sauce, smoked salmon or the Angelina croissant with scrambled eggs, real Paris ham.
A great way to finish: French toast or fruit salad.
Its heart asset: available every day, with great service.
Angelina, 226 rue de Rivoli 75001 Paris 01 42 60 82 00
More infos on Angelina
The most "excuse my French" at La Fontaine de Belleville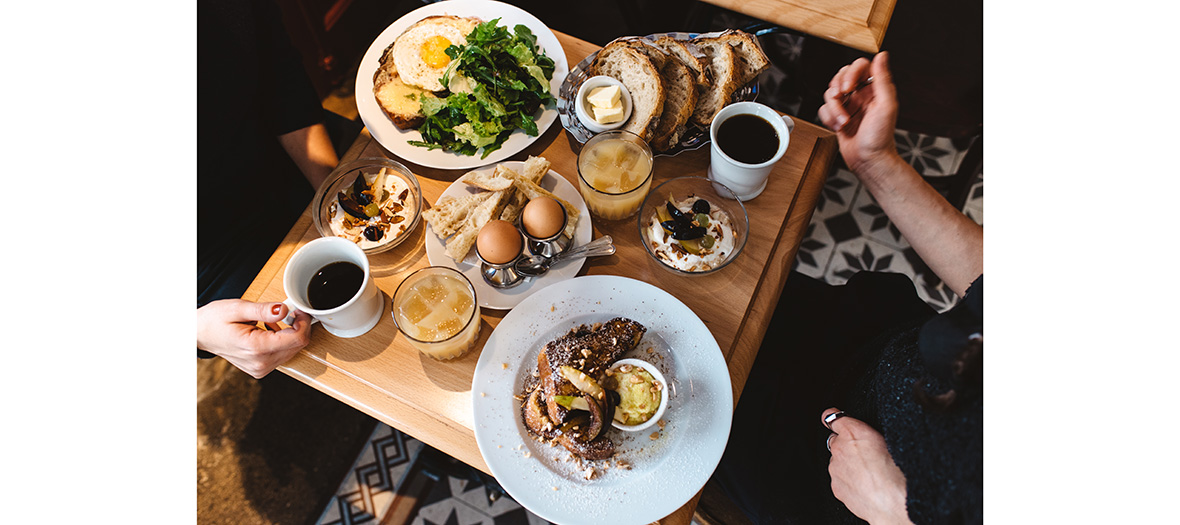 The pitch: after having infiltrated a slew of Parisian restaurants and coffee-shops, the dream team of Belleville Brûlerie finally opened its own place with a 100% Parisian touch. And since its renovation, the former counter of the district, ha become the new hip place to be.
On the program: irresistible country bread with salty butter + super muesli with fruit + old fashioned soft boiled egg. Then you have to pick your team. Are you salty trendy? The croque monsieur (or madame) awaits you. Replaced by the incredible French toast for those with a sweet tooth. And for everybody, house filtered coffee. What else? Fruit juice and sparkling water.
Its heart asset? A sunny terrace, a great pretext in order to hang around all day in chill mode.
Fontaine de Belleville, 31-33 Rue Juliette Dodu, 75010 Paris, 09 81 75 54 54
All the info on La Fontaine de Belleville
The plus "just like in Tel Aviv" : Else
The pitch: ex-star journalist of Israeli TV, Daniel Renaudie, swiped his mike for the ovens and has gone all out in his passion: cooking. Here he is at the helm of this new trendy table that doubles up as a club to party through the night in the spirit of Tel Aviv hot spots. In short here is the new HQ of Jewish princesses. Yallah!
On the program: a ray of sun in each plate. Each Sunday, the delights of the Orient are in the spotlight… Examples? Israel: chakchuka, glazed tuna, chiselled salad. Lebanon: poached eggs and pita bread, taboulé, labané, fallafel, eggplant. Morocco : tajine with egg, spicy boulgour, carrots with cumin, pastilla. Fruit juices + warm drink with each platter (23€). Just choose your next destination.
Its heart asset? In total, specialties from 8 Oriental countries to explore (Greece, Egypt, Turkey…).
Else, 49 Rue Berger, 75001 Paris, 01 40 41 08 78
More info on Else
The most trendy: Hôtel Panache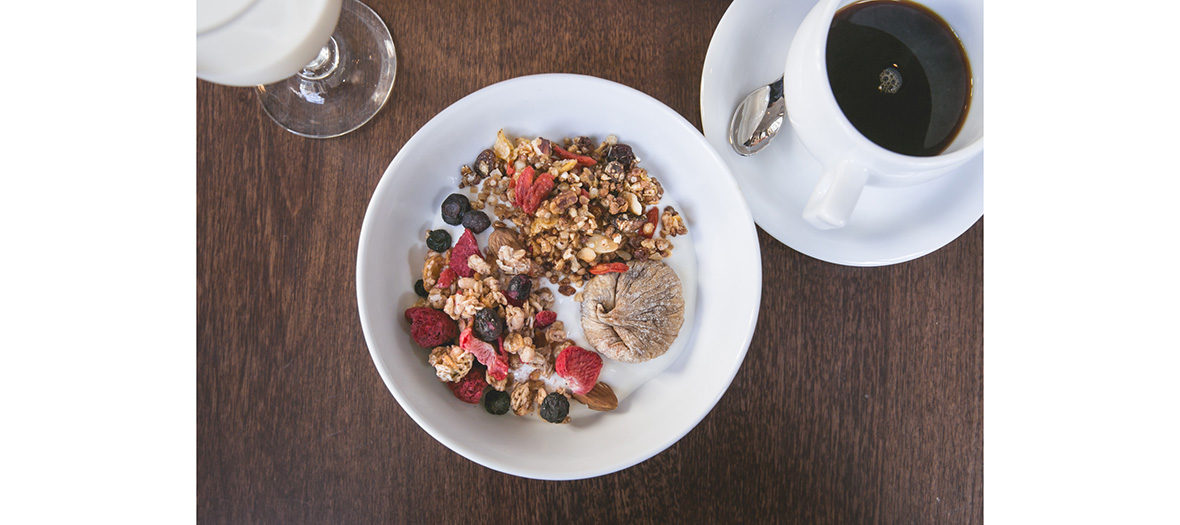 The pitch: good news, it is not necessary to stay at the hotel in order to enjoy spending time at the table of this über trendy inn designed by superstar architect Dorothée Meilizchzon (Beef Club, Grand Pigalle Hotel). MC Adrien Gloaguen (Hôtel Paradis) has put the restaurant in the hands of neo-bistro David Lanher maestro (Vivant, Racines, Caffé Stern, Bon Saint Pourçain— you will be sure to enjoy good eats in an ambiance that is both cool and elegant.
On the program: Take your pick on Sunday: a wide array of eggs (omelet, scrambled, sunny side up). Salty: broccoli soup, fish and chips, veal shank, veggie plate. Sweet pancakes, cookies, muffins, granola by Noglu… juice and coffee.
Its heart asset? The menu is revisited "with panache" each Sunday.
Count 35€/person
Hotel Panache, 1 Rue Geoffroy-Marie, 75009 Paris, 01 47 70 85 87
Also discover the brunch of Comptoir Général.