Post Holiday syndrome. A little flab here, an extra kilo on your buttocks there... Your complex potential has been increased tenfold and you are feeling down in the dumps. How to streamline your silhouette, hike up your fanny, erase your tummy and thickened arms without looking like a bundled up turkey? That is the question.
Phew, brands are going out of their way to compile pieces that are at the same time trendy, sexy and technically more clinging than ever. A small selection of magical clothing that will make you instantly lose 4 kilos and boost your sex-appeal… Even if you are in your undies. Your guy won't notice anything. Demonstration.
A sexy body to camouflage your flab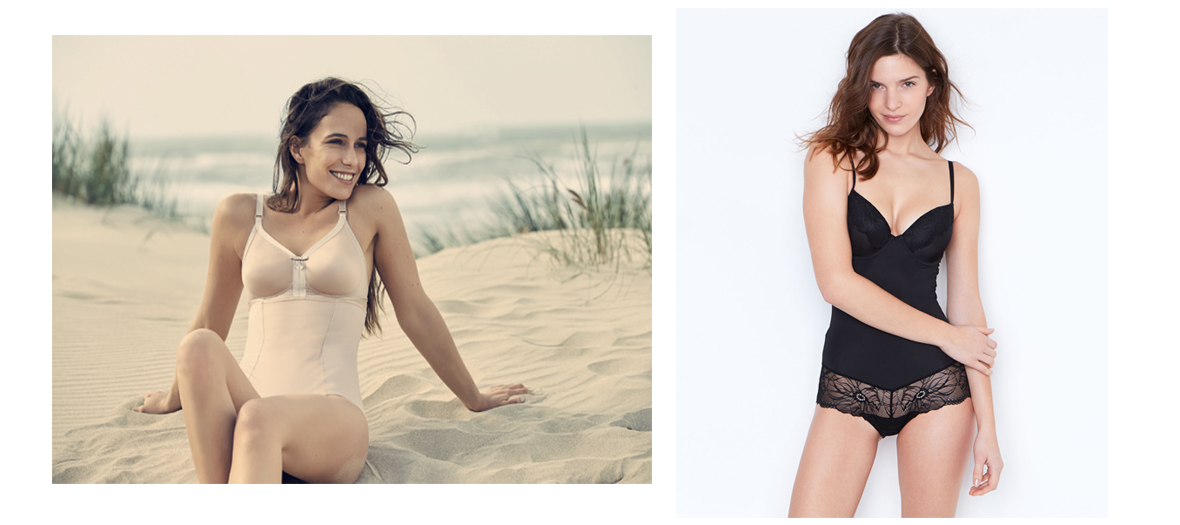 Forget about having complexes, better face the music and find solutions... If you tend to put on weight around the tummy, go for a body top that is both sheathing and appealing with couture details (satin, lace…). And believe us, these two will easily camouflage that small extra roll around your waist.
Our tip? Wear it as an ultra sexy top with your favourite pair of jeans and high-heel pumps... If you are not totally sure of yourself, cover it with an open white man's shirt.
Rose - sculpting body, Etam, €39,99.
Body beige Ideal Beauty, Playtex, €64.90.
Super sheathing panties that does not look it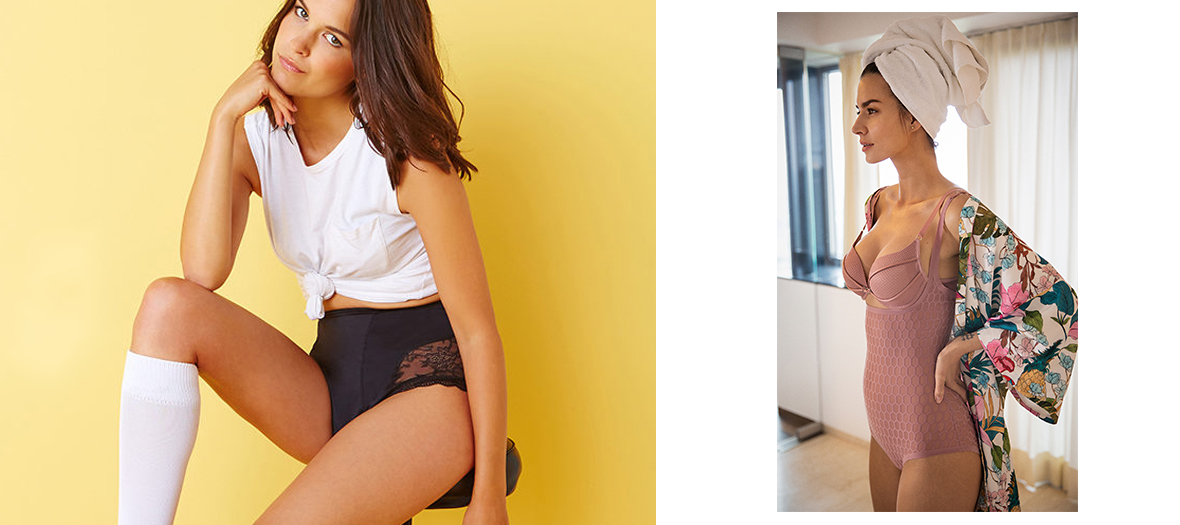 A panty that gathers it all. Yes. On the condition you don't finish like Bridget Jones in the arms of a very surprised Hugh Grant. In addition to claiming a super sexy allure, not only will these panties make you lose 4 kilos on the spot… but it will become your best asset of seduction.
Our tip ? Match it up with a sexy push-up bra, to be worn under a dress or a skirt. Panties that stick out from pants is a definite no-no.
High black slimming panties, Pomm'Poire, €12.90.
Slimming panties with honeycomb motif, Wolford, €130.
A slimming pair of jeans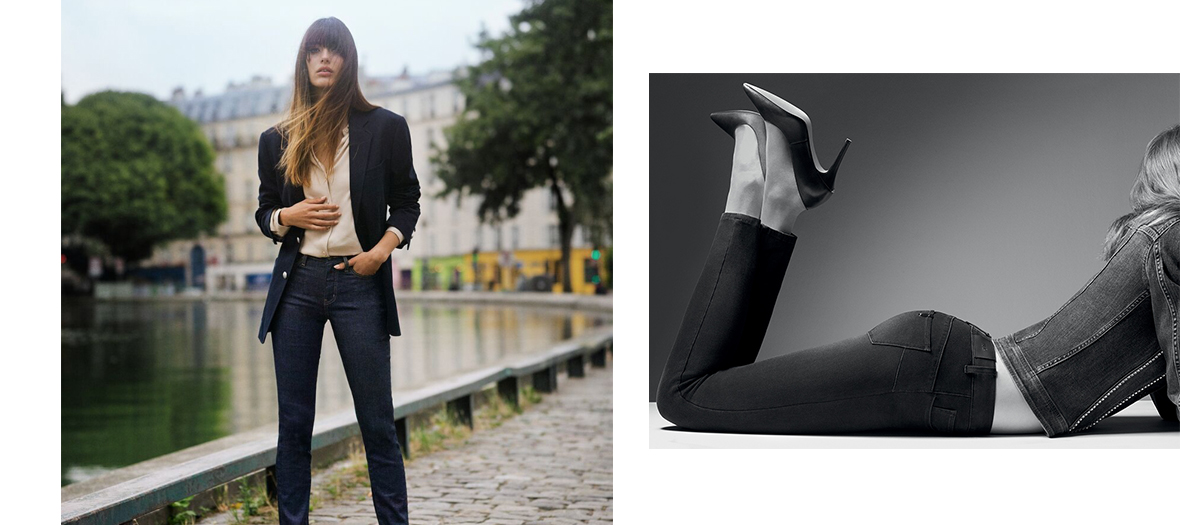 Brands rival in terms of innovation and have made the "slimming jeans" into a new fashion statement, and the new essential piece of Parisiennes. Of course, we applaud !
And the king of the genre is named Liu for his Bottom Up Amazing Fit. The BFF pair of jeans for girls obsessed with the idea of looking "thinner", since it's the case of these magic pants.
A very tight fitting canvas, a design with trompe l'oeil effect : it guarantees a streamlined silhouette and skinny legs while enhancing fannies to ensure a cute bottom we all dream of. Amen.
Jeans Bottom Up, Liu Jo, starting at €109.
The other pair of jeans that wishes us well is the high waist Smart Shape jean signed Uniqlo. A high waist cigarette cut with flat tummy effect, that erases very efficiently extra flab and little tummies, while sketching a pretty silhouette. Trying it is adopting it.
Jean Smart Shape high waist for women, Uniqlo, €39.90.
Pieces that photoshop your silhouette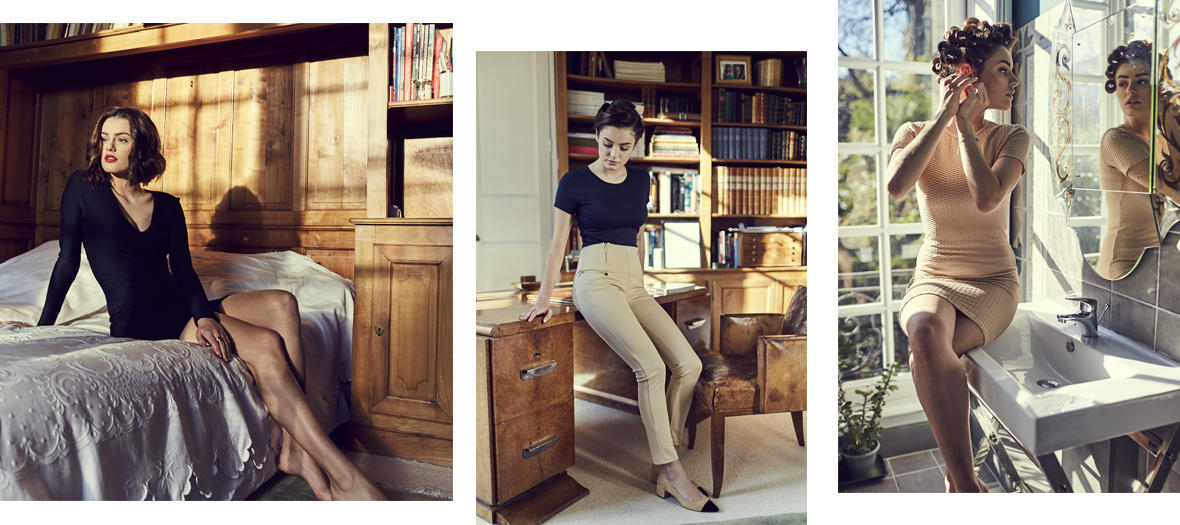 How to have a body as desirable as Kim Kardashian when you are voluptuous? With pieces that smooth and perfectly maintain your entire body. It had to be a footballer's wife, aka Anne-Laure Louis, to create Trente. A label ideally conceived for "real women" : those who have fannies, hips, arms and a little tummy. Those who like to be trendy and have the feeling they have a great body. Us, in fact.
The wager is kept with these pieces that hike up, camouflage and literally sculpt your silhouette with a very sheathing effect: uplifting! Essentials to adopt in order to boost your moral: the ideal pencil skirt, the absolutely perfect little black dress, to show off a dreamlike body and a sailor pair of pants that makes you look thin, thin, thin...
Skirt La Défense, Trente, €119.
Robe Versailles, Trente, €229.
Pants Eiffel, Trente, €189.