"Let food be thy medicine and medicine be thy food.": never has the mantra of Hippocrates been so trendy. For Mélanie Merenda, daughter of antique dealers, who worked in the finance world, it also happens to be a business. Passionate about healthy food and personal development, this ex banker at Lehman Brothers takes a turning point and in 2016 launches her own organic juice brand. The concept of PAF (nothing to do with tequila: cold pressed juices to preserve all the good healthy vitamins. The charismatic 30-year-old is at the head of a 16-person team. Next step: the opening of a Parisian venue in 2018. Look no further, we have found the new healthy gurou of Parisiennes.

How does one switch from Lehman Brothers to veggie juices?
I was always very aware of nutrition. I was brought up in a culture of good products, my mother never walked into a supermarket during her entire life. I was interested in business, I have very competitive energy and was very excited to be amongst the best. Lehman Brothers was a terrific and prestigious training ground, but non in keeping with my values. I wanted to create my own company in order to pass down my values and my visions of the world.
A burn out. I was working on restructuring companies, a universe with terrible values. I like intellectual challenges, but not at the detriment of humans. In parallel, I rode horses at a pro level. I cracked. Having never been sick, I slept during an entire moth. I was stuffed with medications. I consulted a naturopath because I felt it was ruining my health. It took me nine months to detoxify my body and all the chemical molecules.
Then you went off to Los Angeles on the spur of the moment…
The United States have a big head start. This Is where I discovered juicing. Not bobo juice bars, but juicing in the style of Whole Foods Market: quality organic juices that are super practical, that you grab while grocery shopping. Everyone agrees when it comes to juices: paleos, vegans, no gluten, those who eat badly and want to have a good conscience, those who eat well and want more vitamins.
You also tested an extreme detox cure …
At the Optimum Health Institute in San Diego, a center where people come to recoup after a chemotherapy or a serious sickness. Intense. You drink barley herb juice three times per day, drain you colon with water (not very glamour but super efficient). There are courses all day long, to remind you whey you are doing this to yourself. The first three days I was crawling : I had migraines and nausea due to the strength of the detox.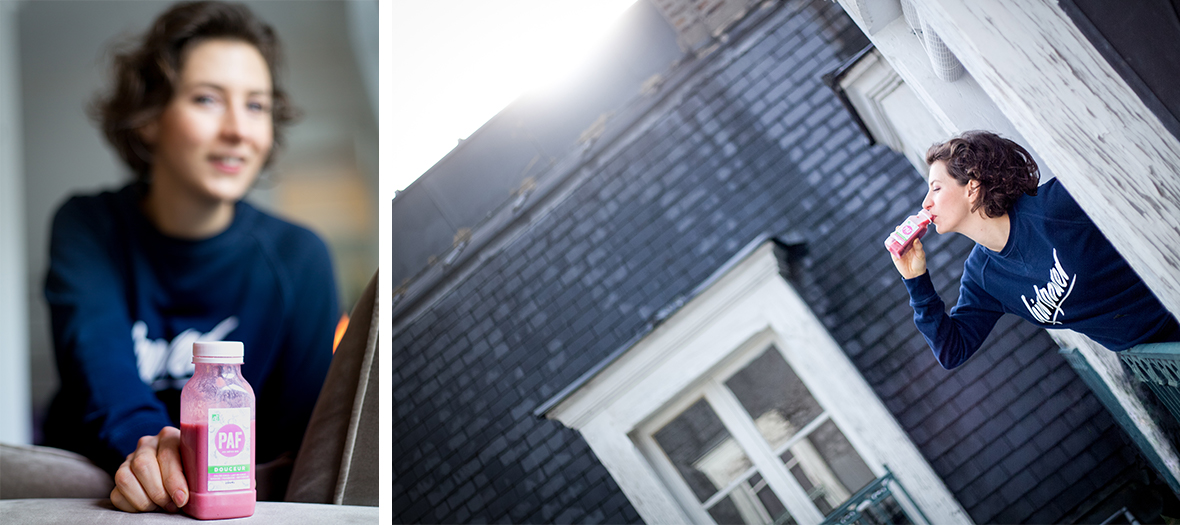 To increase and diversify your consumption of fruit and vegetables. For me, the famous five portions of fruit and vegetables are largely underestimated. We live in polluted environments, our body needs more nutriments to handle this physiological stress. Juice is100 % bioavailable, the body absorbs it immediately, it's like an IV of vitamins. But it's not a green light to eat anything you want!
Is it possible to treat yourself with special foods?
I am convinced of this. My father is 75 years old. Two years ago he had a serious health issue. I helped him get better with spiruline, curcuma, juices and organic foods with no gluten… Today, he is in great shape and rides his bicycle one hour a day.
Your tips for a healthier daily life style?
Warm water, there is nothing better in the morning. At night the body cleanses itself, when you wake up your emunctory organs are clogged up. Drinking 400 ml (two large glasses) finishes the purifying work. Always at room temperature, warm water is absorbed better and more rehydrating.
Ward off industrial products. The body has a built-in software, it does not recognize transformed products and does not know how to use them. When you eat things close to nature, your body will be happy and you will fill satiated more quickly.
Do not associate proteins and starch, it is indigestible. Animal proteins should always be eaten with vegetables.
Fruit should always be eaten before meals in order to avoid fermentation.
A tip in case you side step your diet?
After a heavy dinner, test intermittent fasting by consuming only juices and fruit until lunch the next day. This will allow you not to be in digestion mode for a long period. And when the body is not in digestion it is in cleansing mode.
Wanting to eat healthy at all cost, can this become an obsession?
I am not on a diet, I have no problem eating fries from time to time. I don't deprive myself, I can side step because I know what to eat afterwards to compensate. Our body can handle a certain amount of toxins. The mistake is wanting to be perfect. You must allow yourself to make mistakes. The organism needs time to adapt physiologically.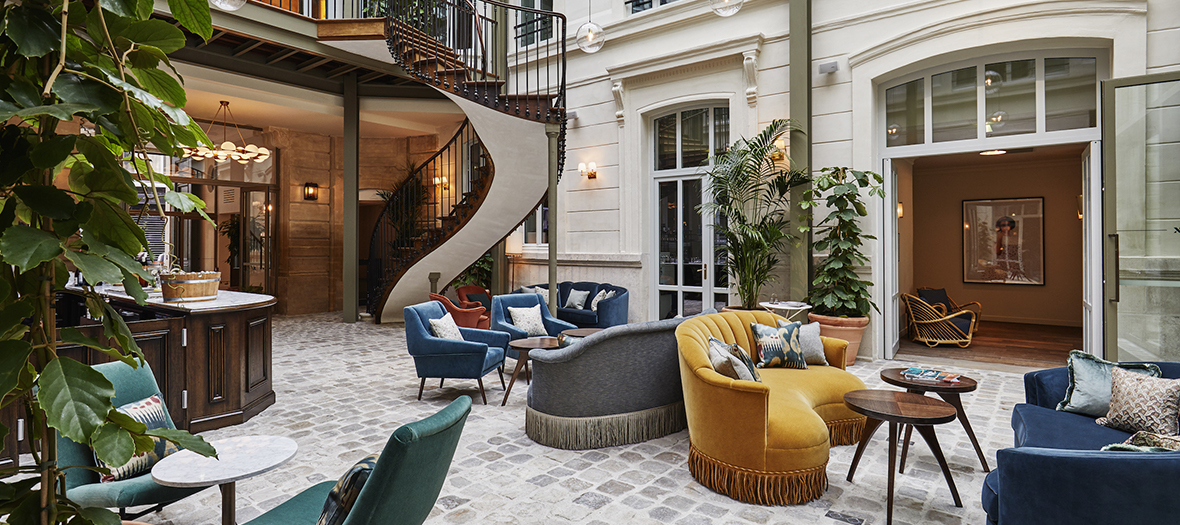 Le Hoxton Right near our offices, very beautiful, good deals and they serve PAF juices.
Soya the best brunch in Paris, always full, you need to reserve 24h ahead of time
Paradis Marguerite a super gourmet veggie bistro near me
Judy My no gluten and no lactose HQ, I go there every Sunday
Ralph's The restaurant of Ralph Lauren. I just adore their veggie burger
The books that inspire me
Si on arrêtait de se faire du mal by Erwann Menthéour. Easy to read and filled with good sense.
Thrive by Brendan Brazier. My idol. A vegetalian ironman runner. He adores discussing digestibility and food combinations.
The Four Toltec Agreements and The Five Wounds of the Soul. Two books on my bedside table.
Crazy Sexy Kitchen by Kriss Carr. The cookbook of a very clever blogger, her approach is caring, she has amazing super energy.
Conscious Capitalism by John Mackey, the founder of Whole Foods Market.
The podcasts of Tony Robbins. A brilliant personal development coach. You must absolutely see his documentary I Am Not Your Guru on Netflix
The Youtube videos of Marianne Williamson. The words of peace and love she sends out are super strong. After a day being pushed around and insulted in the metro, it's a real booster.
Bio et Barge, the hilarious one-woman-show of Stéphanie Jarroux, at the Comédie des 3 Bornes.